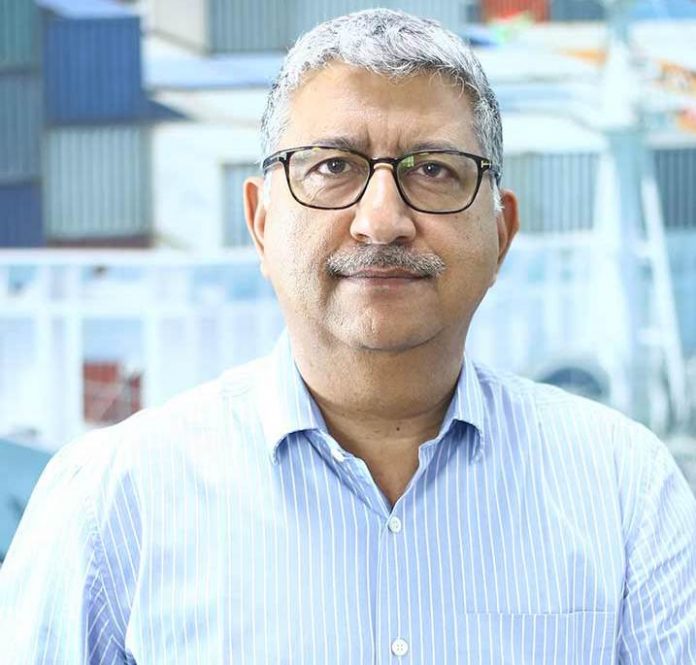 Bimal Kanal, Director, Tradelens, Indian Subcontinent: We want to increase our footprints in South Asia. Currently from east, west and south coast of India we have onboarded a lot of terminals.
Tradelens is a joint initiative of IBM and Maersk for providing Blockchain platform to containerised trade. Just walk me through the journey of Tradelens from 2018 – after inception, how is it doing?
As you have rightly said it is a joint venture between Maersk and IBM, and both the companies have been closely associated with each other for many years. IBM has many contracts and projects with Maersk over the past 3 decades. Today we are together to build a neutral platform for the industry, not just specifically for Maersk, but since somebody had to take the initiative, so Maersk took it along with IBM to develop this platform which is operated by a company called GTD solutions Inc., a business unit inside Maersk. It is kept as an independent unit to provide it operational autonomy.
Tradelens platform is being sold and promoted by GTD Solutions, Maersk sales team and also IBM for both paying clients and network development. My role in South Asia is to build the network and I am dealing with port terminals, CONCOR, Customs, etc to build the ecosystem. Maersk sales team is involved in developing customers so they reach out to freight forwarders and BCOs to promote the benefits of the platform. This is the way we are promoting it in South Asia, particularly in India.
Any new initiative when launched takes time to catch up and so was the situation with Tradelens in 2018 when the platform was originally launched. I had the opportunity of meeting Maersk in the New Jersey head office in January 2020, so it was almost 2 years since the platform had started and we could see the difference from the time we started to where we are today. For example, we have more than 100 terminals onboard today and recorded 8 million transactions on the platform and we have more than 6-7 railway companies onboard, Customs departments of more than 10 countries have signed up with Tradelens, so the network is growing in a very rapid way.
We have 3 products – Tradelens core that gives data visibility to the customer or to the network partner. On top of it we offer the facility to move all documents needed for exim digitally, be it E-bill-of-lading, certificate of origin or any other document. Yesterday we have done the first E-bill-of-lading in India, it was for a shrimp exporter in Vizag for moving reefer cargo to the US. While the container will take almost 40 days to reach the destination market, but with the click of a button the bill of lading reached the consignee in one second.
There are several digital platforms available in the market today and when a user has to choose a digital platform what could be unique for Tradelens?           
The services that Tradelens offers are different from the digital platforms offered by freight forwarding companies, so we need to make a clear distinction between the two. We have a very specific service of networking and putting data for the use of different members of the platform, it is a very secure and neutral platform where the chain of events is captured. On top of that we have the facility of moving any document from one end to another, so this is a very limited sphere we are focusing on for the sake of the industry where we want to do away with documentation and digitise their flow.
In the journey of the container from point of origin to point of discharge, every place where the container is handled you can get the data which cannot be altered. If the data is altered, it is accompanied with the entire record of who has altered it and when. Stakeholders like Customs, port authorities, railway companies and consignees who want to track their cargo, can use this information for their benefit.
There are very few platforms like Tradelens but there is only one in the world that can be compared to us and is developed in China. Platforms offering just freight rates and booking services are not comparable to us, we are not in that space and we don't offer any booking service through Tradelens.
If a stakeholder wants to become a member what is the process involved?
The process is different for network partners and customers. Network partners like ports, terminals, railway companies, Customs and banks can join the platform absolutely free of cost. They need to sign up our partner sharing agreement and a service delivery agreement that defines the obligations of Tradelens towards the network partner and they have to agree on the terms and conditions of IBM Cloud services. Once these formalities are complete a sign up password is issued to them.
When a customer like freight forwarder or BCO signs up, the formalities are almost the same, but the difference is that we have to map their organisation. If a BCO wants its bill of lading to move from its bank to the consignee's bank and further to the freight forwarder, then the entire process has to be mapped. This process takes 2-3 days and then we are ready for moving the bill of lading on our platform. Joining the platform is not free for the customers.
Of course we also have to deal with the carriers. At the starting point Maersk had to do it on its own. Maersk, Safmarine and Sealand data is on our platform, Hamburg Sud has not yet joined. We have the foundation carrier agreement for the carriers. Carriers who have jointly agreed to sign up with Tradelens are the foundation carriers which includes MSC, CMA CGM, Hapag Lloyd, ONE. By the end of this year we will have their data on our platform. We also have smaller carriers, feeder operators who have joined the platform. By the end of this year 80% of India's exim data will be visible on Tradelens.
Ports and Customs have lots of data and we can build integrators into their systems, dashboards can be built for Customs. For the Customs of Netherlands we have built dashboard considering their risk profile as to which cargo they consider risky, so they have visibility of a cargo that originated in Japan 25 days ago and can decide on examining it.
Different stakeholders use different softwares, so does it mean that Tradelens first has to integrate them and then the visibility comes in?
Absolutely. We can integrate with any software by creating the integrator.
You mentioned that joining the platform is free for partners, does it mean that no commercials are involved?
For commercial applications like our subscription model for freight forwarders and BCOs that is definitely a chargeable service.
What challenges you have faced to bring customers on board?
We have very recently started approaching customers in India. We are having a worldwide launch in August which means that the sales organisation of AP Moller Maersk will be meeting their customers and try to access their need for E-bill-of-lading. In India we have approached customers who are shipping short-sea shipments with us. Any cargo that takes less than 4-5 days to reach the destination, they are having a lot of issues for issuance of bill of lading in time and the cargo is getting stuck at the destination port, so we have made a list of such customers and we approach them. We have also approached a lot of top freight forwarding companies in India. The key is how you articulate the value proposition to a freight forwarder, NVOCC, LCL consolidator and everybody will find some value in this platform.
The platform is still very new to the Indian market and people are still assessing how they can monetise it. By the year end it will be a lot clearer as to how the platform can be commercially used by us and our customers.
For BCOs the proposition is very simple, it offers savings in time, cost, security and visibility. For freight forwarders and NVOCC operators we are still working with them to see how the value proposition can be carved out.
For many users in India while going digital the concern remains for security of data. How do you ensure them on this aspect?
The inherent characteristic of Blockchain technology is that it is not an alterable technology and when you map the flow of data for an organisation it cannot be changed unless the owner or an authorised person does it. The authority remains with the owner of the data who can define the next holder of the data. One of the international banks using this service is saving almost one week of delay in documentation process while it moves from India to an international bank and till the cargo is released. On the larger scale there will be even more savings in the global trade.
Maersk is a carrier and also owns the platform, does this create a conflict of interest in any way in terms of controlling the data?
Data is controlled by its owner and is not held by the platform. We are just a carrier of the data and it will not remain with us for a long time unless there is a specific agreement from the user for storing the data and for that there are separate protocols to be followed. Typically the data will just flow in and flow out of the platform.
Private players will any way understand the value proposition in using this platform, but how do you convince the Customs Dept in India to come onboard?
We have made several presentations to the Customs, CONCOR, IPA, so hopefully we will be able to make a breakthrough. The right people in the government are looking at the value proposition. The National Logistics Policy is also being drafted, so the government authorities have to look from several angles before they decide on this platform.
What are your plans for South Asia?
We want to increase our footprints. Currently from east, west and south coast of India we have onboarded a lot of terminals. Vizag, Ennore, Cochin DP World on the east coast and APMT, GTI, Hazira of Adani, APMT Pipavav and all terminals in Mundra on the west coast will be live on Tradelens by end of this month. We are also looking to integrate inland depots, we will start with our APMT inland depots and if CONCOR comes onboard it will be a good progress.