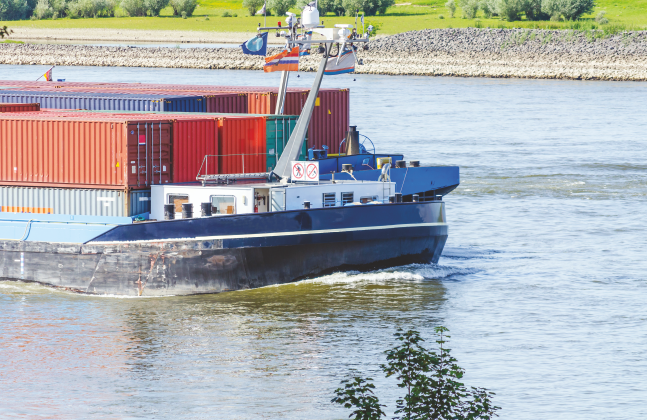 Designed to handle bulk, break bulk and container cargo, Sahibganj MMT will move cargo originating from Jharkhand and Bihar to Bangladesh through Haldia, while connecting ICD Biratnagar in Nepal
The Sahibganj Multi-Modal Terminal (MMT) built on 187 acres of land alongside the river Ganga in Jharkhand will handle 3 million tonnes of cargo per annum. The cargo originating from Jharkhand and Bihar can go up to Bangladesh through Haldia while serving the Nepal cargo as well.
Designed to handle bulk, break bulk and container cargo, Sahibganj MMT is located closer to coal mines to help industries get raw material easily. The terminal will also handle fertilizers, cement, sugar, stone chips and food grains.
Prime Minister Narendra Modi on September 12, 2019 inaugurated the first phase of the terminal to be operated on PPP basis. The capacity of the MMT will be increased to 5.5 million tons per annum in the second phase. Through the MMT, industries can transport goods to Bihar, West Bengal and Bangladesh. So, the terminal will be handling international cargo including Nepal's inbound container cargo from Haldia. The terminal will soon have rail connectivity.
Explaining uniqueness of Sahibganj MMT, Shashi Bhushan Shukla, Member Traffic, IWAI said, "It is located where a lot of coal mines and stones are available. Sahibganj Terminal can also help in evacuation of Nepalese cargo. Containers can be brought from Haldia or Kolkata to Sahibganj through waterway and from Sahibganj it can be taken to Biratnagar ICD of Nepal. The terminal will also have Ro-Ro services."
The terminal has modern handling equipment like conveyor belt and also a separate coal stock yard and warehouses for storage requirements.
At the terminal currently 2 vessels can be berthed at a time, carrying about 1,500 to 2,000 tonnes of load. As part of Jal Marg Vikas Project (JMVP), the Government is developing three more multimodal terminals between Varanasi to Haldia for navigation of larger vessels of up to 2,000 tonnes dwt. IWAI which is the nodal agency to implement riverside terminal projects and supporting inland water transportation in India, is trying to maintain 2-3 meters draft in the river for safe navigation of the vessels across the jal marg route.
Freight Village:
There is a proposal by the government to setup a Freight Village near the Sahibganj terminal. It will be coming on about 300 acres of land which will be allotted by the Government of Jharkhand. The freight village will be on the lines of existing logistics parks where more value added services will be provided such as packaging, banking, financial services, and ship related services including repairs etc. Even the industries can also set up their related units in the freight village.
Record Volumes:
Sahibganj is the second MMT only after Varanasi MMT which is the first riverside terminal in the country. Both are developed alongside the river Ganga. The government's effort is to provide big boost to the inland waterways in the country to enable local trade to transport their goods in a cost effective manner to benefit from the global trade activities. Overall cargo volumes on river Ganga used to be 5.48 million tonnes in 2017-18 and that have gone up significantly to 6.90 million tonnes in 2018-19. And the Inland Waterways Authority of India (IWAI) is targeting to register 9 million tonnes of cargo during the current financial year.