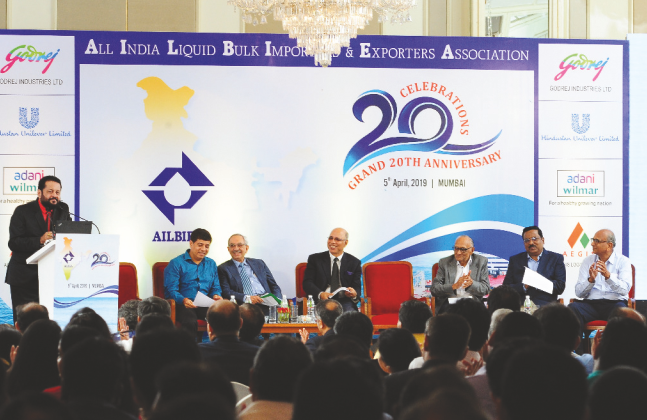 At the anniversary celebration, major port operators and Customs department pledged their continuous support to the liquid bulk trade
All India Liquid Bulk Importers and Exporters Association (AILBIEA) celebrated its 20th Anniversary in Mumbai on April 6, 2019. The day-long event concluded with an Award ceremony which was attended by industry leaders, industrialists and senior bureaucrats of Government of India. Delivering his welcome address at the Awards event, AILBIEA's President, Jayyannt Lapsia said, "The time is ripe for Government of India to establish a dedicated Exim Ministry to sort out impex related issues in the country." "Many minor ports in India do not have the custom stations within port-complexes required for speedy and efficient clearance of goods. It is a major cause of concern for our association," he added.
G Chandrasekhar, Advisor to AILBIEA, said, "The year 2018 was very challenging for our sector considering the trade fiction witnessed between two giant economies: USA and China. I anticipate 2019 worse than 2018. Although the growth momentum is likely to continue in India in the post-election months May 2019 onwards, the sector might face innumerable challenges. I foresee crude price to go down and settle at around $55 a barrel and $-Re rate to hover around `67 in this fiscal." Bani Bhattacharya, Principal Commissioner of Customs-Mumbai, said, "Our endeavour is to pursue huge reforms in our department for the benefit of impex stakeholders. Our initiatives like 'Toorant Customs' and thrust on self-assessment by Indian importers have been lauded by the industry leaders. Our target is to place our Customs among top 50 Custom departments of the world."
Yashodhan Wanage, Deputy Chairman, Mumbai Port Trust, said, "To enable speedy and efficient discharge of liquid bulk cargo at Mumbai Port Trust, we have planned a dredging exercise after monsoon at an investment of `100 crore. Also, plans are afoot to enhance liquid bulk storage capacity at our port complex, and more pilots are being hired under contractual obligations to address their shortage at Mumbai Port."
An interesting and poetic keynote address delivered at the event by Managing Director of Godrej Industries, Nadir Godrej highlighted the pivotal role played by AILBIEA in the interest of the nation.
Prominent personalities who were honored at the Awards-night include: Ramniklal Gosalia (Founder, RSG Chemicals) and T K Kannan (CEO, Adani Wilmar Limited).