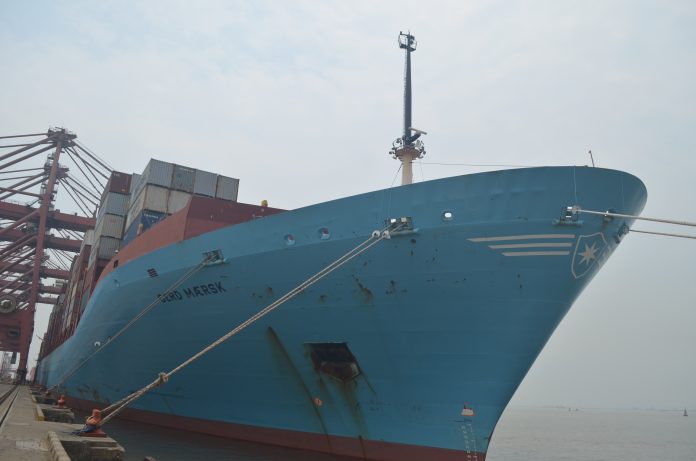 Five-line consortium deploys six-vessel string linking the west coast with Malaysia, Singapore & China
APM Terminals Mumbai received the 5,047-TEU capacity CSL Santa Maria, representing the first call of another new Far Eastern service for the terminal at Jawaharlal Nehru Port, Nhava Sheva. The weekly service, operated with a six-vessel string of the 4,200-5,000 TEU capacity category, links the west coast of India with Malaysia, Singapore and China.
The CSL Santa Maria, operated by Cyprus Sea Lines, is provided by CMA CGM, which operates the service under the name China India Middle East Express 2X (CIMEX 2X). The service is shared by Hyundai Merchant Marine, which provides two vessels, under the name China-West India Express (CWI); KMTC, which deploys one vessel, under the name Asia-India Subcontinent Service 2 (AIS2); Pendulum Express Lines, deploying one vessel under its North Asia-India Subcontinent Service (NISC); and the Shipping Corporation of India, providing one vessel under its India-Far East Express 2 service (INDFEX 2).
"We are excited to welcome this new service and are proud that the members of the consortium have chosen APM Terminals Mumbai. We reaffirm our commitment to provide safe, efficient and productive terminal operations in India's largest container port," said APM Terminals Mumbai COO, Mr Ravi Gaitonde.
The port rotation originates in Tianjin, China and calls Qingdao and Ningbo, before proceeding to Singapore, Port Klang, Malaysia, and Nhava Sheva, Mumbai. The eastbound leg leaves Nhava Sheva for Mundra and Hazira, on India's west coast, and calls Colombo, Sri Lanka, and Port Klang and Singapore before returning to Tianjin.
Jawaharlal Nehru Port, India's busiest container port, handled a record 4.5 million TEUs in 2016, with APM Terminals Mumbai accounting for 1.8 million TEUs, or 40 per cent of the port's total container volume, said a release.