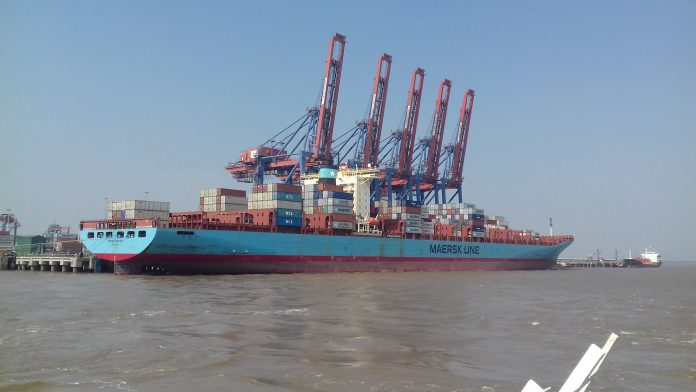 APM Terminals Pipavav (Gujarat Pipavav Port Ltd) today announced the financial results for the full year ended March 31, 2019.
The company reported a net profit of INR 506 million for Q4FY19 as against INR 486 million in Q4FY18. Revenue from operations for the quarter under consideration stood at INR 1801 million as against INR 1,655 million in Q4FY18.
EBIDTA for the quarter was at INR 995 million as against INR 930 million during the same quarter last year. EBIDTA margin stood at 55% in Q4FY19 as against 56.2% in Q4FY18
The Container cargo business for the quarter stood at appx. 219K TEUs, Bulk business was at 524 MMT and Liquid business was at appx. 234 MMT. RoRo business handled appx. 18K cars for the quarter under review.
For the full year ended March 2019, the company reported a net profit of INR 2052 million. Total Income from operations for FY19 stood at INR 7020 million. EBIDTA for FY19 was at INR 3871 million and EBIDTA margin stood at 55%.
For FY19, the Container cargo business was 903k TEUs, Bulk business was 2 million MT, Liquid business was appx 0.64 million MT and RoRo business was appx. 76k units Commenting on the results, APM Terminals Pipavav, Managing Director, Mr. Keld Pedersen said,
"I am delighted to announce that our container volumes grew by 29% on account of new service additions and Bulk volumes grew by 10% owing to high fertilizer volume in FY 2018-19. We are grateful to our customers for their continued support.
The Board of Directors have proposed final dividend of INR 1.8 per share subject to shareholders approval. This adds up to INR 3.5 per share dividend for the FY 2018-19."
Mr. Ajit Venkataraman will be appointed as the Managing Director of APM Terminals Pipavav effective June 1, 2019.
Business highlights and developments at APM Terminals Pipavav in FY 19:
APM Terminals Pipavav set a new productivity benchmark of the highest BMPH [Berth Moves per Hour] – 205 moves per hour on M.V. Cap San Vincent in March 2019.
In 2018, our truck turnaround time was less than an hour and Train average operational hours was less than 4 hours.
Got Export Train Service from ICD Jodhpur and ICD Kanpur, Thanks to CONCOR.
Initiated Dedicated Reefer Express Lane & Reefer Inspection Chamber for sea food cargo at the port
Received certificate for Authorized Economic Operator for Logistic & Terminal Operators (AEO-LO)
Introduced an online version of Form 13
The Govt. of Gujarat presented us the Gujarat State CSR award 2019 for "Cohesive & Strategic CSR Partnership" in the National CSR Conclave 2019.
Received an appreciation certificate from the Govt of Gujarat for our outstanding contribution to the 'Mukhya Mantri Apprenticeship Yojana'
About APM Terminals Pipavav
APM Terminals Pipavav [Gujarat Pipavav Port Ltd.]  is one of India's leading gateway port for Containers, Ro/Ro (passenger cars), Liquid Bulk and Dry Bulk cargoes serving customers in the state of Gujarat with road and rail networks to India's hinterland and northwest. The current annual Cargo Handling Capacity includes 1.35 million TEU Containers, 250,000 Passenger cars, 2 million metric tons of Liquid bulk and 4 million metric tons of Dry bulk. APM Terminals Pipavav is India's first public private partnership (PPP) port in India and is a part of the APM Terminals global terminal network.