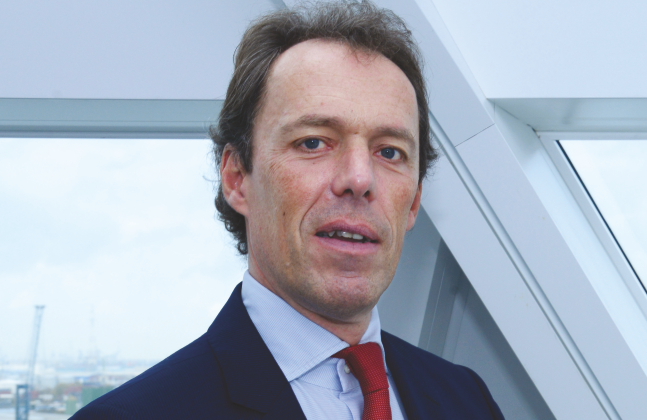 Port of Antwerp, the most promising port in Europe, is expanding infrastructure in line with growing cargo volumes. Jacques Vandermeiren, CEO, of the port, in a one-to-one with Ramprasad, Editor-in-Chief, Maritime Gateway, details on the expansion plans of the port and their interest to be part of India's growth story
Q Port of Antwerp has shown some interesting growth in 2017. What has been driving this growth?
 The growth we have posted this year is a continuation from the previous years (2015&16). In Europe you will notice that other ports are not doing that well compared to the Port of Antwerp, in the last two years. The main driver of growth is the confidence of customers in our services and we are sure this growth will continue in the years to come. But we have, of course, to tackle our challenges and one of them is the congestion within the port, and especially when it comes to containers we have seen that we had a few difficult months. This was particularly due to the move from right bank to the left bank, which is an impressive movement within a port. Our growth figures would have been even stronger, but we lost a bit of transhipment to other ports in Western Europe, but we hope we can get them back. Moving cargo to the harbour and then shipping it to Rotterdam was difficult, mainly due to the difficulties at the inbuilt terminal at the beginning of this year. But we saw huge volumes coming in and it took them about six months to organise themselves. Due to this congestion we lost some teus to other ports. But other segments like Ro-Ro and liquid bulk have shown very strong figures this year.
 Q The rate of growth the port has posted over the last few years must have put a lot of pressure on the capacities and infrastructure. Do you have any plans to boost capacities?
We are planning to increase container capacity within the port. The government is supposed to take a decision early next year to point out where extra container capacity will be built? Additional container handling capacity will be built and a decision in this regard has already been taken at the port. The government is evaluating different alternatives possible within the port and one of the possibilities is a new container terminal which we expect to be operational by 2022-23. It will be a 6.57 million teu capacity.
On the industry level we see a lot of investments happening from major players like Exxon and Borealis. Borealis is expected to invest about €1 billion in a new facility which will increase the volume of business within the port.
 Q A lot of mergers are happening among the shipping lines and the ships are growing bigger. How is the port placed to leverage on this trend?
We already have the three shipping alliances calling at three different terminals at the port. The Ocean Alliance calls at the Antwerp Gate Terminal, 'The Alliance' calls at the PSA Terminal and 2M Alliance at the other terminal. So we are able to already accommodate the three big alliances at our terminals.
 Coming to the growing size of the ships, we already have the required infrastructure to receive them. Few months ago we had the 22,000 teu Madrid Maersk calling at our port. The problem is to have these mega ships calling at our port during any part of the year. We also have terminals on the river Scheldt outside the lock which increases the possibility of receiving such mega ships. Of course for any port you can't grow indefinitely because with container volumes at their peak you will have the task of keeping the business fluid.
 Q Do you see the trade between Indian ports and the Port of Antwerp growing?
 The business between Indian ports and the Port of Antwerp is growing for sure. Last year there has been a growth of 25 per cent and this year probably there will be a growth of 10 per cent. The growth is both on import and export side. Indian companies are coming forward to grow business here. The port of Antwerp is looking forward to offer training services in India, for which the Port of Antwerp training school was opened last year in India. The Port of Antwerp is also collaborating on the development of port community system to promote digitisation and use of big data. There is further possibility of collaboration on smart ports and smart cities.
Q In future do you have plans to make investment or extend strategic management to any of the Indian ports?
We have the Port of Antwerp Alumni Association (PA3) and Kristof Waterschoot, Managing Director of Port of Antwerp International (PAI) is having discussion with Indian ports and companies to offer consultancy and investments. We also have plans to invest in Essar Port, and in the past we have gained in-depth understanding of how Indian ports work. We have real competency and good experience with Indian ports compared to many other countries or ports, so if there is any opportunity at any port in India we will positively evaluate it.
Q Trade is growing in South Asian regions like Myanmar, Bangladesh and even in South Africa. What is Port of Antwerp's interest in these regions?
We have been following this evolution for global understanding of the economy, but at the moment we don't see increased volumes yet. The shipping lines have to first set their loops to connect these regions in such a way that European ports could benefit. I think this is going to happen in future when these regions start to grow, but at present we don't see any growth.
Q Port of Antwerp seems to be keen to leverage on the One Belt, One Road project. How do you plan to proceed with it?
Within the port authority we have incorporated a task force for enlarging the port company to develop the belt and road initiative policy with the port authority by itself. For the time being it is not clear as to what direction it will proceed because we need to first understand the real added value for the many companies at the port before investing in the belt and road initiative. When it comes to France, The Netherlands, UK, Belgium and Germany it is less clear as to how to deal with this initiative. The Chinese are marketing the project very impressively and I see a lot of involvement from the Eurasian countries. We are actively looking at each opportunity and we have representatives from the Port of Antwerp in China meeting the key players in this regard, but it is too early to have a clear strategy on what we will do in the coming months.
 Some private players are trying to put in place direct rail connectivity from China to Duisburg in Germany. In similar manner we want to see direct connections from Port of Antwerp. I am happy to see private initiatives are taking place, but again much more effort is needed and it should be sustainable.
 Q After taking over as the Port CEO what challenges you have faced and what is your agenda in the coming years?
 In the coming years the focus will be much more on the partnerships with the community and outside the private port community to move forward. One of the main things is sustainable growth. You have to grow as a port community and not only as a port authority. Another challenge is the fluidity, to increase the efficiency of logistics within and outside the port. The focus will also be on innovation and use of newer technologies in supply chain. The modal shift in mobility is also a priority as to how do we increase the rail freight, pipelines and barges in the port. Another thing is cyber security, as we faced few huge incidents this year which had cost us dearly. So we have to guard against this and operational excellence will be the key.
 Q Do you consider you have taken over in a very challenging time?
 Absolutely, it's more than ever, but that is not only for the maritime business. I come from the energy business and there is an energy revolution going on which is transformation in the way we consume energy. Even the finance or automotive sector is involved in deep transformation of their business. So these are challenging times everywhere, but challenges also bring opportunities.
Q This is your first visit to India. What are your impressions and what do you carry back home?
I feel India is a very warm community. Here its people's business and the network is very important. You have to invest in people and in time to understand how business is organised here. We believe in India's growth story and would like to position the port of Antwerp to be a part of it.