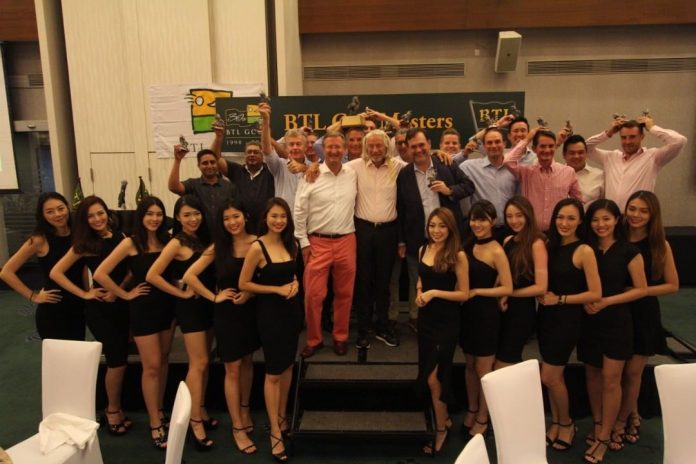 Bengal Tiger Line, the Singapore based Common Feeder Line specializing in the Indian Sub Continent recently hosted its 30th BTL Golf Masters Annual Tournament in Singapore's Sentosa Golf Club – the longest serving such event by some margin.
120 participants took to the course in Scottish headwear accompanied by Tigress models competing for ribbons from the teams – the top 3 girls with the most tied ribbons winning awards! BTL Golf labeled beer suitably cooled the players both on the course and thereafter at pre dinner cocktails & the weather held up despite the recent haze from neighboring Indonesia.
Appropriately BTL derives its name from a combination of the Bay of Bengal trading area and the Golfing expression to take the "Tiger line" which means the direct line – as in the 'Shuttle Connections' which BTL introduced in the early days providing EXIM with reliable service connectivity at the HUB ports of South East Asia and Colombo.
BTL's Chief Executive, Bill Smart, hosted the event which included a Prize giving Dinner for 200 industry friends from all over the World and a special award was presented to recently retired Founder & former Chairman, Joachim von der Heydt, who had helmed BTL for the past 33 years.
BTL carries over 600,000 teus of SOC boxes annually and was acquired last year by a Singapore fund – CMIA Venture Capital.