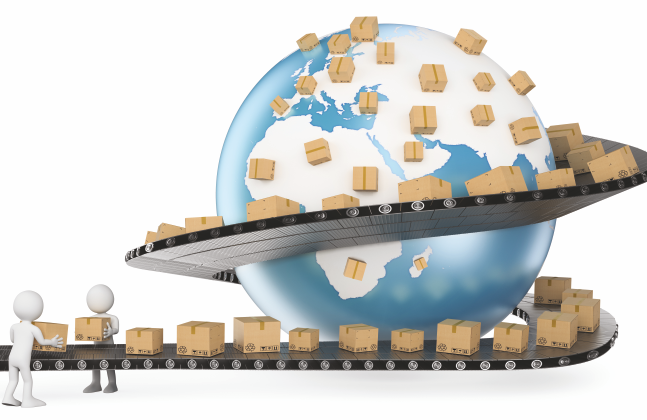 Sri Lanka's logistical advantage is not confined to the Port of Colombo. A series of logistics infrastructure projects in the hinterland will ensure unprecedented connectivity
Ranil Wickremesinghe, Prime Minister of Sri Lanka in his message in the publication 'National Export Strategy (NES) of Sri Lanka 2018-2022' commented: "In addition to the mature export sectors of apparel, tea, rubber and coconut, exports of services such as ICT, tourism and logistics have grown significantly in the last decade. These sectors have proven their ability to diversify and access new market destinations."
The NES Report recognises Sri Lanka's advantageous geographical location and the beneficial impact of shipping density in the map depicted in its report. On 31 December 2018, the Port of Colombo handled its seven millionth teu. The total for the year was 7,047,486 teus of which 5,602,358 teus or 79.49 per cent of the total containers handled were transshipment cargo.
Local exports were 290,223 teus and imports were 648,478 teus. Sri Lanka's local exports represented a meagre 4.12 per cent of the total containers handled at the Port of Colombo. Local exporters are, therefore, beneficiaries of the Port of Colombo's transshipment business that has attracted all the major container carriers to the port with a multitude of shipping services. A review of the weekly shipping list reveals that the number of services available to exporters are plentiful, allowing a broad choice and presenting a highly competitive environment.
The three major carrier alliances have a strong presence in Colombo. Since the constituent partners in the alliances compete fiercely with each other, the choice of carriers available to exporters are greatly in excess of the weekly sailing opportunities.
Sri Lanka's logistical advantage is not confined to the Port of Colombo. Recently, Hayleys Advantis unveiled the country's largest distribution hub-Advantis 3PL Logistics City in Kotugoda, Ja-Ela. The completed Phase I of the facility has 335,000 sq.ft of space which would expand to 500,000 sq.ft when Phase II is completed. Other companies that have added or are in the process of introducing critical warehouse and distribution capacity are Expolanka, OVIKLO, Dart Global Logistics, Scanwell Logistics and McLarens.
John Keells Holdings is building a logistics facility in the Muthurajawela Logistics Zone in Kerawalapitiya, Wattala, north of Colombo, with an investment of $13.96 million to provide a range of services for businesses, from inventory management and value addition to managing returns. The logistics center will provide integrated logistic services, container freight station, multi country consolidation and a range of local and international logistics solutions. It will have a cargo storage capacity of 40,000 cubic meters. The facility is also capable of handling over 300,000 cubic meters of cargo per month in a single shift operating model.
"Fulfilment solutions cover the entirety of a client's supply chain including inventory management, order picking, packing, value addition, assembly, delivery, and returns management of products," said Senath Jayatilake, Chief Executive and Vice President of the John Keells Group. Located again in the Muthurajawela Industrial Zone is the integrated logistics facility being developed jointly by GAC Logistics Sri Lanka and Hemas Transportation. It has a 30,000m² container yard, with a storage capacity of 6,000 teu. Built on 15 acres of land the facility is strategically located between the Port of Colombo and Bandaranaike International Airport. It is well equipped for container handling, container repairs and container washing, among other services.