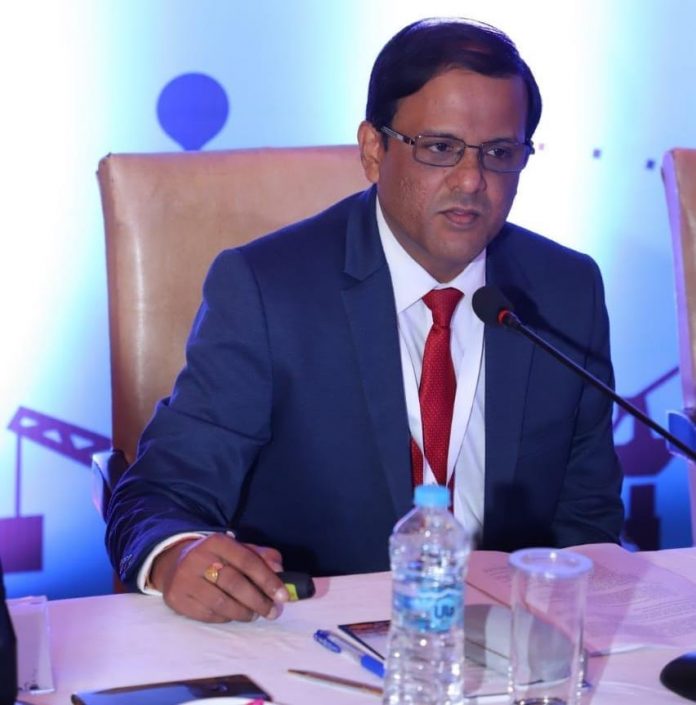 Beyond tracking of containers, DLDS is providing vital analytics to bring in transparency into the supply chain and identify the black spots. Mr. Surajit Sarkar, Chief Operating officer, DMICDC Logistics Data Services Limited further reveals plans for expanding operations into Southeast Asian countries.
DLDS has crossed a milestone of tracking 25 million containers. Congratulations on that achievement! Tracking and tracing is the simplest form of digitalisation in the container world. How do these operations help a customer?
Thanks a lot for your kind complements. Tracking and tracing information is important for importer and exporter. The infrastructure through which the goods are moving is managed by different stakeholders, but there is no collaborative approach to give a unified truth of information. DLDS LDB has made a platform where an importer will come to know when a container is off-loaded from a vessel and moves to an ICD, the route along which the cargo is moving via rail, along with time-in and time-out details at the terminal and CFS. All this information is provided in about real-time basis.
This information helps the importer/exporter to manage their supply chain, identify delays/bottlenecks in the supply chain. Thus the importer/exporter can plan their import of raw material or exports of goods in just-in-time manner. Further, the importer/exporter can integrate with the system through APIs. The user just needs to enter his container number and through the API he can get complete details on the status of his container. We are also integrated with the vessel operating system, offering tracking even on high seas. If someone is shipping a container then he can easily know at what time it has reached the destination port and off-loaded from the vessel. These details help in enhancing the supply chain and order management system.
The complete system is extremely transparent, wherein the shipper doesn't need to approach the CFS or the freight forwarder for tracking his cargo. But the system helps each and every stakeholder in the supply chain. For example, the Navkar CFS in Navi Mumbai can track which containers are destined to this particular CFS on a vessel in transit. Generally a CFS has access to some RR or manifest, but upon integration with our system they can get access to complete details on all containers onboard any ship and arriving to their CFS. So the CFS can accordingly plan its inventory.
How does the tracking system function? Is it accessible only by subscription?
Neither any registration nor any subscription is required to use our service. Anybody can feed the container number and track the location of the containers. CFSs/ICDs or major importers/exporters can integrate with us using APIs and get information particularly of their containers.
By tracking 25 million containers you must be generating huge volumes of data. Beyond tracking and tracing any analytics are being done to streamline the supply chain?
The analytics are being published on monthly basis (LDB analytics report) which are available on our website. The highlights of these analytics reports are presented to the ministries. These analytics showcase the dwell time of all terminals which have implemented this system. Currently this system is implemented across 25 port terminals of the country. It provides vital insights like the transit time between the ports and CFS/ICDs, cargo movement by road and rail and more importantly where are the congestions? For instance, about 35 CFS are located within a vicinity of 15-20 km of JNPT, but time taken by each CFS for disposal of cargo is different, which means there are issues with road movement of cargo. So we are trying to drill down into such kind of analytics which is presented to the Ministry of Road Transport and Highways. These analytics are readily available for download by anybody.
During the past few months due to COVID-19 the container movement had come down to the lowest possible level. Ports were congested as evacuation was not happening. What does your data reveal about the COVID-19 impact?
In the April to June quarter there were a lot of troubles initially. We attach an RFID tag to the container and RFID readers are installed across port terminal gates, CFS, ICDs and toll plazas. Our operations start at the exit gate of the terminal where we attach the RFID tag to the container. So, during the initial days of the quarter we faced mobility issues as our operations are also 24X7 at the terminals. But the ports were operational and our team of more than 600 people across all the ports terminals across the country were functional 24X7, putting RFID tags so that people get the information about the position of their containers. During the lockdown usage of our tracking service has actually increased.
We also provide services at the parking plaza from where the export containers move, because sometimes the container is waiting for about 5-7 hours in the parking plaza then this information is also provided to the export community. Unless the LoE is issued to the container it cannot be gated-in.
You have done tracking and tracing for huge volume of containers and you are also building analytics for people to plan their supply chain. What are the future initiatives of DLDS?
We have already integrated with the PCS of IPA and also trying to integrate with ICEGATE of Customs and E-seal. In LDB we are giving information on the physical movement of containers, but the moment we integrate with ICEGATE the user can see the movement of documents along with containers. This is important because in a parking plaza if a container is waiting for 5 hours and the transit time for moving from the parking plaza to the port gate is only one hour, which means for one hour transit time the container is waiting for 5 hours just to get the LEO. These information can help in bringing in cost and time savings to trade.
CBIC has introduced e-seal for factory stuffing of containers. For reading the e-seal there is a different infrastructure. But since we have fixed our readers across all terminals, so we are trying to read the e-seal with our infrastructure as well which will help to reduce the congestion in ports and to leverage a single system for reading the e-seal.
Since we have a global partner like NEC Corp., are DLDS operations limited to India or you are planning to expand across the borders?
We are going to extend our services in all the ICPs of Bangladesh and Nepal, for which we have received permission from LPAI to install our readers in Petrapole, Agartala, Jogbani and Raxaul. Containers moving by road from Kolkata to Nepal and Bangladesh will get greater visibility. Once we cover the Pipavav Port by September, because this is the only terminal in India remaining for us to cover, we will proceed to Chittagong Port and Colombo Port. Discussions are already in progress with these neighbouring ports.