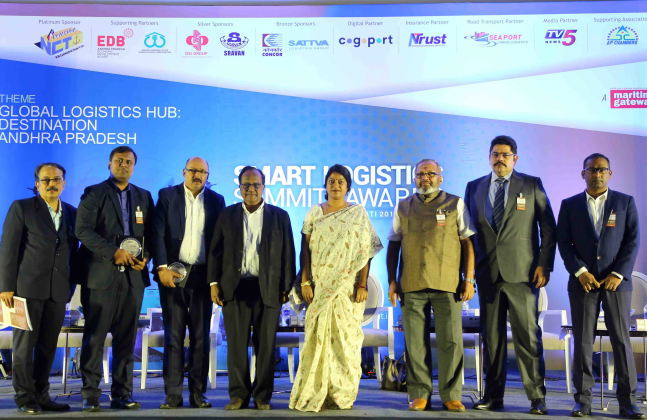 Development of infrastructure and connectivity, formulation of logistics policies, skill development and need for promoting digitalisation was voiced by the panel members
Tobacco being a major export commodity from Andhra Pradesh, K Sunitha IAS, Executive Director & Chairman i/c, Tobacco Board, shared the challenges faced by the industry in the form of stricter regulations and taxes to discourage production of tobacco. About 45.7 million people in India are dependent for their living on tobacco cultivation. India accounts for 13 per cent of the global tobacco production and is the third largest exporter in the world behind Brazil and China, exporting to 113 countries. The highest peak in the commodity exports was recorded in 2013-14 at 1007 million tonnes, which declined to 859 million tonnes in 2017-18. The production cost of tobacco in India is less than other countries and it generates `20,000 crores of revenue to the excise department.
 Out of the 185000 tones being exported from Andhra Pradesh, 55 per cent moves through Krishnapatnam Port and the remaining 45 per cent moves through Chennai and Kattupalli Ports. Sunitha emphasised that the cost of exporting through Krishnapatnam Port is less than Chennai Port. Major export destinations are Russia and China and the Tobacco Board is focusing more on improving exports into the Chinese market. Sunitha voiced the need for more warehouses near Krishnapatnam Port and availability of empty containers for convenience of exporting tobacco. "Agriculture is the backbone of Indian economy and ITC has a vision of improving its agribusiness to `10,000 crore by 2030," revealed H N Ramaprasad, Vice President – Exports & Supply Chain, ITC Limited – Indian Leaf Tobacco Division. The company aims to become the largest provider and exporter of agricommodities in the state. Sharing details on the agricultural production of Andhra Pradesh Ramprasad said, the state has a huge agricultural landscape and is the fourth largest agricultural commodity producer in India. It is also the number one producer of several commodities including turmeric and chilli. But the sector is facing certain challenges in the form of lack of skilled labour, in sufficient infrastructure like warehousing. To ensure India maintains its position in agri-exports, end-to-end connectivity needs to be provided from the source of production to the port through road and rail. This needs to be supported by formulating logistics policy framework.
Currently more than 50 per cent of agri-exports from the state of Andhra Pradesh happen through Chennai Port and dependence on feeder vessels for connecting to the mother vessels remains an issue. The government should establish FSSAI testing facilities near ports and free trade zones need to be developed in a radius of 30km from the ports where a lot of value addition can happen to the exim cargo. Ramprasad voiced his opinion for integration of ports in the state through formation of AP Ports Trust which will help in improving the performance of the ports.

 "The exim community should focus on the value addition services the logistics service providers offer rather than focusing on the costs," suggested Samir Shah, former Chairman, FFFAI. He voiced the need for recognising the logistics sector as a stand-alone sector. In spite of the formation of the Gujarat Maritime Board and Port-led development focus of the state government of Gujarat, the state never recognised logistics as a stand alone sector. He expressed the need to define logistics and differentiate the various segments to ensure efficiency can be improved in the service offered. Development of standards and certification process for logistics service providers can help in improving the quality of logistics.
A major challenge the logistics industry is facing today is the lack of skilled workforce. He emphasised on the need to educate students at the school level about the potential employment options in the shipping and logistics sector. Promoting employment of women in this male dominated sector was another challenge highlighted by Samir Shah. He recommended the state governments offer tax exemptions to logistics companies who employ women and professional tax exemption for ladies working in the logistics sector. This will help in promoting the employment in the shipping and logistics sector.
"Technology can be used to generate trust among trading partners," revealed Jayavaradhan Sambedu, Co-Founder & CTO, Curl Analytics. Blockchain can play a crucial role in generating trust among known parties in the business. Using technology shippers can benefit with upto 30 per cent of efficiency gains in obtaining letter of credit. Blockchain is a platform for seamless integration of data. For instance, verification of documents at Banks is a tedious process and involves large number of people, but this process can be simplified, made error proof using Blockchain technology. Today, drones are used in many countries for monitoring the quality of roads, similar applications can also be made in India.
Anil Arora, Partner Aetos Growth Partners LLP, focused on the entrepreneurial opportunities available in the logistics sector. Indian economy is growing and with it demand for logistics is also set to rise. Logistics sector in India employs 22 million people and is growing annually at a CAGR of 7.8 per cent. While we compare the logistics cost of India and manufacturing capabilities of our country with China, but a major issue in the Indian logistics sector, Anil pointed out, was the lack of consistency in transit time – be it through road, rail or ship. China has a very high consistency in the logistics services offered by all modes of transport. Another area where India lags behind is in the adoption of new technologies. Indian businesses are slow in catching up with newer technologies and one of the reasons is the inadequate technology infrastructure which leads to high installation cost and underperformance. Technology can be a major enabler in utilising the maximum potential of ports by plugging the gaps. It will help in reducing the turnaround time for ships as a result more ships will call at the ports. Towards the conclusion of his address, Anil called for scaling up infrastructure with growing demand.
"Skill development is an area neglected for long by the shipping and logistics industry," informed Dr Rakesh Paras Singh, Chairman, Institute of Supply Chain and Management. In order to become a global logistics hub, India needs to link the geographies of production, consumption and distribution. Reflecting on the Indian state of logistics, he said, our country ranks 133 out of 140 on the depth of logistics index. He pointed at the Chinese Silk Route that helps China to reach across the globe in the most cost effective manner. In similar manner to become a global logistics hub India needs to strengthen and make economical its connectivity with the global countries rather than focusing only inwards. Another area of focus he pointed was building of scale to improve the competitive advantage and this could be done by integrating ports with production clusters using technology.
 "Logistics industry was never digitised before. Up to 2013-14 funding in technology startups in the logistics sector was low, but it has suddenly shot up in 2018," noticed Surendra Lingareddy, Director APAC, Volteo. In the supply chain technology can help in setting things right by planning workflows, creating and assigning tasks and delegating responsibility. But while planning digitalisation one must make sure to keep the customer at the center of the strategy, else digitalisation will fail.

 Towards the conclusion of the session, J A Chowdary, Special Chief Secretary & IT Advisor to the Chief Minister, Government of Andhra Pradesh, cautioned about the risk of hacking and data being stolen when operations are digitalised. Hence there is need to develop trust among the user community along with firewalls. Andhra Pradesh government is the only state in India which is 100 per cent paperless and digitalisation promotes transparency.