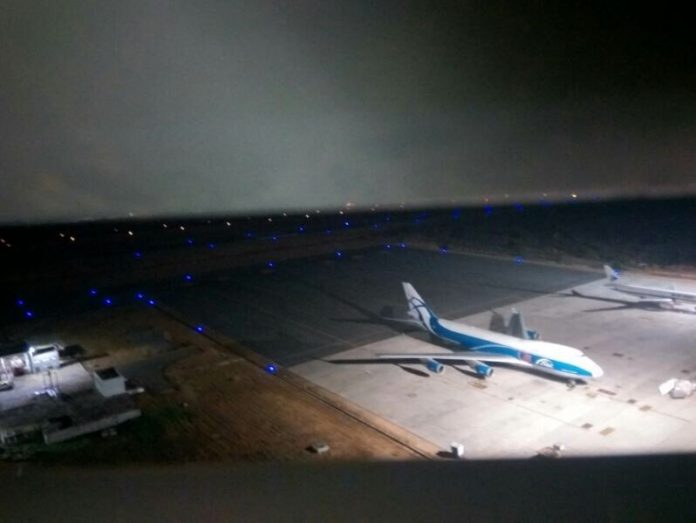 First Airport in South India and second in the country to have entire Taxiway Edge Lights converted to LED covering a length of around 26 km.
Out of over 26,000 conventional lights at RGIA more than 19,500 converted to LED – bringing 75% of the entire airport lighting on LED.
Over 2.2 Million units of electricity saved per annum
GMR Hyderabad International Airport Ltd. (GHIAL) which operates Rajiv Gandhi International Airport (RGIA), Hyderabad, has announced that it has become South India's first and India's second airport to convert the entire Taxiway Edge Lights from halogen lamps to energy efficient LEDs (Light Emitting Diodes). Complementing the recently achieved recognition of being Carbon Neutral Airport (Level 3 + Neutrality), GHIAL is on its green journey of transforming RGIA into a 100% LED Airport, out which 75% of the work has been already completed.
RGIA, which currently caters to more than 15 Million Passengers Per Annum (MPPA) (FY16-17) with close to 400 daily air traffic movements, requires consistent supply of electricity to operate round the clock. With its mission to move from conventional energy to renewable energy sources for environmental sustenance, the airport had recently commissioned a captive 5MW Solar Power Plant for its captive use. While a significant proportion of the airport's total daytime energy requirement is met by the solar power plant, RGIA has now gone a step ahead by deciding to convert the entire lighting at the airport to LEDs.  Even the airside, which is the busiest and the most critical area of the airport, has also undergone LED transformation, where close to 500 halogen lamps of Taxiway Edge Lights were converted to LEDs. Length wise the conversion of all LEDs at Taxiway Edge lights covered around 26 km of the area in the airside.
Taxiway Edge lights play a critical role in airside operations. They are used to outline the edges of taxiways during periods of darkness or restricted visibility conditions. Around 500 airport taxiway edge lights were converted to LED in a span of mere six days, owing to the meticulous planning and coordination between the teams of Airport Technical Services and Airside Operations. All 36 W halogen lamps have been converted to 01W LED lamps. The lumen level of these LED lights installed at Taxiway Edges meet the ICAO (International Civil Aviation Organization) and DGCA (Directorate General of Civil Aviation) requirement. Extensive tests and trials were carried out after the installation of the LED lights and regular observations were collected from the pilots. The replacement of lights was done in a phased manner considering criticality, cost and availability of suitable replacements.
Speaking on this green initiative, Mr. SGK Kishore, CEO, GHIAL said, "GHIAL is committed towards fostering a green culture at RGIA. We have been progressively taking steps to transform our airport into a truly green airport. Migration to LED has been a strategic decision for environment sustenance with the objective of reducing carbon emissions and promoting energy efficiency. More than 75% of all lighting fixtures at RGIA have been converted to LED, and very soon we will become 100% LED lit Airport. At the same time, initiatives such as the 5MW Solar Power Plant, help us to meet a significant amount of the airport's energy requirement using renewable means. Our pro-active environmentally sensitive measures have helped us to earn the coveted Level 3+ Carbon Neutrality recognition from ACI. We are proactively contributing towards building a cleaner and greener future."
Apart from the Taxiway Edge Lights, the major area that underwent the transformation included Passenger Terminal Building, Connecting Roads, Airport's Main Access road, Perimeter roads, ancillary buildings and the GMR Employee Town Ship among others. GHIAL is also exploring the conversion of runway lights into LED. However, as the technology of using LEDs on the runway is still in its early stages of development, it would take some time.