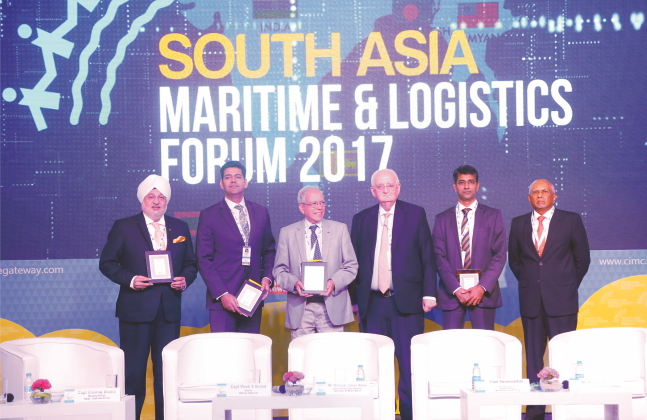 Evolution or rather revolution is taking place faster than expected in the port and shipping sector. The session picked up some ongoing and imminent issues that might completely change the landscape of the sector in the region.
The first business session focused on the views of major shipping lines about developments taking place in shipping arena of South Asia seaborne cargo movement. Heavy weights from world's top shipping lines were part of the discussion panel and the mettle to oversee the proceedings was in the hands of Michael Pinto, IAS (Retd), Former Secretary, Ministry of Shipping, as moderator.
Over a period of time vessels' carrying capacity have grown tremendously, and it has effect on freight rate, shippers, and vessel operators as well as owners. Elaborating on the matter, Capt. Dheeraj Bhatia, MD, Hapag-Lloyd India said that there are certain cost advantages for operators to have larger vessels, however it might not have a linear effect on the entire supply chain. The cost involved in handling a larger vessel can be high if there were not required cargo volume. Size of vessels calling at the ports on the West Coast of India has increased from 5,000- 6,000 teus to 8,000-10,000 teus, and the vessels calling Colombo Port are little bigger.
Capt Vivek S Anand, Director, NYK Line India, explaining the developments said that tighter environment laws had forced shipping lines to adopt bigger vessels. The industry would be moving back to the situation where 20 per cent of operators used to control 80 per cent of the trade. Hence, countries which couldn't have infrastructure in place to handle larger vessels would be in difficult situation.
Capt. Swaminathan Rajagopalan, Commercial Director, CMA CGM Agencies India said that in the past shipping lines have been affected by competition, addition of capacity and entry of multiple players. A similar kind of situation is being experienced in the port and terminal sector as well. Cost and efficiency would impact ports and their preparedness to handle larger vessels could also be a deciding factor.
The moderator raised concerns about return on investment on part of terminal and port operators, which needed to invest to accommodate larger vessels, upon which Michael Julian Bevis, Senior Director (Group Relations), South Asia AP Moller- Maersk, explained that South Asia or Indian ports should not be looked at in isolation as the dilemma has been there globally. Ports needed to have infrastructure in place to compete globally. As the discussion and debate was getting intense, BK Mandal, Former CMD, Shipping Corporation of India opined that though giant ships benefit from economies of scale but there should be rationality about cargo availability.
Consolidation in the shipping industry has initiated, and elaborating the impact, Capt. Anand said that consolidation at global level would take place and it would give impetus to hub and spoke model. Capt. Bhatia said consolidation is need of the hour for lines who have invested heavily and also for those who are financially in a difficult position. Capt. Rajagopalan underlined the fact that consolidation has started even in regional and feeder operator segment as the volume of cargo handled by feeder operators has also grown. Merger and acquisition might not be the key but consolidation in terms of operation of tonnage have already been initiated. They said the infrastructure outside the port also needed to be improved for seamless cargo evacuation. On the matter of rising container freight rates, Bevis stressed that the regulator and policy makers should allow market forces to operate freely to ensure a level playing field as a free and competitive market principle would benefit the consumer