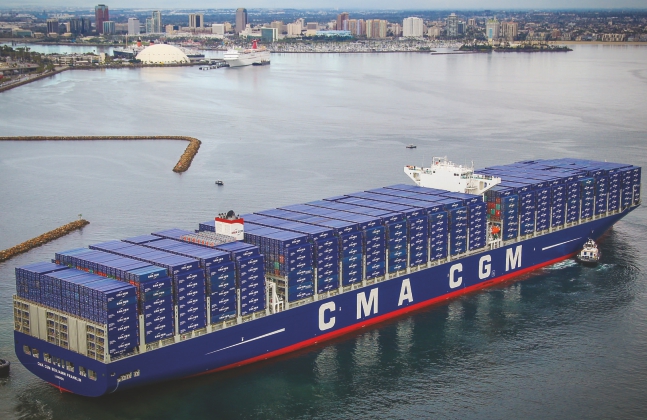 CEVA Logistics AG has announced its revised strategic plan which includes three key levers to accelerate topline growth and improve profitability: the launch of a strategic partnership with CMA CGM and the acceleration of turnaround efforts with the support of CMA CGM's corporate transformation expertise, the leveraging of CMA CGM's overall platform to accelerate revenue growth, and the acquisition of CMA CGM's freight management activities (CMA CGM Log).
Key highlights of the revised strategic plan:
CEVA's 2021 revenue target above $ 9 billion, reflecting a 5 per cent average annual organic growth and the contribution of CMA CGM Log of $ 630 million
Stronger footprint in ocean freight management
Upgraded 2021 management expectations on adjusted EBITDA raised from $ 380 million to $ 470-490 million
Acquisition of CMA CGM Log for $ 105 million (cash free/debt free) paid in cash
Appointment of Mr Nicolas Sartini as Chief Operating Officer and Deputy CEO as of January 1, 2019
Intensified business relationship with CMA CGM while keeping an arm's length governance
"With the support of our strategic partner CMA CGM, I am proud to open a new chapter for CEVA Logistics and announce that we can accelerate our transformation and turnaround action plan in the next three years and beyond. This can be achieved by a combination of our commercial and sales focus, cross selling with CMA CGM customers, our own productivity actions, the integration of CMA CGM Log within CEVA and sharing resources with CMA CGM in the field of procurement and administrative functions. I am very happy to welcome Nicolas, who has successfully turned around the APL shipping company, as my Deputy and COO," said Mr Xavier Urbain, CEO of CEVA Logistics.
CEVA has been on a transformation journey since 2014 with a commitment to strengthening its approach to new business development, transform its IT infrastructure and improve the company's operational performance and productivity through increased standardisation and streamlined processes. At the time of the IPO, CEVA had been halfway through this journey and has continuously been pursuing these actions since. The strategic partnership with CMA CGM now opens up significant opportunities to accomplish this journey more rapidly, secure a more robust execution and take advantage of CMA CGM's customer base and turnaround expertise.
The combination of CMA CGM's and CEVA's expertise in corporate transformations is expected to deliver faster and more sustainable efficiency.