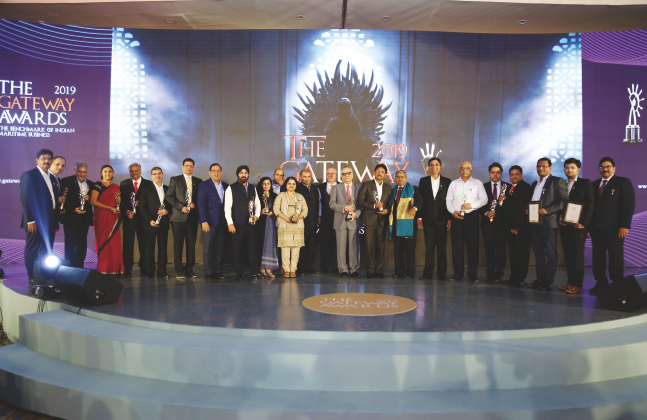 It was an evening the industry came together to cheer for the champions who pushed the boundaries in whatever services they offer
The evening of 27th September was like none other. At one of the Lalit's finest ballroom's shipping greats came together for the glitzy Gateway Awards ceremony. Members from the sea and shore from all across the country came dressed in their finest best of greys and blues and the growing tribe of ladies in the shipping business painted the hall with their bright hues. This was the evening the industry chose to celebrate with their colleagues and peers for carrying the industry through successfully for another year.
Representatives of shipping lines, ports, CFSs, ICDs and logistics companies cheered for the champions who through their perseverance pushed the boundaries in everything from customer service, new products to using technology to disrupt the way business is done. It was a night where the industry stood up together to celebrate excellence, innovation and best practice across the sector.
Now in the 12th year, The Gateway Awards promote best practices, innovation and motivation. Gateway Media, an institution pursuing excellence relentlessly, had instituted these awards to showcase outstanding achievements and exceptional accomplishments of individuals and organizations in the Indian maritime Industry. A tradition well maintained since then, the awards today have become a benchmark in the industry.
About 15 categories were enlisted and all Indian maritime companies were invited to nominate their business entities for evaluation by the Gateway Awards Jury. The parameters for business growth that were considered for shortlisting were volume growth, asset growth, productivity parameters, and the main efficiency indicators that were capacity utilisation, turnaround time and dwell time of vessels. The other main indicators to net awards were innovation and investment to improve customer service, improvement in connectivity to ports and container freight stations. Through a detailed jury process, data received from the nominees was vetted by the jury committee and the winners were selected.
The awards that speak of a rich history of success recognised 15 individuals and businesses for the phenomenal work done by them. The recipients accepted these awards to a thunderous applause and many a standing ovation. The awards evening may now be over but our Gateway Awardees will be justly entitled to bask in the glow of their success for the next 12 months until their peers up the benchmark higher to qualify and bag next year's awards. A terrific night of celebration marked out a superb set of winners. Maritime Gateway congratulates them all and thanks everyone who entered.