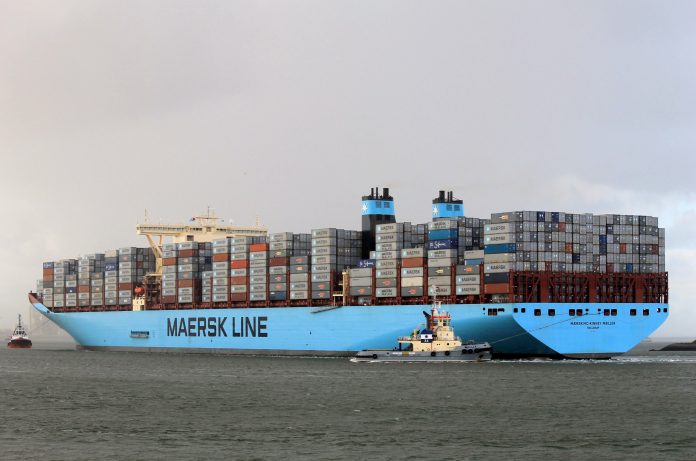 – Indirect costs as high as 38% – 47% of total transportation and logistics costs across key export sectors – textiles, pharmaceuticals, electronics and auto components
– Digitization, investment in road infrastructure, faster regulatory clearance and developmental training key to reducing indirect/hidden costs
A first-of-its-kind study by Confederation of Indian Industry (CII) and its knowledge partner Maersk reveals that reducing the costs of trade across four high-growth trade sectors by prioritizing digitization, inland infrastructure development, an efficient regulatory environment and developmental training, can boost exports by 5-8 percent.
The study called "Stimulating India's EXIM Growth" reports that indirect/hidden costs of trade in textiles, pharmaceuticals, electronics and auto components accrued from unreliable transport services and regulatory/bureaucratic delays are as high as 38 – 47 percent of the total logistics cost. A 10 percent reduction can boost India's competitiveness and contribute additional revenues of up to US $ 5.5 billion annually.
The findings were released at a cross-industry seminar where Mr. Rajive Kumar, Secretary Shipping and Mr. A K Bhalla, Director General of Foreign Trade were present.
Expansion of trade is a key driver of economic growth. While we need timely and cost-effective transportation to support this expansion along with a robust policy, it is also critical to address challenges like inadequate inland infrastructure and indirect and hidden costs", said Mr Rajeeva Sinha, Co- Chair, CII National Committee on Ports & Shipping. "Our study analyses just how much socio-economic value could potentially be generated if India improves trade efficiency. Going a step further, we have identified segments where companies experience the most delays and also collaborated with business leaders to identify specific solutions to address these challenges most effectively."
"The outlook for global trade in 2017 remains weak. Real growth is expected between 1% and 2%. India has the opportunity to improve its share of global trade, especially in exports, through increased competitiveness and be probably the only country to deliver nearly double-digit growth in container trade this year. Reducing costs by a fourth can substantially boost exports in just these sectors. But the solutions identified have the potential to benefit all export sectors and create a multiplier effect," said Franck Dedenis, Managing Director – India, Bangladesh & Sri Lanka Cluster, Maersk Line.
The study also identified specific challenges, problem areas and proposed relevant solutions on the basis of inputs received through the survey conducted across the four sectors and with other relevant experts.
Regulatory Documentation: 54% respondents ranked it as a serious challenge and 42% ranked it as most challenging.
Terminal Handling: 54% respondents ranked it as a serious challenge and 38% ranked it as most challenging.
Inland transportation for imports: The port to ICDs leg was ranked by 60% as a serious challenge and 39% ranked ICD to factory leg as a serious challenge.
Inland transportation for exports:  From ICD to port leg was ranked by 51% as serious challenge and factory to ICD leg was marked by 44%.
Added Julian Bevis, Senior Director South Asia, Maersk, "Indian ports and terminals are well placed to deliver efficiencies and higher productivity. APM Terminals in Nhava Sheva has consistently increased its container throughput and productivity since 2006 and as a result has improved India's liner shipping connectivity delivering an additional 9% in trade for the country since. We believe terminals can collectively contribute better to lowering costs of trade with certain interventions such as market driven tariff regime, better rail connectivity from Ports and reducing middle men or increasing transparency in inland movement of cargo among others"
The solutions identified through survey and at the seminar at length were:
Regulatory Documentation: Development of digital tools for reducing time and red tape around documentation; Faster clearance of goods; Training to upgrade technical skills in compliance handling functions
Inland transportation and costs: Investment in road and rail infrastructure to improve inland transportation from Ports to ICDs, Transparency in costs across the value chain; Regulation of middlemen across value chain; Unified RFID tags for pan-India toll payment; Inland road infrastructure; Improve rail cargo transport conditions; Investment in training truck drivers, cargo & material handlers
Terminal Handling: Digital tools for information regarding delays at Port or at ICD/CFS; Mechanism for reducing work stoppages at Terminals; Improving efficiency of ports/terminals
CII's endeavour to work with various stakeholders to identify and resolve hurdles through these initiatives is part of its larger commitment to improve the business environment and further the Government's vision of "Ease of Doing Business." CII believes that these kind of reports will continue to recognise the many achievements that are taking place in the Indian economy and showcase the concerted effort of all stakeholders to take India's ranking to higher levels.