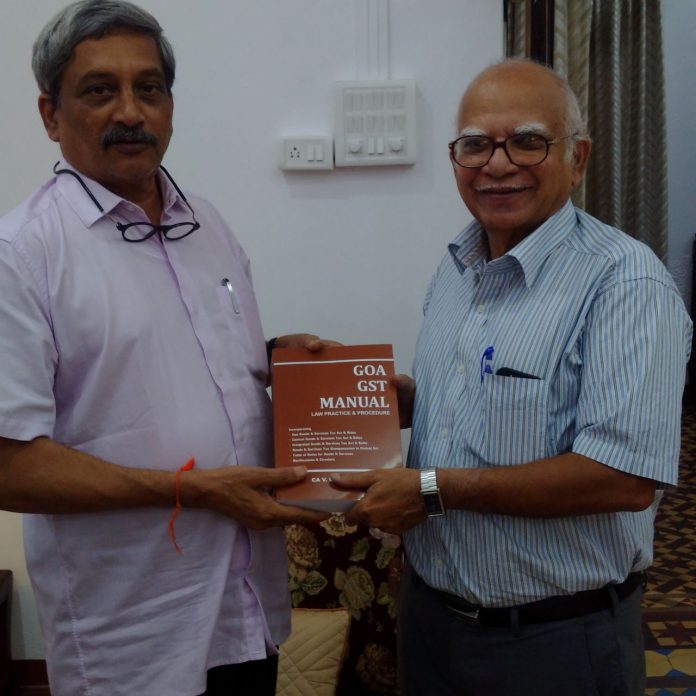 Chief Minister Manohar Parrikar recently released a new book on Goa GST Manual, law practice and procedures written by senior chartered accountant, V. B Prabhu Verlekar. On the occasion the Chief Minister who is also the finance minister said. "I appreciate CA Prabhu Verlekar, an eminent and well respected Chartered Accountant for his valuable services to the state through his manual. The provisions of the GST law are explained in simple, easily, understandable language along with procedural matters. This will immensely help business community and tax collectors in implementation of GST smoothly.
"GST is a path-breaking reform which will facilitate the ideology of one nation, one market, and one tax thereby replacing several centre and state levies. The new reform will also facilitate timely tax compliances and tax collections; free movement of good without entry barriers and ease of doing business. Goa being consumption based State of high end products, will additionally gain about Rs 800 / 1000 crores annually." the CM added.
The author is well known for his books on various commercial tax laws in the state of Goa. After implementation of GST, this is the first book to specifically address Goa GST Law. The book incorporates all GST laws applicable to Goa, i.e. Goa GST Act and Rules, CGST Act and Rules, IGST Act and Rules, GST (Compensation to States) Act and also provides the table of rates for Goods and Services, up-to-date notifications, circulars and forms. It also aims to disseminate knowledge of GST laws among Goan trade and industry, tax consultants, tax administrators, academicians and students.
The book is available at Devki Publications Phone (0832) 2223812, Nagesh Book Agency, Professional Books at Panaji and Parle Enterprises, Golden Heart Emporium in Margao.