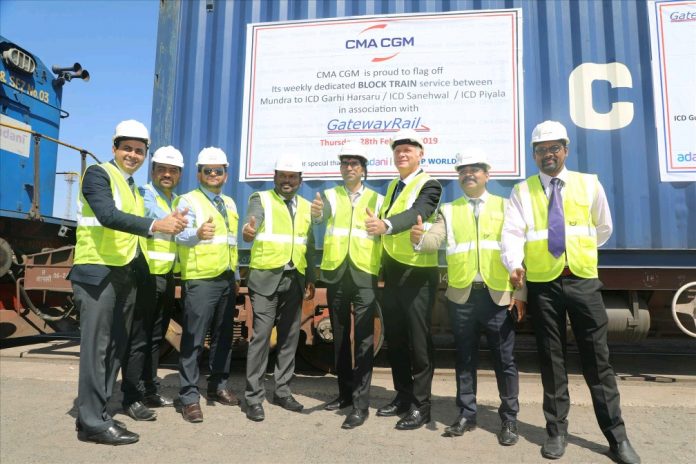 A reduced 3-day transit time between Mundra Port and inland container depots
A new solution offering a dedicated connection to avoid port delay and congestion
The CMA CGM Group, a leading worldwide shipping group, is pleased to announce the start on 28th February 2019 of its first double-stack block train service, running from Mundra to Garhi, Piyala and Ludhiana every Monday and Thursday. The train offers a reduced 3-day transit time and features a capacity of 180 TEUs (Twenty-foot Equivalent Units) double-stack one-way.
This solution provides dedicated connections between the port and inland container depots (ICDs), avoiding port delay and congestion. Being aligned with services operated at the CMA CGM Group's Terminal at Mundra CT4, this new block train solution eases transhipment operations and offers a seamless transition from sea to rail and vice versa.
Mr. Ugo Vincent, Managing Director, CMA CGM Agencies India, flagged off the first train. Speaking at the ceremony, he emphasized the importance of reliable cargo connection for customers and explained that CMA CGM block trains are scheduled strategically to connect the vessels worldwide, optimizing the lead time.
A world leader in maritime transportation, the CMA CGM Group is also developing inland solutions. As part of this strategy, CMA CGM India started its first block train in June 2008, running successfully between Mundra & Dadri. Another block train service by CMA CGM India started in December 2008, running between Mundra, Dadri and Thuglakabad.
The CMA CGM Group offers a complete Indian Subcontinent market coverage with the support of its 30 offices located in all major towns and a dedicated intermodal organization. Through its inland network, CMA CGM India offers customers ramp and door solutions based on the most competitive and reliable services, helping them optimize their supply chain.