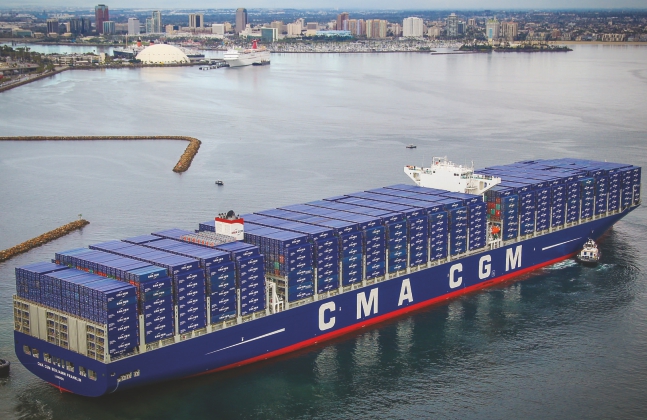 • First loading of a smart container with an Indian company between Nhava Sheva and Marseille (France)
• TRAXENS By CMA CGM: an innovative solution of connected containers for an optimized management at each step of the transport
The CMA CGM Group, a worldwide leading shipping group, is pleased to announce it loaded its first TRAXENS-equipped container for an Indian customer on November 30th, 2018. The container was loaded on the CMA CGM Tosca and will be transported from Nhava Sheva to Marseille (France) on the Group's MEDEX service.
This first contract signed in India with UPL LTD INDIA demonstrates Indian exporters' increasing needs for cargo visibility.
Prior to this, the CMA CGM Group had successfully executed on November 24th, 2018, the first loadings of TRAXENS-equipped containers from India for an international retailer. These containers are currently being transported to Southampton on the Group's EPIC 1 service.
On the successful loadings, Ugo Vincent, Managing Director, CMA CGM Agencies India, said: "Our constant focus is on providing best-in-class, innovative solutions to our clients' logistical needs. These include being able to monitor their valuable cargo at each step of the transportation process. TRAXENS by CMA CGM is one of the most innovative applications offered by CMA CGM to cater to these needs."
The CMA CGM Group launched its innovative near-real-time alert system, TRAXENS by CMA CGM, in the month of June 2018 as part of its customer centricity strategy
TRAXENS by CMA CGM: Logistics excellence just a touch away
As the first company to have invested in TRAXENS, thus participating in its development, CMA CGM has led various and numerous tests of this French start-up's unique solution. In June 2018, the Group decided to deploy it at a larger scale and to make it available to all CMA CGM customers.
TRAXENS by CMA CGM is a connected box fixed on the container allowing to measure:
• Containers' position, anywhere whether it is at sea or on land
• The intensity of potential shocks
• Outside temperature variations – and soon humidity and temperature inside the container
• Doors opening and closing
Thanks to its near-real-time alert system, the Group's clients can efficiently track their merchandise and thus be more reactive at each step of the transport. The management of the supply chain is eased through an online intuitive and user-friendly interface updated in real time.
You can discover TRAXENS by CMA CGM in video: https://youtu.be/QO9f1z8Bv8k