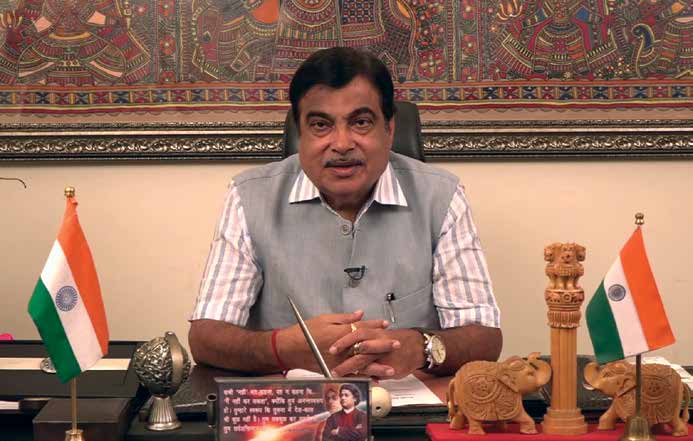 Union Minister for Road Transport, Highways and Shipping, Nitin Gadkari, assured India's support to all the neighbouring countries in building infrastructure and bringing down logistics cost
In his inaugural address through video message at the launch of first edition of South Asia Maritime & Logistics Forum (SAMLF) in India, Minister of Road Transport & Highways and Shipping, Govt. of India, Nitin Gadkari appreciated the initiative to create a forum for maritime nations in South Asia, and said, "Prime Minister Narendra Modi has decided to give highest priority towards development of Ports and inland waterways. It is a great pleasure and pride for me for the last 3 years that all major ports in India are making profit. While the ambitious Sagarmala initiative is giving emphasis on port-based industrialisation, connectivity and modernisation; the inland waterways projects are extended to neighbouring countries Nepal and Bangladesh which will be beneficial for the region's economy. The Indian government is keen to develop ports in Sri Lanka. Similarly, development of Chabahar Port will provide better connectivity to India and South Asia with Afghanistan, Uzbekistan, Russia and Europe. Nepal is a key partner for India and development of inland waterways will ease goods movement between the two countries. The biggest challenge for the region is to bring down logistics cost at par with other developed regions like Europe and China. I welcome all stakeholders from South Asia who are keen to invest in India, and together we can frame policy to facilitate investment."
 The Indian shipping minister emphasised that India will stand by neighbouring countries in building infrastructure and bringing down logistics cost.
Come together to capitalise
Inaugural session underlined the significance of South Asia in the global maritime trade and also emphasized upon the infrastructure challenges that could be overcome in the mutual interest of all partners through collaboration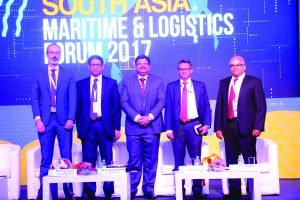 With much fan fare South Asia Maritime & Logistics Forum (SAMLF) made its debut in Mumbai on September 7. The forum was initiated jointly by Maritime Gateway and Colombo International Maritime Conference (CIMC), with support from Ministry of Shipping, Govt of India and Ministry of Port & Shipping, Govt of Sri Lanka. The forum is an effort to bring together stakeholders in South Asian maritime sector. The forum was well attended by 300 national and international delegates.

Welcoming the attendees, Ramprasad, Publishers & Editorin- Chief, Maritime Gateway said it is time logistics service providers and countries capitalise on each other's strengths as trade expands. Ramprasad stressed on the need to come together to exchange best practices and engage closely in the areas of maritime skill development, investment and infrastructure development, and the Forum will play a pivotal role to help the cause.
Highlighting the positive trends in the region, Guest of Honour V. Kalyana Rama, CMD,

Container Corporation of India said that India and South Asia are strategically located with regard to global trade and the FTAs signed among the countries in the region is helping trade growth but to attain true potential it is essential that linkages by rail, road and the maritime route are further strengthened. He said India due to its geography has a greater role to play as the bridge linking South and South East Asia. Multi-modal logistics has also helped the trade by offering a mix of marine and surface logistics benefitting landlocked countries like Nepal and also intra-regional trade.
Matías Herrera Dappe, Senior Economist, World Bank Group elaborated that a 0.1 unit increase in efficiency can bring down logistics cost by 2.3 per cent and boost exports by 1.8 per cent. Hence, Ports in the region need to stay focussed on performance and efficiency.
Guest of Honour at the Forum, H.E. Riaz Hamidullah, High Commissioner of Bangladesh to Sri Lanka, emphasized upon policy, regional economic co-operation and strategic collaboration among nations to boost trade. He said apart from cargo, there is also potential for cruise service between countries in the Bay of Bengal. Hamidullah called the members of the shipping community to look beyond the port and shipping sector for innovation and form partnerships with others like cargo owners to create the required synergy.
Shailesh Garg, Director – General Manager, Drewry Maritime Services, sharing his observation said consolidation in the shipping industry has contributed in terms of reducing bargaining power of terminal operators, higher market risks, and pressure on port pricing. He also shared his thoughts on the trade in the region, container transhipment, challenges and opportunities.
The inaugural session also witnessed release of annual Containers India Report and also South Asia Map. At the closure of the inaugural session, all the speakers were felicitated with mementos presented by Romesh David, CEO, South Asia Gateway Terminals. Following the closure of the intuitive session, Rohan Masakorala, Senior Consultant, Ports & Airports, SEMA President Office, Sri Lanka extended vote of thanks. "I am happy to see the debut event take off well and now there is a forum for South Asia to bring people together, because earlier we were detached in spite of being in the same region. The video message from Shipping Minister Nitin Gadkari adds a lot of value and recognition to what we are doing. India being the largest and fastest growing economy of the region was the best place to host this event," remarked Rohan thanking one and all for their participation.