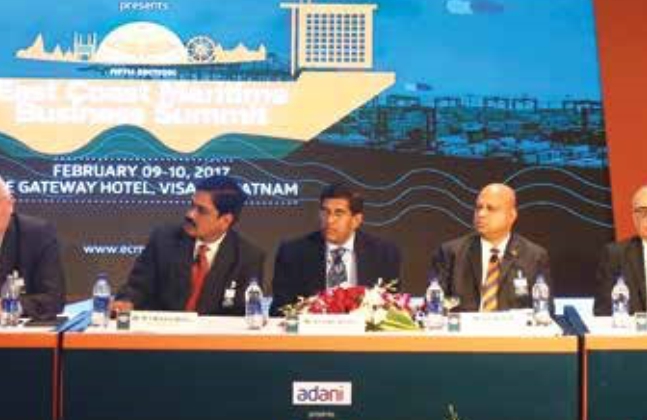 The plenary session was highly interactive as the Moderator, Michael Pinto, IAS (Retd), Former Secretary, Ministry of Shipping, stirred the panellists and the audience into discussion raising vital issues such as growth of major ports, use of inland waterways and connecting it to coastal shipping, the connect between east coast and neighbouring countries, Indian ports and shipping acts in context of ease of doing business, PPP at major ports and cabotage
In the past few years the private ports had overtaken the major ports, but in the last two years the major ports have staged a comeback. Hinting at the rise of major ports, M T Krishna Babu, IAS, Chairman, Visakhapatnam Port Trust said, private ports which are mostly greenfield ports established recently have the benefit of latest technologies delivering OSBD in the range of 50,000-100,000 tonnes per day. They account for 43 per cent of Indian maritime trade. Major ports are in the process of reinventing and repositioning themselves. In 2015-16 the growth of private ports in cargo handling has been challenged by major ports. Major ports recorded a growth rate of 4.3 per cent compared to -1 per cent in private ports. In the first half of 2016-17, the major ports posted a growth of 4.9 per cent and in the Q3 it was 7.2 per cent. In the past three years at major ports there has been a lot of focus on benchmarking and comparing the performance with the global ports. Benchmarking studies have been conducted to understand the weakness of major ports and the focus has been to reduce the turnaround time. Earlier major ports used to take eight days for turnaround of a vessel, this has been reduced to 3.6 days and most of this has been achieved in the past two years.
Another factor that is driving the major ports to excellence is the growing competition from upcoming ports, pointed P L Haranadh, Deputy Chairman, Visakhapatnam Port Trust. Competition is important because decades back when the major ports had monopoly none of them tried to upgrade their performance. With growing competition, the major ports are compelled to improve productivity. The user community will ultimately benefit from lesser logistic cost and better service.
A major cog in the logistics wheel that can drive down the cost and ensure swift movement of goods are the inland waterways and coastal shipping. But the waterways are confronted with two major issues: maintaining LAD and attracting cargo. Responding to these issues, Amitabh Verma, IAS, Chairman, Inland Waterways Authority of India said, earlier IWAI used its own dredgers and manpower for maintaining the minimum required depth in waterways which proved to be highly inefficient. Later the organisation used its dredgers and outsourced manpower which showed a bit improvement in efficiency. IWAI is now tendering out dredging contracts for maintaining assured levels of water. The Farakka to Bhagalpur stretch has been tendered out for dredging and the bidder who bags the contract will maintain assured depth (3 metres LAD and 45 metres width) for five years. IWAI will only conduct hydrographic survey to check the availability of LAD. A third party hydrographic survey will also be done to boost confidence among the users about the LAD.
At least 3 metres of draft is to be maintained but Indian rivers have a different morphology resulting in high siltation which makes it difficult for draft maintenance. So IWAI is looking to have vessels with flat bottom and greater capacity that do not require 3 metres LAD. A German company has been given the contract to design such vessels that can carry all kinds of cargo. With help from World Bank, IWAI plans to buy 20 barges when the designs are ready. IWAI is also procuring LNG-based vessels and it has tied up with Petronet LNG to ensure supply of the fuel.
Amitabh Verma also assured seamless movement of cargo between coastal shipping and inland waterways, as lot of waterways connect to the ports. NW-1 connects to Kolkata and Haldia Ports, NW-5 connects to Dhamra and Paradip, NW-3 connects to Cochin and NW-4 connects to Kakinada. IWAI has inked an MoU with Shipping Corporation of India to establish a subsidiary that will take the cargo from seaports to the hinterland through waterways providing last mile connectivity. Private players are also welcome to offer similar services. The Director General of Shipping has identified certain stretches in the sea which will come under inland waterways and river sea vessels will be used to move on the waterways. IFFCO fertiliser cargo is already moving from Paradip to Haldia. An MoU has been signed with Mormugao Port and Paradip Port for developing waterways. Feasibility report for 90 rivers has been prepared and 30 rivers will be made ready for moving cargo in the coming six years. Consultants have been appointed to identify cargo and barge operators and connect them. About 50 million tonnes of cargo is projected to be moving on NW-1 by 2020.
Raising a concern on dredging of waterways by private players, P Jairaj Kumar, CMD, Ocean Sparkle said, his company has participated in IWAI bids earlier but the siltation in Indian rivers is so high it increases the operational cost and so dredging companies find it difficult to quote a reasonable price for the bid. But if dredging contracts are for a longer period (5 years) then more private companies can come forward to participate.
Shifting the gear, Michael Pinto moved the discussion to the connect between east coast and South East Asian countries. Ted Muttiah, Chief Commercial Officer, South Asia Gateway Terminal brought to the fore synergies between east coast and Colombo. At the outset Ted announced that "Port of Colombo is complimentary to growth aspirations of India." About 80 per cent of the cargo moving through Colombo is transshipment, of which 75 per cent is to or from India. East coast has a greater share of the transshipment cargo that comes to Colombo from India. "The growth of port of Colombo has been much on the back of Indian ports growth." Transshipment via Colombo to US or Europe will save four days compared to that via Singapore or Malaysia. Port of Colombo has 20 sailings per week coming from east coast. Colombo is an extension to the Bay of Bengal gateway and also encourages shipping lines to bring cargo from other neighbours such as Bangladesh.
Shardul Thacker, Partner, Mulla & Mulla discussed the Indian Ports Act and Indian Shipping Act in the context of ease of doing business. The major ports act will soon be abolished and TAMP will be modified so that ports will be able to negotiate rates with shipping lines on a market driven tariff mechanism. India has grown to have many ports and shipping lines connecting them so there is no need for having a protective mechanism in place for any player, emphasised Thacker. The problem in the New Ports Bill is that while the board has the power to negotiate rates with new entrants, they have ignored the existing PPPs, most of which are in the court for some conflict of interest. The powers given to the landlord ports enable them to resolve these conflicts. If the conflicts with old PPPs are not resolved it will negatively impact the new PPPs coming to operate terminals at major ports. The ports need to bring in more flexibility and transparency. Further, the ports will be operated by a board comprising of eleven members coming from various departments like customs, railways, shipping and others. As each board member will be playing double role, so it is the implementation of the new bill that will decide the success of the new model.
Responding from the audience, Anil Yendluri, Director and CEO, KPCL, shared the valid points raised by Shardul Thakkar that if members of railways, customs or other department are present on the ports' board then they would put their department's interest in the first place rather than the interest of the port. So the board members should be appointed in a manner that maximises the shareholder value.
Elaborating on the key elements for making a PPP successful, Julian Michael Bevis, Senior Director, Group Relations, South Asia, AP Moller Maerskline Group said, the essential of a PPP is a good mechanism. "The desires and aspirations of all the parties need to be balanced in a PPP." And in this regard the PPP model existing at ports stands deficient in certain aspects. Here the risks and rewards need to be properly balanced through a dialogue between the government and the private parties.
Pointing at the deficiencies in a PPP, K K Krishnadas, Director and CEO, Chennai Container Terminal Pvt Ltd argued that all the terminal operators have been struggling to get TAMP abolished because most of the major ports on the east coast are operating on 2008 tariff. With the TAMP abolished, there will be an open market that will decide the rates.
Sharing views on TAMP, MT Krishna Babu said, the problem is not with fixing of tariff but it is with lack of flexibility. New ports that are coming up in close vicinity are able to cross-subsidise services and gain customers while major ports having large properties are unable to fully utilise them as rates fixed by TAMP cannot be modified due to which the PPP operator loses business. This issue has been addressed in the new MCA that allows both the port and the private partner to decide the tariff based on market dynamics.
As the moderator moved the discussion away from ports to moving cargo by rail, responding from the audience was Syed Abdul Rahman, IRTS, Regional Head – Eastern Region, Concor. He explained the entry of private players in container rail movement and the value addition happening therefore. Bringing in more players in rail-based container movement has benefited the trade by bringing down cost. Private container operators often complain that Concor being a government entity takes away all the benefits, be it in regulations framed by the railways. But this is not true as all the policies framed by railways are scrutinised to ensure they do not exclusively favour Concor.
The last topic of discussion in the session was Cabotage. Sharing view, Shardul Thakkar said, Cabotage should apply only on movement of domestic cargo. If cargo is meant for exports and the first leg of the journey is between two Indian ports then it should not come under cabotage as the trader has to pay one rate for the domestic movement and another rate for the international movement.
"Cabotage is one of the reasons for India not having a hub port," claimed Julian Michael Bevis. International carriers carry only exim cargo on the coast and have no interest in moving domestic cargo. Even empty containers coming on an international carrier have to go to a transshipment hub before coming to India which adds to the cost.
 The success of Colombo Port is linked in a big way to the Indian Cabotage Law and this is no secret claimed Ted Muttiah. If India allows foreign vessels to carry domestic cargo, it would be a game changer for Colombo as Sri Lanka has another 10 million teu capacity in the pipeline and all of it for transshipment.