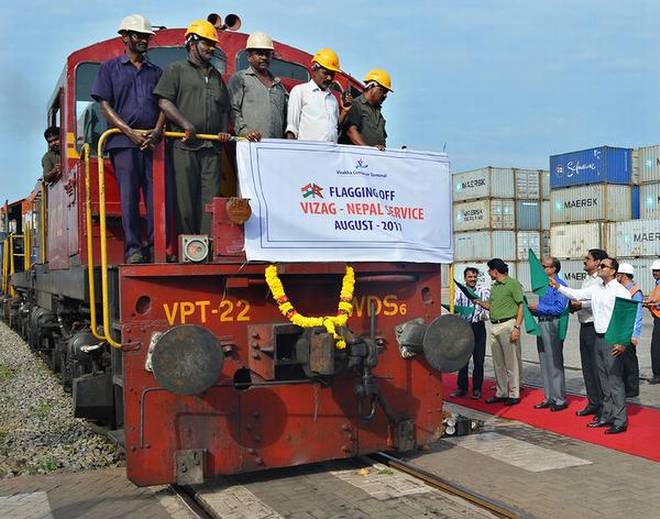 Mr M. T. Krishna Babu, IAS, Chairman, Visakhapatnam Port Trust (VPT), along with Mr M. S. Mathur, IRTS, Divisional Railway Manager, Mr D. K. Srinivas, IRS, Commissioner of Customs and Mr Vir Krishna Kotak, MD, VCTPL flagged off a Nepal-bound container train recently from the VCTPL rail siding. Trial runs had been carried out in June 2017, which were successful and found economically viable.
Traditionally, Kolkata and Haldia have been the gateways for Nepal cargo since the inception of the Indo-Nepal Treaty. Therefore, Kolkata Customs and Nepal Commerce Department established standard operating procedures for movement of goods in transit from Kolkata to the four Customs entry points for cargo in Nepal—Baharaich-Nepalgunj, Birgunj-Raxaul, Biratnagar-Jogbani and Sonauli-Bhairahawa. Goods move by both road and rail to Nepal. The rail link is only valid through the Raxaul-Birgunj entry point. Other borders open only for road-bound consignments from Kolkata and other bilateral trade movements.
Kolkata being a riverine port has challenges with regard to big vessel navigation, and other inherent problems that often led to handling delays in port. This gave birth to the idea of an additional port which could handle Nepal movement. Vizag was the obvious choice as the only container terminal in east India down south of Kolkata Port. Adopting Vizag as the additional gateway took shape from then on. After a brief struggle to ratify the treaty, which had only allowed Kolkata, the government of India and Nepal signed on the dotted line to include Vizag in the treaty.
Of course, it was not a cakewalk. It took relentless efforts from both sides to realise the dream of the Nepalese commercial entities and trade. Signing of the LOE paved the way to amend the transit treaty after both sides laid down SoPs to regulate movement. In this context, many officials from Nepal visited Vizag to assess feasibility. There were trade meets at Kathmandu, Birgunj and Vizag participated by port and Customs officials, the trade, shipping lines and the terminal. Challenges were identified and plugged before real movement could start. The signing of this deal has paved the way for all shipping lines to commence Nepal shipments through Vizag.
Maersk Line, the largest shipping line in world, decided to offer a unique product to customers. It was a long-cherished dream of Nepal trade to have a transhipment kind of set-up for international trade. Maersk, with the expertise of its in-house forwarding company DAMCO, introduced a direct transhipment product pertaining to Nepal traffic exclusively through Vizag. This will enable the consignee to get his container in Nepal without involvement in Customs transit clearance. As a result, the expenses of middlemen and detention charges are eliminated. All responsibility of the container reaching Nepal is with the shipping line, hence unnecessary delay is on their account.
The trade wholeheartedly accepted the offer and the first rake was formed in June with a load of 50 containers. The maiden rake shed all apprehensions regarding the new transit process. Soon after the first rake, Maersk witnessed a surge in bookings for the unique product. Now there is talk about a fifth rake, while the second rake was flagged off on Monday. To mark the occasion, VCT organised a small get-together of all stakeholders.