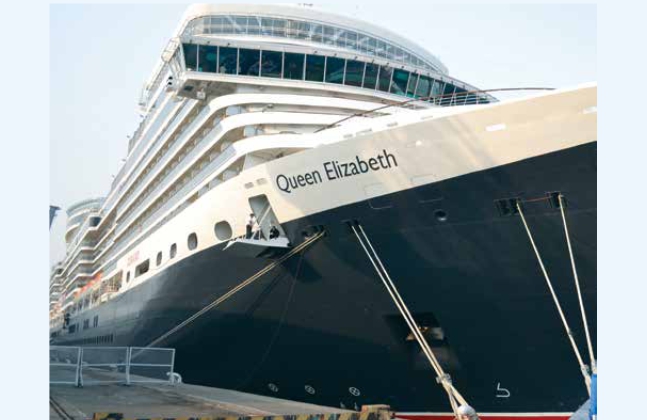 Cruise tourism is an emerging sector in India with huge potential for contributing to the national economy and generating employment. The winds seem to favour the industry as the government has raised the sails to give a major push to the sector by framing a favourable policy to make cruise tourism attractive and hassle-free
Cruise tourism is the driver of growth in the areas touched by it. Ocean cruises have impact on ports and the area within 50 kms of the port. River cruises have the potential to foster economic development along the route. "India is an emerging market and with cruise holidays gaining popularity the number of passengers is on the rise and this is a trend I foresee continue into the coming 3-4 years," reveals Kunal Sampat, General Manager – India, MSC Cruises.
In the last one year we have noticed people cruising from Mumbai to Cochin and then to Mali or Colombo. Earlier the ships used to be full with foreigners and NRIs, but now Indians are also boarding the ship from Mumbai, reveals Girish Thomas, Sr. Dy. Traffic Manager, Cochin Port. In 2016-17, cruise vessels made 158 calls at ports in Mumbai, Cochin, Goa, New Mangalore and Chennai.
Very few people (about 130,000 to 140,000 annually) opt for cruise tourism in India and the number is less than one per cent of the total market. In 2014-15 a total of 1,04,125 cruise passengers were handled at five major ports which increased to 1,25,838 during 2015-16 achieving a growth of 20.85 per cent over the previous year. In 2016-17, about 1.92 lakh cruise passengers embarked/disembarked at major ports. The country has potential to grow to 1.5 million by the year 2031-32 and by 4 million by 2042-43.
About 300-400 passengers boarded a cruise from Cochin Port last year and the number of transit passengers was around 60,000 to 75,000. According to Girish Thomas, "About 45 cruise ships called Cochin port in 2016, compared to 35 calls in 2015. Big cruises like Queen Elisabeth call at only Cochin Port as they are too big to call at any other port."
Pointing at the merits of his port, Girish says, "Cochin has a full-fledged terminal for cruise wherein all operations like Customs and immigration clearance can be done under a single roof. E-visa facility is available at the port and it offers up to 30 per cent discount to the ships."
Demography
At present, Indian cruise market is significantly dominated by International passengers. However, with Costa Neoclassica partial coastal (Indian ports) deployment, has seen exponential rise in Indian passengers. The dominant age group is generally in the 30-45 years range. The next closest bracket being 60-75. The age group also depends on the destination. Alaska and Europe would be on the older side and Singapore would be on the younger side.
Why opt for cruise tourism?
Hassel-free means of travel and tourism – luxury, adventure, entertainment, food, medical and all essential amenities under one roof is the key for choosing cruise tourism. Security in terms of time and money, and stress-free adventure are the two main reasons.
Families: Cruise ships offer babysitting and kid's entertainment, making it a relatively convenient option for families. So, kids may be left in the kids' club, while parents are watching the evening shows and grand-parents are lying in.Families: Cruise ships offer babysitting and kid's entertainment, making it a relatively convenient option for families. So, kids may be left in the kids' club, while parents are watching the evening shows and grand-parents are lying in.
New travellers: A lot of new travellers, when they go to Europe or any place new, covering many destinations. The process of figuring out transfers, immigration can be a bit daunting. The ship to some extent holds your hand in bringing you to your destinations thus avoiding too many transfers, while allowing the traveller to see many places on one holiday.
Corporates: A cruise ship is an easy venue to balance holiday and work for corporate events. There is easy access to meeting rooms, conference centres, auditoriums, cocktail venues and entertainment.
Elder persons: You only have to manage getting on and off the ship even when visiting different locations you don't have to catch different flights or check in different hotels.
Cruises calling Indian ports
Since last season, Costa under Carnival Corporation is the main operator in India. Apart from this, other cruise corporations such as AIDA, Princess, Seabourn, HAL, Cunard (under Carnival Corp.), Celebrity, Azamara, Tui (under Royal Caribbean Corp Ltd) and Reagent Seven Seas (Norwegian Cruise Holding) called Indian ports for few calls.
The GSAs include Thomas Cook, SOTC (including Kuoni), Cox n Kings and DePauls. The consolidators for specific cruise liners are Ark/Guideline for Star Cruises (Celebrity), Tirun (Royal Caribbean), Lotus Destination (Costa), Sharaf travels (MSC).
Cruise destinations
Popular destinations for Indian travellers are the Mediterranean (east & west), North Europe. In 2016, some 120,000 plus Indians cruised world – wide. Of those, more than 100,000 flew to Singapore and cruised to primarily Southeast Asia. As indicated, Singapore remains the top cruising destination followed by Western Europe (Italy, Spain) and then Alaska and Miami/Orlando. Dubai is a new destination gaining popularity.
Cruise season
Cruise season extend from October to April-May. Not surprisingly, the peak rush tends to be around holidays/ wedding season, so the main periods are around Mid-April, May, mid-June), Diwali (October, November) and Christmas/NY (December, January).
Measures taken by govt
SoPs for handling cruise vessels and passengers have been implemented. Foreign flag vessels are allowed to call at Indian ports without obtaining license from DG Shipping. Port-level Committees have been constituted to address manpower, coordination and logistics issues. A rebate of 30 per cent is given at Major Ports in Port charges. Additional rebate of 25 per cent is for home port cruise vessels in addition to 40 per cent rebate for coastal cruise. EVisa facility is extended to five major ports. Proposals are made to introduce e-Landing card for cruise passengers. The number of days a cruise ship can dock has been increased to three.
"None of the Indian ports can be currently termed as a full-fledged cruise terminal. The government should also cut down the tax structure which is quite high," remarks Kunal.
Cruise Tourism Policy
The government is working on a cruise tourism policy to increase the cruise liner traffic to India 10-fold to 700 vessels a year. "Cruise tourism can be India's economic growth engine and it has vast untapped potential. In a month, shipping ministry in collaboration with tourism ministry is going to bring India's first cruise tourism policy," announced Nitin Gadkari, Minister for Road Transport, Highways and Shipping.
To start with, five ports – Mumbai, Goa, Mangalore, Chennai and Kochi – will be developed as cruise hubs. World-class berths for cruise ships will be developed and security and immigration procedures for tourists will be simplified. Modern cruise terminals being developed at major ports will include hospitality, retail, shopping and restaurants, while about 200 minor ports will develop jetties. Currently cruise tourism is not taxed and the shipping ministry has asked to exempt cruise tourism from GST.
Key recommendations by a global consultant engaged by the ministry of shipping for promoting cruise tourism:
Single window system for all pre-cruise requirements for cruise operators like entry of vehicles, personnel and guides electronically, doing away with checking of registration, license papers of vehicle each time.
(ii) Create a dedicated approach road and entrance to the cruise terminals.
Uniform and consistent security procedures by CISF at all ports.
Adequate security and access to the port for passengers overnight and while visiting local venues.
(v)  Security checks for embarking passengers would be done only once. (vi)     Use of technology for clearances, providing passenger manifest to CISF and doing away with manual time-consuming process.
(vii) Implementation of green lane/ red lane at existing terminals with random Customs checking.
(viii) Declaration of only limited items of inventory of the cruise ships in place of the existing requirement of having the complete inventory for all the stocks.