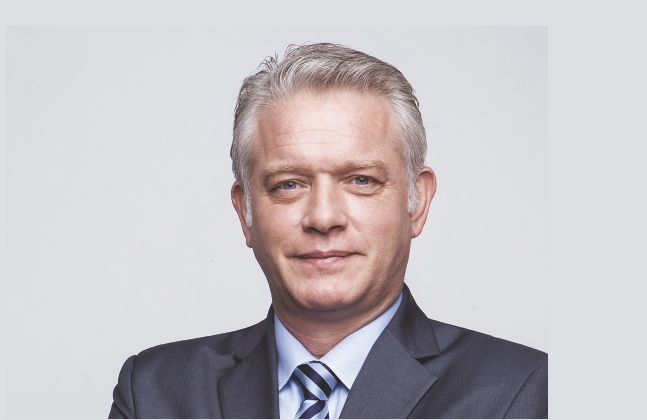 CUSTOMER CENTRICITY IS AT THE HEART OF OUR STRATEGY
"Inclusive growth and presence at every location where cargos exist remains our business vision in India. This is especially true for our business with South East Asian neighbors as well," reveals Ugo Vincent, MD, CMA CGM Agencies India Pvt Ltd, in an interview with Maritime Gateway
How has been the business at CMA CGM India this year?
We are quite optimistic about India's EXIM growth in 2018 as it is growing at a much faster clip than global trends. As far as CMA CGM India's volumes are concerned, we are able to grow almost double the speed of Indian Market. We expect that in the future, this trend will continue, and we will finish the year with healthy doubledigit growth in our containerised business out of India.
You have been steering the project cargo and break-bulk cargo business at CMA CGM. Coming to India what opportunities and challenges do you see?
 India today has become a key supplier of out of gauge and break bulk cargo, turnkey projects, boilers, turbines worldwide. This segment of the market is expanding and expected to maintain its pace. We are observing and creating opportunities to carry some traditional break bulk vessel cargo into container ship cargo.
CMA CGM enjoys first mover advantage into project cargo with its specialised handling and expertise. We recently loaded a helicopter on board one of the vessels operating on the EPIC 2 service for final destination to London Gateway which is one of the key milestone amongst others achieved by our Break bulk team in India. However there are challenges into this vertical, mainly on account of Operational capacities and capabilities of Terminals in India. We still have many terminals unable to accept Breakbulk cargos full-fledged due to their current setup. Another key constraint are infrastructural shortcomings during landside operations of Project cargo, which make it challenging to accept some project cargo at specific locations.
CMA CGM has recently acquired stake in CEVA Logistics. Could you please explain the strategy behind this acquisition?
One of Rodolphe SAADÉ's strategic priorities is the group's development in logistics alongside maritime transportation. The group's investment in CEVA is a strategic approach in further expansion of our presence in the logistics sector, which is closely related to shipping. Together with CEVA, the group will explore the development of joint commercial offerings to best facilitate our customers. Our common focus will be the development of end-to-end solutions with mutual benefits. The vision of our Chairman Mr Rodolphe SAADÉ is to explore possible cooperation with CEVA, allowing us to propose an even more differentiated and qualitative offering.
With consolidation, the gap in service offerings by different shipping lines is getting narrow. How do you stand apart from the competition in such scenario?
We do acknowledge that with growing consolidation, the gap in service offerings between different shipping lines is getting narrow. However, this has allowed us to offer multiple weekly calls on various destinations, as well as expanding our ports coverage.
Our strong brand value, our customer centricity strategy, constant innovation in bringing differential products, strong land side network, end to end solutions customised to suit each and every kind of customers along with our various impressive value-added services help us remain as a differential player.
Tell us about your services and commodities moved on the west and east coast of India? What potential do you see on the east coast?
We do carry practically every containerised commodity to and from India, which includes lighter commodities like flower buds, to bulk commodities like steel, sugar and seeds.
As far as the East coast of India is concerned, we do see opportunities to carry Solar panels and allied products into this part of the country. East coast has natural abundance of Minerals which helps in export of metals and minerals. Apart from this, agri commodities continue to play a major part in exports. We do expect other finished goods to keep increasing as a share of our exports.
CMA CGM today operates 14 direct services in and out of India. We are constantly focussing on East Coast also to improve our coverage apart from the current offering.
CMA CGM has recently started the "Customer Experience Programme." How is it helping in upgrading your services?
The Customer experience programme is of immense value for CMA CGM Group as it is helping us to identify what exactly our current and future customers expect and their exact needs. One of the main pillars of Rodolphe SAADÉ's strategy is customer centricity, which aims at putting our customers as well as their needs and expectations at the center of our Group's development.
This allows us to continuously redesign & adjust our existing products and services (both on sea and in land), and come up with new value-added services to cater different types of requirements of our customers.
Tell us about your service expansion on the land side and connectivity to the hinterland?
CMA CGM is very active in India regarding the expansion of our presence in land side operations. We firmly believe that in order to offer complete products to our customers, it is essential to have a strong land side network. While we already operate container terminal in Mundra and number of CFSs across important locations in India, we are also constantly looking towards building new capacities in emerging areas.
What is your strategy for the Indian market and for the South East Asian region?
Inclusive growth and presence at every location where cargos exist remains our business vision in India. We feel there are massive opportunities to tap into for the Indian market. This is especially true for our business with South East Asian neighbours. We are particularly focusing on this region as it will pave the way for future growth in this area. We are operating direct services connecting two east coast ports on our main line services. We have a dedicated feeder service connecting Singapore, Port Klang to the east coast of India.
How is the response to your value-added services – SERENITY, REEFLEX and SMART CONTAINERS?
We have received great and positive response to our product cargo value Serenity from all customer segments in India. We feel it's just the beginning and it will help all our customers to better manage their cargo protection. REEFLEX and SMART Containers (TRAXENS) are new products which are at their implementation stage in India. Considering the initial customer feedback, we are very optimistic about its success in the Indian market as they offer very innovative solutions to customers' needs that were unfulfilled until now.
In which of the trade lanes connecting India do you see business growing and growth potential?
While traditional markets for India's EXIM – like Europe and Middle east – are showing some stagnation, big markets like the US are showing strong resilience.
Concerning growth, we are very optimistic about the whole Africa and Latin American trades out of India. We are continuously expanding our offering into these trade lanes.
How does CMA CGM see the post-cabotage relaxation scenario in India? Will it bring benefits of transhipment as intended?
Even before pre-cabotage relaxation period, we at CMA CGM India were promoting Indian ports as Transhipment ports with focus on Mundra and Cochin as hubs to carry out Transhipment activities on Indian flagged vessels.
In Post-cabotage relaxation scenario, we are promoting intra-Indian transhipment options.
 However, in order to realise the full potential of benefit of this relaxation, its essential to have competitive transhipment costs at Indian ports, in order for the neighbouring countries to compete. This is not the case today which plays important role in determining place of transhipment.
We see lot of interest in investments in hinterland infrastructure in India? Does CMA CGM has any plans in this space? If so, what is the strategy?
We are actively looking for opportunities in India for the expansion of our presence in hinterland infrastructures. We already operate a container terminal in Mundra and number of CFSs across all major locations in India. We are constantly looking towards building new capacities in emerging areas.
We are developing new CFSs in Modinagar (Delhi) and Mundra. Cold storage facilities near Navi Mumbai is another opportunity for us. We are already operating special block trains from Dadri and ICD Tughlakabad.
We are setting up new depots across locations for the handling of empty equipment and inventory management.
With the expected rise in the demand for time and temperature sensitive products like pharma, perishables and e-commerce shipments, what infrastructural changes are you making to boost cargo transportation?
Our continuous focus is on catering to niche segments and come up with innovations. For temperature sensitive products like pharma and perishables, we have come up with various reefer products. REEFLEX, our most advanced solution for liquids carriage, and AQUAVIVA (safe transport of live lobsters in their original water), are some examples of our commitment to innovation. A few days ago, we launched Climactive, the most advanced technology for the transportation of highly sensitive fruits and vegetables by active controlled atmosphere. It maintains sensitive commodities' freshness to destination, by faster reducing the level of oxygen inside the container equipped with DAIKIN Active CA.
For time and value sensitive shipments, our TRAXENS solution is best suited. This container-tracking solution is essential for our customers, as it allows them to manage their vendor selection, improve their supply chain efficiency thereby reducing costs. We expect its successful rollout in India soon. All these measures are helping us boosting and expanding our cargo base.