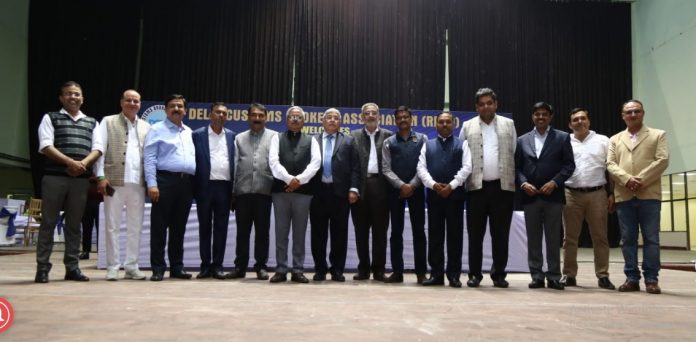 Delhi Customs Brokers' Association (DCBA) has elected its new Managing Committee for the ensuing two years at the 36th Annual General Meeting held on November 24 in Jawaharlal Nehru Stadium, New Delhi. The office-bearers who have been elected are: Mr S. Ramakrishna (President), Mr Gurvinder Singh (Vice-President), Mr Santosh Kumar Choudhary (Hon. Secretary), Mr Rajbir Singh (Hon. Joint Secretary) and Mr Bhim Singh Jain (Hon. Treasurer). Mr Anil K. Mishra, Mr Devendra Singh Bhadoria, Mr Rajiv Kumar Sharma, Mr Rohit Kapoor, Mr Vaneet Aggarwal, Mr Vijay Raghvan G., Mr Vikrant Gogia and Mr Yogesh Kumar have been elected as Managing Committee members of DCBA, informed a release.
On taking over the charge of President of DCBA, Mr Ramakrishna said that his primary focus would be skill development and training programmes for the benefit of the DCBA members and CB/FF community. More emphasis would be put on conducting regular knowledge sessions to make awareness on changing government policies in terms of export/import, increasing digitisation and Artificial Intelligence. More awareness programmes will also be organised on GST and new applications for filing returns. Above all, there would be continuous pursuance for acquiring MSME industry status for CBs and FFs. With MSME status CBs and FFs would be enabled to establish 30 days' payment mechanism, obtain government tenders pertaining to logistics operations at least 25 per cent of total value, cheaper loans from banks/financial institutions, etc. In addition, the new committee would interact with appropriate authorities regarding KYC repository, separate coding under Udyog Adhar for CBs and FFs for MSME registration, etc.
Commenting on further strengthening DCBA's activities at local level, Mr Ramakrishna maintained that in view of plenty of ICDs and CFSs in Delhi NCR region and its geographical vastness (spread across 100 km range) some small local teams would be created who would be dedicated for looking after day-to-day operations and issues related to specific ICDs, for better coordination, solution and benefit of the CBs in this entire region/jurisdiction.
The new DCBA President is optimistic that the association will soon be able to expand its office with all facilities, especially with adequate space for its training centre and for hosting knowledge sessions, seminars and conferences.
Welcoming the new office-bearers and Managing Committee members Mr PS Atree, who successfully led the association for last four years as President, DCBA, suggested that the new committee with their expertise and able leadership should take forward some of DCBA's ongoing programmes like implementation of SOP, welfare fund for CBs, and other requirements/issues discussed at the AGM. Mr Atree also urged for continuation of programmes like seminars and workshops pertaining to knowledge enhancement on changing govt rules and regulations and policies.
Moreover, he also stressed upon initiating regular training programmes for the DCBA members. "During last four years I have had very good experience in working with various government agencies/organisations, Ministries, carriers, custodians, other industry stakeholders, our own members, my colleagues in the Managing Committee and our Secretariat. Everything what we achieved during my tenure was possible only because of our strong team work. I wish all the best to the new Managing Committee to take DCBA toward a new high," Mr Atree concluded with optimism.