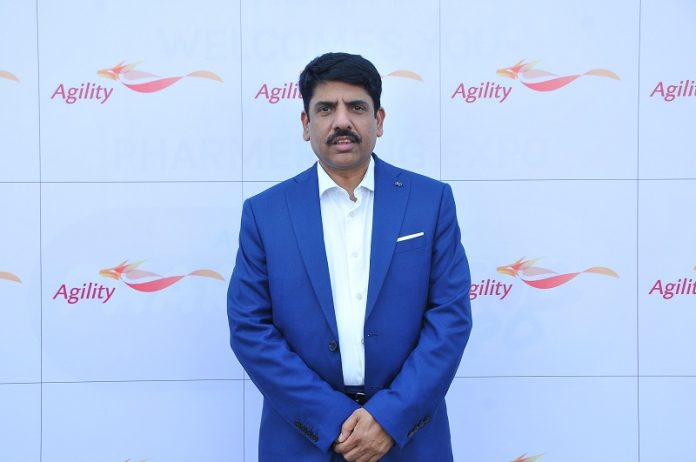 Mr. Satish Lakkaraju, Chief Commercial Officer, Agility: We saw many product / solution specialists struggling when the pandemic started as the sole sector they were serving stopped working. We service a multitude of verticals, so even though fast fashion shippers stopped shipping their cargo, we had life sciences shipping large cargo volumes.
COVID-19 has impacted almost each and every sector. What has been the impact on warehousing and cold chain?
Every sector has felt some impact from the ongoing COVID-19 pandemic, some have had a positive impact while others faced negative demand. The demand in general warehousing was very slow, there were hardly any goods moving except for the essential commodities. Luckily for us at Agility, we have a diversified portfolio of customers spread across various verticals, so a negative growth was counterbalanced with an increased demand for cold chain services by life sciences customers. One of the major positive for us has been that we had been working very closely with most of large customers, so we were able to offer them customised solution based on the changing market dynamics.
Pharma sector, obviously is booming during this unfortunate pandemic scenario. You are a leading player in this segment. What are the challenges and innovations you have seen in your company operations?
We have been working with major pharma customers in the country for a while now and have a very strong Life Sciences team globally. When the COVID-19 started there was a sudden surge in demand for medicines, but when the cargo capacity disappeared suddenly following international travel restrictions, we were initially struggling to move the medicines to meet the demand. I must appreciate our airline partners who stepped in to cater to this supply vacuum by converting their passenger planes to cargo planes or moving cargo on passenger seats, now that's an innovative, out of the box thinking to cater to the market demand.
Today everyone is talking about digitalisation. You had started in this direction much before COVID-19 and there have been some recent digital initiatives at Agility like the OpenText Content Services and the online forwarding platform SHIPA FREIGHT. How are they being used now and what benefit they bring to shippers?
Agility has been at forefront of taking steps for supply chain digitisation. We have been working on a Blockchain project along with IBM Maersk since 2018. We have a dedicated team of 500+ people working at our Agility E Services center in Hyderabad working tirelessly to develop, deploy and manage digital services for across the globe.
OpenText Content Services is our recent solution deployed to digitise shipping documentation. We are also really proud of our Shipafreight platform, it allows us to cater to the SME segment of customers, and allow the SME's to enjoy the full range of Agility's services and network. It's a win-win solution, we get to cater to an additional set of customers while the SMEs get to enjoy our network, services and rates, making them more competitive. Also, since it's a digital platform, anyone can access it from anywhere, which allows the customers to operate from anywhere, especially in the current scenario.
Agility has been very active in providing relief response during the COVID-19 pandemic:
Ever since the COVID-19 pandemic started, we have been working very actively with various humanitarian agencies to move medicines, medical equipments and other medical consumables like PPE kits & masks across the world. We have been working very closely with all stake holders like manufacturers, airlines, shipping lines, transporters, etc. to ensure that the right medicines or equipment should reach the end user on time and in the correct usable condition. We as an organisation are fully committed to patient safety and this passion drives us to find solutions for the industry.
Agility has recently obtained the CEIV Pharma Certification for pharmaceutical logistics. What is its significance to the shippers?
The CEIV pharma certification was a very important milestone for us in India. Even though our processes were GDP compliant, we realised there was still some room for further improvement. The CEIV certification drives a change in mindset, you become more committed to processes, eliminate loopholes, with an ultimate aim to achieve a reliable and efficient supply chain.
CEIV Pharma certification is a seal of approval from IATA that your processes are compliant for handling pharma shipments through air. From a shipper's point of view, when they work with a CEIV pharma certified company, it gives them an added comfort and reassurance that their precious cargo will be handled in fully compliant manner with minimum risk of damage or temperature excursion.
The pandemic has added to growth of the e-commerce market. Do you see it drive the demand for warehousing? Do you expect more investments to be made in warehousing in the coming days?
E-commerce was growing very fast in India before the pandemic, however a lot of products and services were still being delivered through traditional distribution channels. What this pandemic has done is, it has expedited the adoption of technology & online delivery models. The surge in E-commerce has necessitated the need for more warehousing space to cater to this increased demand.
With the impending move of manufacturing facilities from China to India, there will be more demand for warehousing space in the coming months and years. So, yes I feel there is huge upcoming demand for warehousing and other ancillary services in the coming days.
What are the lessons you have learned from COVID 19.
We are learning something new every day during the pandemic, however I do have few broad lessons to share:
Keep yourself updated and plan ahead: No one really thought that a virus outbreak like COVID-19 will have such severe impact on businesses and global economy. When we started hearing about severity of the outbreak in China, we started working on our business continuity plan, when the lockdown was actually announced in India, were much better prepared to weather the storm, as compared to some of competition who were caught completely off-guard. Planning ahead gives you an edge over your competition.
Don't put all your eggs in one basket: I know it's a very obvious one but still we saw many product / solution specialists struggling when the pandemic started and the sole sector they were serving, stopped working. We service a multitude of verticals, so even though fast fashion shippers stopped shipping their cargo, we had life sciences shipping large cargo volumes. Specialisation to a certain extent should always be strived for but over dependence on one product / service or vertical should never be the final aim.
Employee Empowerment is critical: An empowered employee is able to work more freely and efficiently. Business leaders will never be able to grow the business if they try to micro manage it. Leaders should focus their time and energy to see the broader picture of the business and take appropriate growth oriented decisions.