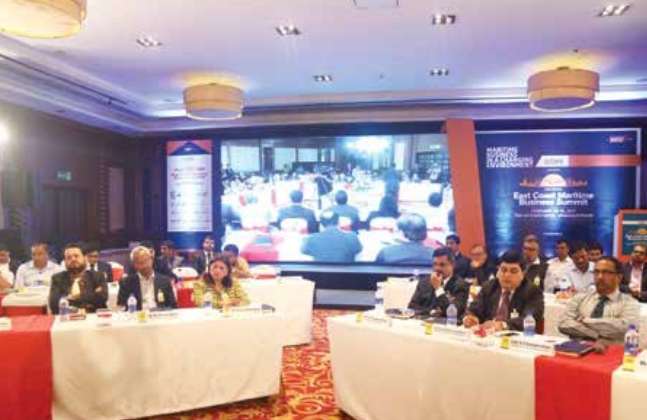 The fifth edition of ECMBS was truly international with participants coming from Nepal, Myanmar, Bangladesh,Sri Lanka and UAE to deliberate and strengthen business ties among South East Asian nations
T he year 2016 witnessed the rise and fall of some of the biggest entities in global maritime scene, and the shock waves could be felt on Indian shores as well. But the industry hardly baffled, they dropped anchors at the illustrious maritime city on the east coast of India, Visakhapatnam on 9th and 10th of February to deliberate matters most pertinent for growth and sustainability. The 5th East Coast Maritime Business Summit hosted by Maritime Gateway one of the most sought after maritime and logistics industry summits in the Indian subcontinent in its fifth year got even bigger and had drawn industry leaders from neighboring countries Sri Lanka, Nepal, Myanmar, Bangladesh and UAE. The two-day business summit had a mix of heated debate and discussions evaluating the bygone year, and issues upsetting institutional and collective business interests. There was healthy dose of cultural and exciting activities to relax the participants, and also the ambience to be engaged in some productive business networking.
ECMBS, in its latest edition had some insightful sessions spread over two-days but the most engaging one was the 'CEO Conclave'. The flagship session on Day one was exclusive to top management executives from about 200 maritime and logistics companies and manufacturing exporters, which witnessed narratives of some insider strategies to overcome challenges faced in the current economic scenario. The top executives were lauded for their achievements and also cautioned for the future as conventional ideas and approach to business might not be as effective as in the past in the era of technology and innovation. If there is no cargo, there is no trade, hence the summit was not limited to maritime and logistics fraternity, and called upon users' community from diversified industries like containerized cargo metal and minerals, agri-products, among others.
The Day two focused on Maritime Business in a Changing Environment: Opportunities & Challenges, where participating delegates highlighted newer avenues of business expansion, investment prospects, local to global trade matter, and ways to cope up with existing and new policies, to name a few. While the trade appreciated certain government policies like promoting coastal shipping and inland waterways, one country-one tax regime, direct port delivery, the floor did not shy away to be critical of policies that are made without taking inputs from the industry. The floor was unanimous that policies should not be made in isolation, and it is high time policy makers should pay attention to the difficulties of the trade. Cargo owners also drew attention towards gray areas in logistics value chain, and the trade assured to find solutions to make logistics efficient.
The serene and sublime backdrop of the event venue overlooking the Bay of Bengal, had no moment of somnolent, and the soulful performance by child prodigy and winner of India's Got Talent 2016, Suleiman enthused delegates to try their hands as flutists. The summit rewarded the achievers from maritime trade, and as the event came to an end the delegates bid adieu to old acquaintances and new partners in progress. There was a sense of accomplishment for all participants, and the promise to come together to make ECMBS a never-ending journey on the path to maritime glory for each and every member of the trade.