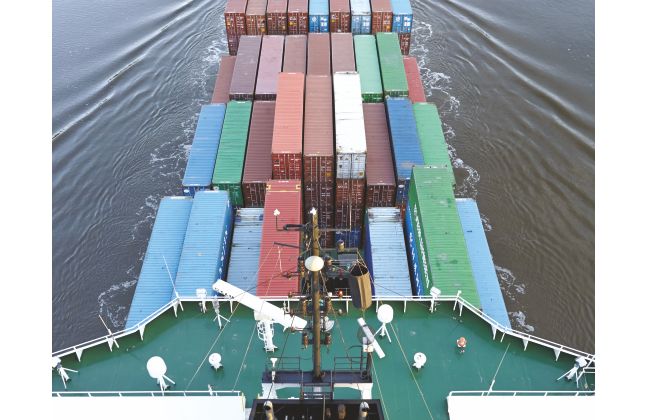 Developing inland waterways will help Nepal trade to cut down on logistics cost and time while simplifying trade procedures and documentation
For decades Nepal has been struggling with its inherent geographic challenges being a land-linked country dependent on the maritime infrastructure of India for connecting to the global markets. While this hilly nation is blessed with many rivers that originate in the Himalayas, yet the potential of these waterways for logistics remained unexplored. But with the new government in place the maritime sector is gradually coming into focus as Prime Minister K P Oli has recently inaugurated the the Nepal Ship Office in Ekantakuna and the Nepal flag will soon be seen sailing on the oceans.
Oli also aims to buy ships for riverine trade through the mountainous country for onward shipment through Indian ports, likely by rail connections.
Among the eight rivers identified by the IWAI for development in Phase I are Gandak (NW-37), Kosi (NW- 58) and Ghaghra (NW-40), which are the Himalayan rivers known in Nepal as Saptagandaki or Narayani, Koshi and Karnali, respectively. In addition, India has already initiated the construction of a multimodal terminal at Haldia and Varanasi which is one of the three gateway ports for the inbound and outbound cargo of Nepal.
Further India has agreed to incorporate Nepal's proposal to extend inland waterway facilities up to its nearest navigation points in the bilateral trade and transit treaties for third country trade via India. "India has agreed to incorporate inland water facilities in separate Trade and Transit Treaties, paving the way for us to navigate inland water facilities from Haldia to Nepal border via our two rivers. This will pave the way for our own inland waterways. This will diversify our transit facilities, as we are currently completely dependent on land transit," said Kedar Bahadur Adhikari, Secretary, Ministry of Industry, Commerce & Supply. Nepal will use the Indian facilities to import and export cargos via its two rivers – Koshi and Gandak – to reach Haldia port in Kolkata. Nepali has further proposed using two Indian transit points for inland water navigation: Sahibgunj (Jharkhand) and Kalughat (Bihar) via Haldia port up to Nepali border from Koshi and Narayani rivers respectively.
A governmental technical team from Nepal is conducting field visits to various Indian navigation points to figure out how Nepal can expand its transit facilities through waterways. They will particularly identify navigation points on the Nepal side as well for the cargos coming from Haldia via Sahibgunj and Kalughat. Any third country cargo will navigate via Haldia port to Sahibgunj and Kalughat and will park there. Then the Nepal-bound cargos will ferry via land route to Raxaul and Jogbani.
Cost benefit of using waterways
According to Word Bank Report over 30 per cent of Nepal's import (invoice) value goes into freight and international transport related service cost, which means approximately $3.2 billion in foreign currency is going to foreign shipping companies and service providers. Even if you consider only half of what is reported, which is 15 per cent, it is over $1.6 billion that the nation is paying every year for logistic service which can be retained within the country by managing freight issues within the country.
It costs about $1800- $1950 for moving cargo from Kolkata to ICD Birgunj by rail in 21 days using ECTS. Moving cargo through rail under ECTS but without transhipment costs $1645 and takes 21 days. Moving the same cargo by road takes 15-19 days and costs $2000 to $2150. These costs can be significantly brought down using waterways as shippers can avoid port costs by offloading cargo at Haldia on barges using floating cranes and it can be moved to Nepal using waterways in 7-10 days. Shippers can negotiate cheaper rates with ocean liners for end-to-end logistics. On the contrary, it takes minimum of 24 days and maximum of 38 days by rail for movement of cargo from Kolkata to Nepal. By road it takes a minimum of 14 days and maximum of 19 days.
Turnaround time issues with road and rail
After a vessel arrives it takes about 4 to 6 days at port for clearing cargo to move by road and almost 8 to 13 or more days for moving cargo through rail. This delay includes time taken for document preparation, shipping liners payments, Custom's house formalities, port formalities, CFS formalities etc.
Booking formalities with CONCOR take a minimum of 2 to 3 days if goods are to move by rail and one day if movement is by road.
Waiting time with CONCOR is 8 to13 days after forwarding number is received at Kolkata Port.
CCU to ICD Birgunj it takes 4 to 6 days for moving cargo via road
Customs point at ICD Birgunj consumes one day of the transit time
From Birgunj to CCU it takes 4-8 days by train and a minimum 4 days by road
MAJOR RIVERS IN NEPAL
 The three main river systems of the country are the Koshi, Gandaki and Karnali rivers. The Koshi river has a total length of 720km, of which 513 km lies in Nepal. The river enters India at Bhimnagar –about 50 km from Chatara in Nepal – and finally reaches the Ganges River near Kursela. At present, water transport on the Koshi River is limited to boats used for river crossing at certain places. As of now, commercial navigation is non-existent in the Koshi River, but it may be possible after the construction of Saptakoshi High Dam.
The Gandaki River basin has a total area of 34,960 sq km of which 90 per cent lies in Nepal. At present, the rivers in Gandak tributaries do not boast any inland waterways. Besides a steamer service on the reservoir created by the construction of dam for Kali Gandaki and a hydroelectric project in Synagja.
Using waterways: All documentation can be done by shipping lines or NVOCC in Nepal; payment of insurance, ocean freight and all services in transit within Nepal will be done in NPR; dispute management process will be better as it is within Nepal; predictability, accountability and transparency in cargo movement increases; detention if any is negotiable within Nepal; benefit of delayed logistic payment which will increase money rotation to generate more income/revenue; a lot of procedures and documents will be reduced resulting in lesser transit time; huge saving on costs, liability covered under one transport document; it will increase employment generation as economy along the harbour will improve with development of infrastructure.
To make waterways a success
The private sector in Nepal needs to be encouraged to invest and negotiate with suppliers. Use of Right Inco Terms to control and simplify flow of money is needed. Regulations such as Multi modal act, Logistic act, Goods carrier acts, Insurance act and Warehouse Act need to be formulated to guide and control the movement of cargo. Remittance process needs to be kept simple with minimal documentation required. The private sector in Nepal should come forward to manage and develop logistics infrastructure such as ICDs/ICPs. Riverine routes should be maintained with sufficient draft round the year to ensure uninterrupted flow of cargo. Timely dredging and clearing of waterways should be scheduled. Facilities for providing bunker to barges and for night navigation should be made available to reduce the time taken in moving cargo through waterways. Liabilities handling regime in a multi-modal and inter-modal system, and documentary requirements with appropriate links need to be established. Skill development is extremely needed as Nepal lacks skilled manpower to operate barges on waterways and also to handle land side infrastructure.