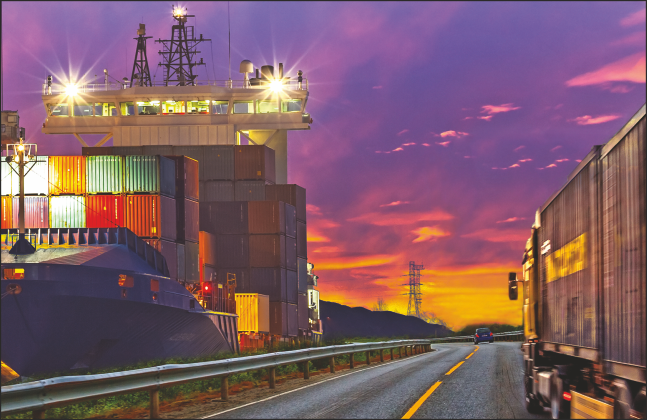 The year passing by has seen the industry quickly catch up with digitalisation, in spite of being a late entrant to it. The focus was on infrastructure development and improving connectivity not only within the country, but also with neighbours
As we look back now, 12 months on from the start of 2018, it is amazing to remember the atmosphere of optimism which hung over us at the start of the year, guided by growing containerised trade, rising volumes at the ports, improving trade relations with neighbours, better connectivity and the efforts put in to rise on the ease of doing business ranking. Despite protectionist policies of the super powers that triggered trade wars, trade flourished and India was better positioned for trading across borders. Flipping through the back issues of the magazine we have tried to compile some of the key developments that redefined the maritime and logistics landscape in the year passing by.
CONNECTIVITY
Coastal shipping
The government has extended the period of Coastal Berth Scheme beyond the 12th Five Year Plan, i.e. from April 1, 2017 to March 31, 2020. The scope of the scheme has also been enlarged to cover the cost of preparation of Detailed Project Report (DPR) and capital dredging at major ports. SCI Mumbai V386 of Shipping Corporation of India called at Kandla International Container Terminal, marking the first coastal service call into Kandla. On a separate note Karaikal Port berthed MV Chowgule 8 RSV through coastal movement from Chennai Port.
Cargo movement on Brahmaputra flagged off
Union Shipping Minister Nitin Gadkari flagged off cargo movement on the Pandu-Dhubri route along the Brahmaputra.
First parcel cargo train from Guwahati to Maharashtra
Indian Railway connected Northeast to West Coast (Mumbai/Gujarat), by commencing operations of a parcel cargo express train for transportation of agricultural produce of Northeast from New Guwahati Yard to Kalyan in Maharashtra.
Krishnapatnam Port launches rail service to Central India
Krishnapatnam Port and Concor launched a new weekly direct container rail service connecting ICD Nagpur.
Dedicated train from Mundra Port to ICD Sanehwal
GatewayRail started a weekly dedicated train service for Khanna Paper Mills Ltd from Mundra Port to ICD Sanehwal, Ludhiana.
CONCOR starts container train from Sukhpur Rail Terminal
Concor started container train from Morbi-Rajkot to Shalimar, Kolkata. CONCOR will initially run services to destinations such as Shalimar (Kolkata), Kanpur, Patna, Amingaon (Guwahati), Bangalore, Hyderabad, etc.
Indo-Bangla trade
The Bangladesh cabinet has allowed India to use the Chittagong and Mongla ports to transport cargo to its north-eastern states. India has called upon Bangladesh to use Kolkata and Haldia for transhipment. To decongest border points, minimise interventions at the border and provide speedier clearance to exports for Nepal and Bangladesh, the government of India through Customs Notification No. 52/2017 has notified the ICDs in Kanpur for export clearance to these countries.
An inaugural consignment was sent from Tripura through the Agartala-Akhaura Integrated Check Post to Bangladesh. Concor flagged off a container train to Bangabandhu West station in Bangladesh to explore the techno-economic feasibility for commercial operations. Haldia International Container Terminal (HICT) commenced a new Bangladesh service under the Indo-Bangladesh Coastal Protocol.
Bangladesh and India signed an agreement to establish a 130 km oil pipeline aimed at pumping Indian oil to Bangladesh with a capacity of 1 million tonnes per annum. The pipeline connects Numaligarh in Assam to Parbatipur in Bangladesh.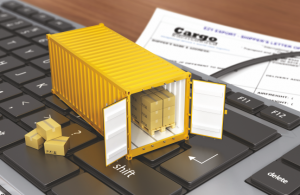 DIGITALISATION
PCS 1X developed by Portall
PCS1X is developed after close examination of the application architecture and systems architecture of the existing PCS 1.0. PCS 1X is Cloud-based with frame design that eases use of value added systems.
Maersk & IBM launch Blockchain solution
Known as TradeLens, Blockchain-enabled shipping solution designed to promote more efficient and secure global trade, bringing together various parties to support information sharing and transparency, and spur industrywide innovation.
ECTS for Nepal-bound containers
Visakhapatnam Customs implemented the Electronic Cargo Tracking System (ECTS) for Nepal-bound containers. The new procedure is much simplified as against the long processes of documentation followed earlier, resulting in delay in moving containers from the terminal.
Railways launches SFOORTI application
In a major digital initiative to help plan the traffic flows and optimise freight operations, the Ministry of Railways has launched Smart Freight Operation Optimisation & Real Time Information (SFOORTI) app for freight managers, which provides features for monitoring and managing freight business using GIS views and dashboard.
E-transport at JNPT
JNPT started an online transport solution through four logistics companies. Importers can book online transport of their cargo directly from the port with customs clearance on the port premises.
Digitalisation at APM Terminals Pipavav
APM Terminals Pipavav has developed an online version of Form 13 (gate-in permits issued by terminals) required for each import/ export container. Known as e-form 13, it will save close to 3 million km of road trips and their associated carbon emissions each year.
Evergreen launches new electronic documentation
Evergreen has introduced two new Intelligent Services – the intelligent i-B/L (Bill of Lading) and i-Dispatch, a solution that delivers documents associated with such transactions.
IWAI launches dedicated portal
IWAI has launched a dedicated portal to connect cargo owners and shippers with real time data on availability of vessels.
Niryat Mitra mobile app launched
Developed by FIEO the app provides wide range of information required to undertake international trade right from the policy provisions for export and import, applicable GST rate, available export incentives, tariff/preferential tariff, market access requirements – SPS/TBT measures, etc.
REGULATORY ENVIRONMENT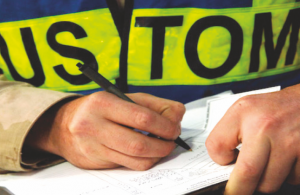 Infrastructure schemes for railway yards
To develop freight terminals through private investment, the Ministry of Railways has launched following schemes:
Private Siding – The private siding policy enables rail connectivity at the party's doorstep
Private Freight Terminal (PFT) Scheme – The scheme facilitates rapid development of a network of freight terminals with private investment
Inter-state e-way bill
Ferrying goods across states got quicker as electronic-way billing was made compulsory pan India from February 1. Ferrying goods worth more than Rs50,000 within or outside a state now requires securing an e-way bill by prior online registration of the consignment.
E-sealing of containers
Like other global ports, officials armed with handheld RFID readers clearing boxes started at Indian ports as well with the introduction of e-Sealing. CBEC had introduced the new procedure for sealing of containerized export goods with effect from October 2017, however, only those exporters permitted for self-seal of their export containers are eligible to avail the benefit of the electronic sealing facility.
Logistics policy for Uttar Pradesh
The Uttar Pradesh government for the first time is drafting its own logistics policy. The policy will entail the establishment of at least five industrial parks across the state with an investment of Rs.200 crore.
Revised MCA for major ports
The union cabinet approved amendments in the Model Concession Agreement to make the port projects more investor-friendly and make investment climate in the port sector more attractive. The amendments in the agreement envisage constitution of a Society for Affordable Redressal of Disputes – Ports (SARODPORTS). The agreement provides exit route to developers by way of divesting their equity up to 100 per cent after completion of 2 years.
Cabotage relaxation
In a bid to check outflow of Indian exim cargo to foreign ports and to boost transshipment at Indian ports, the government has declared new policy giving relaxation for coastal movement of exim transshipment containers and empties on foreign carriers.
INFRASTRUCTURE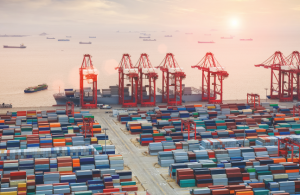 The Finance Minister announced increase in budgetary allocation to infrastructure for 2018-19 to `5.97 lakh crore against estimated expenditure of `4.94 lakh crore in 2017- 18. This marks an all-time high allocation to rail and road sectors.
Sagarmala projects picked up steam as a total of 224 projects worth `1.85 lakh crore were awarded till March 2018 and 59 projects worth `11,299 crore have been completed till March 31. Further 196 projects worth `71,868 crore are expected to be awarded in 2018-19. The government also introduced `4,000-crore Financial Assistance Policy for Indian shipyards for a period of 10 years, for contracts secured between April 1, 2016 and March 31, 2026.
Project UNNATI for major ports
The Ministry of Shipping initiated project UNNATI to boost all-round performance of Major Ports. A total of 116 initiatives have been identified for major ports, of which 86 have been implemented so far. The project benchmarks operational and financial performance of the 12 major ports with selected Indian private ports and best-in-class international ports for identifying improvement areas.
Indore-Manmad new railway line project
An MoU was signed between JNPT-Ministry of Shipping, Ministry of Railways, govt of Maharashtra and govt of Madhya Pradesh for implementation of 362 km Indore-Manmad New Railway Line Project.
Chennai Port grows bunkering business
Chennai Port is developing a 181-metre long and 15-metre wide berth as a multi-user facility near the oil dock that can handle two 5,000 DWT medium-size barges or tankers of up to 10,000 DWT for handling liquid cargoes.
Krishnapatnam Port's drive through container scanners
The port installed 'Rapiscan Eagle P 60' drive through x-ray container scanner and radiation portal monitors. The scanner will increase the volume of import containers handled by at least 5,000 teus per month.
Blue Dart launches aviation hub in Chennai
Blue Dart has developed aviation hub at the Blue Dart Aviation Terminal, Meenambakkam, Chennai, with both air and land side access. Spread on 4,912 sq. metres the hub boasts BCAS-approved security screening with its own X-Ray machines, equipment and dedicated manpower.
APM Terminals opens ICD
APM Terminals Inland Services inaugurated a new ICD and supply chain solutions facility to serve the Pune district. Located around 150km inland from Mumbai, the ICD covers an area of more than 12 acres and is designed to handle more than 60,000 containers annually.
Adani Ennore Container Terminal commences operations
Adani Ennore Container Terminal at Kamarajar Port commenced operations. The terminal capacity in the first phase involves 0.8 million teus with quay length of 400 meters, 15 mtrs draft, 4000 ground slots, four super post panama cranes, 12 e-RTG's and on-dock rail connectivity.
Adani bags Bhavanapadu Port
Andhra Pradesh government approved APSEZ Ltd as the developer of Bhavanapadu Port project. The port would serve the hinterlands of Odisha and Chattisgarh and nearby districts in AP.
JNPT adds 4th terminal
JNPT doubled its container handling capacity with addition of its new 4th terminal. The container terminal will add capacity of 24 lakh containers per year in Phase-I and after completion of Phase-II in 2022 the capacity of JNPT will be 100 lakh containers per year.
APM Terminals' integrated cold chain solutions
APM Terminals inaugurated its first state-of-the-art cold storage warehouse for fish, fruits, medicines, and specialty chemicals which require strict temperature control.
New MMLP in Goa
A MMLP at Balli Station near Madgaon in Goa on the Konkan Railway route has been inaugurated with an investment of `43 crore through MoU between Konkan Railway and CONCOR.
APSEZ expands Dhamra Port capacity
APSEZ inaugurated the Phase II expansion of Dhamra Port, increasing cargo handling capacity of the port to over 100 million tonnes per annum (mtpa), up from 25 mtpa currently
NSICT and JNCH improve ease of doing business
The Nhava Sheva International Container Terminal in collaboration with Jawaharlal Nehru Custom House has become India's first terminal to introduce 'on-wheel examination and sampling' for Full Container Load shipments under the DPD scheme.
FSRU based LNG Terminal at Jaigarh Port
H-Energy Gateway Pvt Ltd launched India's first FSRUbased LNG terminal at JSW Jaigarh Port in Ratnagiri District. It has annual capacity of 4MTPA.
Essar Vizag Terminal commissions iron ore handling complex
Essar Vizag Terminal commissioned 24 mtpa Vizag iron ore handling complex, upgrading cargo loading capacity of the facility to 24 mtpa.
Railways launched double stack dwarf containers
Indian Railways introduced double-stack dwarf container services. The first such freight train was flagged off from Western Railway's Rajkot railway station to Haryana.
Raxaul-Birgunj Integrated Check Post
The check post on the outskirts of Raxaul brings relief to Nepal's exim trade, removing congestion on the highways
Liquid cargo handling terminal at KoPT
Kolkata Port Trust (KoPT) signed a concession agreement with Hooghly Oil & Gas Terminal Pvt. Ltd for setting up a Liquid Cargo Handling Terminal at Shalukkhali.
GMR bags port near Kakinada
GMR secured the contract to build a port near Kakinada. It will be 30km north of Kakinada and touches Visakhapatnam-Chennai Industrial Corridor.
Essar Vizag Terminal commissions iron ore handling complex
Essar Vizag Terminal Ltd dedicated to the nation its newly-commissioned 24 mtpa Vizag iron ore handling complex. It can berth Super Capesize vessels up to 200,000 DWT.
Mundra LNG terminal inaugurated
Mundra LNG terminal, the Anjar-Mundra pipeline project and the Palanpur-Pali-Barmer pipeline project, at Anjar were inaugurated
Multimodal terminal on Ganga
Multimodal terminal on Ganga in Varanasi has been inaugurated and received first cargo from Kolkata