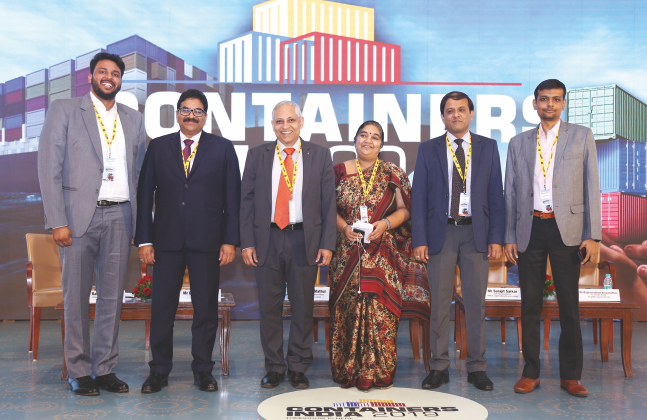 Digitalisation can unfold a whole world of opportunities. The panellists focused on how to push the industry to adapt digitalisation and the efficiencies advanced technologies hold
Setting the tone for the third session Ravi Ramprasad, Editorin- Chief, Maritime Gateway shared results of a survey which revealed there is about 44 per cent technology adoption in organizations, still 39 per cent of the enterprises are moderate, 14 per cent poor, and 3 per cent still to use technology. Top three challenges faced by ports where technology can help include paper work, delays in container identification and clearances, and lack of coordination among stakeholders. Challenges in technology adaption include non-supportive stakeholders who are using different platforms resulting in no data exchange or are stuck with paper documentation. A staggering 45 per cent of the gate entry/exit systems at ports are still manual.
Integration challenges also exist wherein companies have invested in traditional software platforms and when the changeover happens it is difficult to integrate. To track port and terminal efficiency about 16 per cent use excel sheets, 16 per cent use manual reporting, and Web application is used by 25 per cent. About 57 per cent of ports and terminals have not migrated to PCS.
Factors that impact port congestion include inadequate infrastructure, poor coordination of traffic, and congested roads. Use of paper documentation: Gate entry/exit (88 per cent); Truck movement (81 per cent); Customs interaction (82 per cent) and Shipper data exchange (82 per cent).
Exchange of shipping bills, bills of lading, and bills of entry documents between different entities: paper documents (44 per cent); online (41 per cent).
Ramprasad, Editor-in-Chief, Maritime Gateway: What is the value addition you are bringing to PCS and how it can help the customers?
Liji Nowal, MD, ODex India Solutions Pvt Ltd: We along with other platform service providers are struggling with this question of how do we add value to the community?
The adoption of PCS is low, but there is a vision to make it robust. Platforms cannot work in isolation, because in shipping every stakeholder needs every other stake holder for every document moved electronically. So it only makes sense as platform providers how do we collaborate amongst ourselves.
The way forward is connecting platforms on PCS. If Customs can be on board, then there is a need for trucking platforms and tracking platforms to go on board, then there are payments, documentations and much more as we move forward.
What we essentially tackled in this phase is one thing – how does document exchange amongst platforms and amongst stakeholders become seamless and feed into the PCS so that stakeholders can be on the same page.
The first objective that we carried when we worked with PCS was – Can we have a simplified single integration point for most of the stakeholders who are on ODex as they will need to be part of community at some part of the time. If we can enable that faster, and if we can push up that 57 per cent to get into the system much faster that's a huge win for us.
We have built an API integration, and there is standard Jason file that can go into PCS and also send messages to stakeholders connected to PCS. Now if I am able to integrate with one platform it's easy for me to integrate to multiple platforms. This is the first level that we have achieved.
Ramprasad: Are we equipped to capture right data in order to get meaningful outputs? Are all the stakeholders tech-savvy to adopt to this digital world? Can you share what your organisation is doing for data capture?
Surajit Sarkar, COO, DMICDC Logistics Data Services Ltd: When we started the track and trace of containers we also collaborated with different operating systems with an objective to give end-to-end visibility. So like in CFSs, ICDs there is end-to-end visibility, whereas for DPD and DPE containers we are trying to expand our network probably to the industrial hub and to the last mile. We are exploring how this data point can show end-toend visibility of the container.
We also publish the monthly analytics report based on the data captured where we showcase the performance of each stakeholder. As activities of all stakeholders are different, we need data exchange from them to make it more meaningful or useful for the industry. So for the last three years the milestone which we accept, today there is better visibility in terms of end-to-end tracking. In terms of analytics people are utilising it, today there are more than two millions users to my website, which has become a search engine when container tracking comes into picture.
Ramprasad: What kind of data you capture and how do you use it for better customer experience?
Ashish Mathur, Group Chief Information Officer, Allcargo Logistics Limited: Allcargo has grown inorganically and through acquisitions. We came with disparate systems, processes and getting them all streamlined into one has been the journey for us. In that context, we have managed to develop a singular platform which caters to our internal stakeholders, and riding on top of that is good customer portal which gives visibility to our customers. Internal application which is our core engine can take quotes, bookings, invoicing track and trace, etc. A similar interface is available for our end-customers to access information.
We are planning to move into machine learning and artificial intelligence soon. We actually need data scientists to tell us more about our data and what insights come out of that and we will take a decision on how to start looking at new perspective like how do we optimise our business.
Ramprasad: Where the Artificial Intelligence will lead us in ports, shipping sector?
Gangadhar Gude, Founder & CEO, AtAI Labs Pvt Ltd: At a certain port the quay crane is taking out a container, the customer and freight forwarder have information, my container has come off it's over there at container yard and is being trucked, all this is evidence-based service where AI and ML have a huge role in giving real time evidence-based visibility.
The other aspect of AI and ML is that I have a lot of data how do we use that data to work. Suppose I have customer who has been going down in business how do I track it. AI comes into picture where we need not spend time, the machine spends the time to figure out what's right and it's accurate because it's data-based.
Ramprasad: How serious are we on data protection, integrity and confidentiality? Are there compliances and protocols followed by PCS?
Liji Nowal: When we did the integration for PCS we got fairly robust framework on security. ODex is signatory to GDPR and we are compliant to all the standards set by the European Union. We decided to follow that from day one because of two things everybody considers that data is going to drive the next economy, but the fear of data being compromised is not just in organisations but in individuals also. So vulnerabilities are taken care of under the tests almost done every hour to ensure that we are not vulnerable to any internal or external issues.
Ramprasad: How can freight forwarding platforms digitalise the supply chain?
Raghavendran Viswanathan, Co-Founder & CEO, FreightBro:
FreightBro provides platforms for 3PLs or freight forwarders to digitise. What I have seen is that 3PLs are actually the network managing it. If we have to digitise one entity in the whole supply chain, you can digitise the person in the middle of that supply chain then everything else will get digitised. The first thing is to put data online and start collaborating data. We are helping the 3PLs standardise the way they communicate to multiple stakeholders.