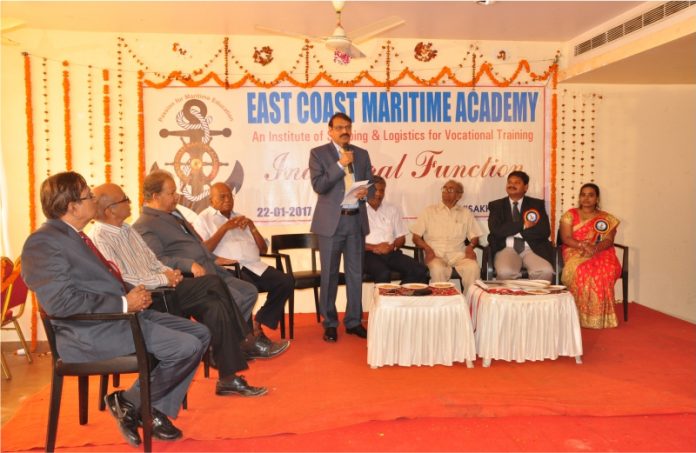 East coast Maritime Academy, aiming to impart vocational training in shipping and logistics has been inaugurated at the port city of Visakhapatnam by Prof. G.Nagesweara Rao, Vice-chancellor of the Andhra University. As the Chief Guest at the inaugural function, the Vice-chancellor lauded the objectives of the organization and hoped that the need based training to the youth will be successfully provided by this Institute, so as to mould them as personnel with employable skills and good communication skills in English, which will be the medium of interaction in the shipping sector where in persons from different nationalities, language back grounds and cultural diversity will be working round the clock.
As the coastal city of significant maritime activity, in the state of AP, it is a natural development that such training is conceptualized by the persons of decades of experience, and hoped that in providing employment to the youth, this particular educational facility would go a long way, in easing out the burden of unemployment, since shipping services required in the port sector are improving with many ports coming up in the East and south coast of India.
Earlier Sri G.Pattabhi Ramayya, former Chairman of Visakhapatnam Steamship Agents' Association, leading shipping professional since half century, released the Syllabi of the Academy, and hoped that this kind of a practical education and procedural knowledge will develop youth as resource persons in the fast changing scenario of shipping in India. He congratulated the Academy for being first of its kind in the State, and assured guidance and direction wherever required.
Sri G.Nageswara Rao, Vice Chancellor, Sri G.Sambasivarao, President elect of the AP Chamber of Commerce, Sri P.V.V.Hanumantha Rao, erstwhile senior officer of the Traffic Dept., VPT have felicitated on behalf of the East Coast Maritime Academy, by conferring the "Excellence in Shipping Services" Award on Sri G.Pattabhi Ramayya, an important trade leader with more than fifty years of association with the shipping sector in different capacities, and Sri B.Surya Narayana , of M/s Roy & Chatterjee Co. who has the distinction of serving the single organization for seven decades.
Directors of ECMA Sri J.S.Rao, and Ms. Gayatri presented the outline of the ECMA, and shipping expert Sri Ram Teertha has presided over the function, and on behalf of the Academy Sri G.M.Chand Basha has proposed the Vote of Thanks.