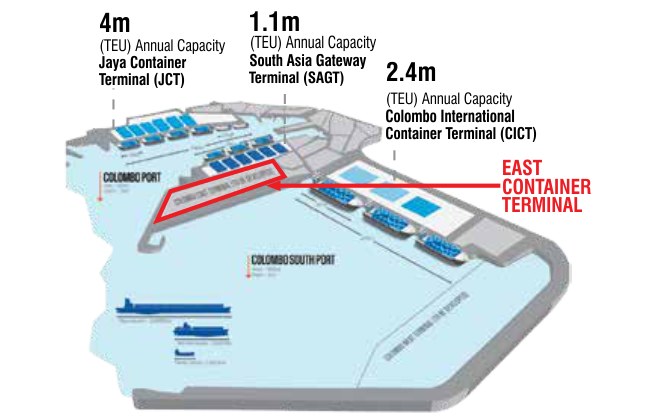 The development of East Container Terminal (ECT) in partnership with India and Japan will fast-track the project and will enhance transshipment capacity at Colombo port.
Colombo Port's Eastern Container Terminal (ECT) development project was stalled in 2016 due to inconsistent policy decisions. But recently Sri Lanka has signed a Memorandum of Cooperation (MoC) with India and Japan for the joint development of ECT on 28 May 2019.
The ECT is expected to be operational by second half of 2020 under the proposed terminal operating company (TOC) that will be jointly formed by Sri Lanka Ports Authority (SLPA), Japan and India, in which SLPA would have 51 per cent stake, and the JV partners will hold the rest of 49 per cent stake. The terminal development project is estimated to cost between $500 million and $700 million. Agreement for terminal operating company will be finalised within next three months.
As part of the agreement Japan has agreed to provide a concessionary loan at 0.1 per cent interest with a 10-year grace period and 40-year tenure. Details of India's contribution to the initiative are awaited, but New Delhi's interest in partnering the project is well known. As large chunk of (over 70 per cent) of the transshipment business at the strategically located ECT is linked to India. Moreover, India is keen to enter into a market that has seen large-scale Chinese investments in maritime infrastructure in recent years.
The ECT project features three berths with a total quay length of 1,200 meters (3,937 feet), a draft of 18 meters, and a capacity of 2.4 million teu annually.
In May 2015, SLPA had completed the 440m long quay wall in the first phase of the terminal development with an investment of $80 million, which is a loan from Bank of Ceylon (BOC), allowing one berth and a container yard. It was aimed at catering to the shortfall in the capacity of container handling in the port of Colombo. The first phase of ECT is expected to have a capacity of handling 0.81million teus, upon the completion of construction.
The full-fledged terminal development project involves procuring quay cranes and other yard machinery needed. Once completed, the ECT would have a capacity similar to the Colombo International Container Terminal (CICT), which is operated by China Merchants Port, with a 2.4 million teus capacity has a quay wall measuring 1,200 meters.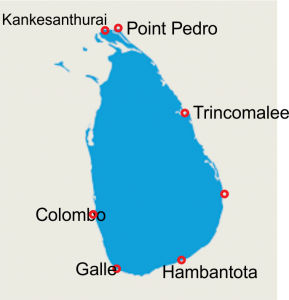 The Colombo complex currently encompasses three container facilities including Jaya Container Terminal (JCT), South Asia Gateway Terminal (SAGT), and Colombo International Container Terminal (CICT), which have a combined capacity of 7.4 million teu annually. However, the port is approaching full utilisation, as throughput hit an all-time high of 7 million teu in 2018.
The global cargo trade requires ports to be timely in their capacity expansion to maintain efficiency in services. So in that context, it is imperative for the country to have another deep container terminal.
ECT is situated in the middle of the new port and the old port of Colombo, which can give an advantage as it is closer to all other terminals and can be used for moving inter-terminal cargo. This gives it a significant edge as inter-terminal cargo is an important component of transhipment. The depth of the ECT, at 18m, allows it to handle container shipments, adding to its value with clear operational advantage.ECT will be used for handling container shipments, and to berth massive ships and oil tankers.