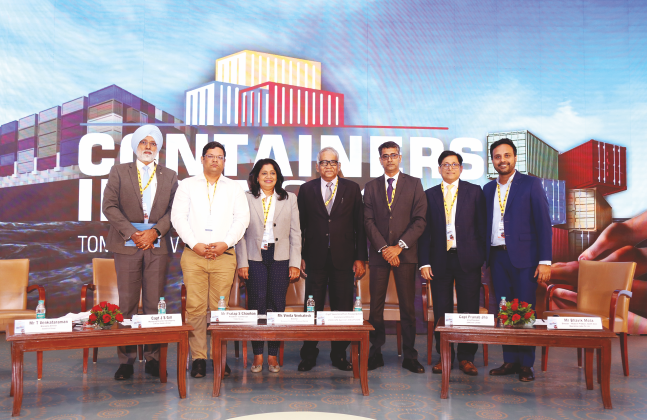 Be it meeting the ever changing expectations of customers or offering him the best service possible, the panel coincided on the fact that customer is in the driver's seat and success of any business lies surely in empowering his customer
Discussion in the session revolved around the customer for offering him the best experience either in terms of cost, service efficiency, transparency using technology or customer support.
T Venkataraman, MD, Goodrich Maritime Pvt Ltd: Please advise on the most competitive, viable and efficient options for transporting goods, using your own experience to benefit the shipper?
Ms Vinita Venkatesh, Director, Navayuga Container Terminal Pvt Ltd: One of the ways for a seaport to increase its volumes is by offering lower cost and more efficient transit to customers and make him more competitive in global markets. But it has to be a concerted effort by the port, shipping line, freight forwarder and the CHA all together. For instance, ICD Sanathnagar traditionally used to move cargo through JNPT at a distance of 858km instead of Krishnapatnam Port which is at a distance of 75km with mainlines connecting China and Korea. One rake of CONCOR on the Sanathnagar-JNPT lane makes one trip per week due to highly congested rail corridor. If the same rake is deployed on the Sanathnagar- Krishnapatnam Port route it can make two-and-half trips per week.
Thus CONCOR is able to earn more on this route. For shipping line Krishnapatnam Port offers lower rail freight by Rs.2000 per box, while the freight rate is higher by $15-20 making it a win-win situation. The end customer on an import saves 12.7 days at Krishnapatnam Port as compared to JNPT. Further, Pennon Shipping is deploying a 400teu vessel from Krishnapatnam to Chattogram Port.
Capt. Swaminathan Rajagopalan, Commercial Director – CMA CGM Agencies India Pvt Ltd: Our services are woven around the customer to deliver what he wants. Approximately 4 million customers are using digital services of CMA CGM. The e-business platform offers a direct EDI and API connectivity to customers. The shipping line has mapped the customers' journey and identified 13 touch points. The customer can select the service he wants on the website and upload documents electronically and track the process with complete visibility. Next comes "Serenity" – under this product, right from the time a container is sealed till the seal is cut at the customer premises, 100 per cent value of the cargo is protected without any deductions. Traxens is not just a device for tracking but also measures shocks and has geo-fencing capabilities and helps measure efficiency of the supply chain. On blocktrain customers are provided dedicated services for connecting them to mainline vessels. Flexi-bags are used for moving non- hazardous chemicals. Reeflex is a refrigerated bag for carrying juices. CMA CGM has also launched last month its first LNG powered container vessel.
T Venkataraman: You are based in Ludhiana but still don't prefer to use ICD there and instead bring cargo to the gateway port itself. What problems do you face in satisfying your end customer?
 Pratap S Chauhan, President – Commercial, Trident Group: We are facing transit time and cost challenges at the ICD. Moving products by rail the cost increases by 20 per cent compared to road. Transit time wise road logistics takes 2 days whereas rail takes 3.5 to 4 days from Ludhiana to Mundra. In Europe shipper is able to pay the ISC cost directly to train operator, but in India it is paid to the shipping line and the cost differential is 20 per cent to 80 per cent. Similarly in TSC cost the difference is 10 per cent to 20 per cent. Moreover, during the peak season the shipper is burdened with rollover charges and even after paying the freight sometimes the intended vessel is missed.
T Venkataraman: With costs getting transparent the shipper can question the shipping line over the charge they levy. How do you deal with this challenge?
Bhavik Mota, Director-Head of Product, South Asia, Maerskline India Pvt Ltd: The fundamental disconnect is that everybody in their respective domain is looking at their costs individually. And the more you break-up, you will mystify rather than demystifying the whole scenario. So Maersk asks its customers to focus on their end-to-end cost. The power is shifting from business to the customer, they have rising demands, a view on brand relationship and their own definition to speed. These things are disrupting the traditional business model. Customer wants to control his experience by choosing the optimal and emotionally satisfying service and doesn't hesitate to break his relationship with service provider far easier than it was earlier.
T Venkataraman: When customer question the cost, as a feeder operator how do you deal with it?
 Capt J S Gill, MD India Agency, X-Press Feeders Group: The market slump that started in 2008 has continued for a decade and there is still no end to it in sight. During this period digitalisation came in, development of infrastructure and container trade moved from one point to another and this is where the customer became very important. As the customer for a feeder operator are the shipping lines, its success depends on offering what they want. The feeder market that was un-consolidated with each service provider having his monopoly, has today become consolidated with very few individually operated services and thriving on ecommerce.
T Venkataraman: Can an ERP solution integrated into your system for providing unlimited access to required data help solve multiple problems?
Capt Pranab Jha, Vice President, JSW Group – JSW Steel Ltd: We are facing stiff competition from the Chinese and so as a commodity player cost and service becomes critical. In the age of Amazon and single clicks, days are not far when you would have customers demanding similar services for their product. we still have miles to go in terms of catching up, because the expectations of our customers and my expectations out of the carriers and service providers similarly have to match up. We have about 10,000 teus of exim and it moves through carriers without the help of freight forwarders. We are introducing an ERP solution which we would be very keen to integrate with shipping lines. But one thing I would like to mention here, the feedback mechanism of shipping lines is way below expectations and so the customer relationship part needs to be drastically improved.
Bhavik Mota: As a logistics industry we are still evolving but the pace of evolution during the past few years is much faster than it was decades earlier. Few years back it took 48 hours for a customer to get a rate quote, but today its instant booking. Earlier, rates were valid for 3-4 months but they are now changing more frequently. Going beyond realtime tracking of cargo customers today want to see where the issue is – be it in documentation or service and they need an instant solution or alternative way out to the issue, which is actionable visibility.
Carriers are now evolving to become end-to-end service providers, because the multiple stakeholders in the logistics chain are all trying to convince the shipper to use their service. But the customer wants a one stop shop rather than dealing with multiple vendors. The line between 3PL, 4PL, 5PL and shipping line is getting blurred.
Ms Vinita Venkatesh: We have also launched our 3PL service. Considering the traditional definition for customer to each business, the boundaries have defused due to competition and the need to satisfy the demands of the customer. The business of each in the supply chain has to be agile as per the concept of our customer.
T Venkataraman: Does long-term relationship exist today or people easily get attracted to new services that come into the market?
Capt J S Gill: Today I cannot deny that my customers can find solution in an alternative product. We have faced this challenge in every sector where we had monopoly and then other operators came in. but the new entrant has very little exposure and further as his tonnage is restricted and the costs are high, so he doesn't enjoy the economies of scale that we do.