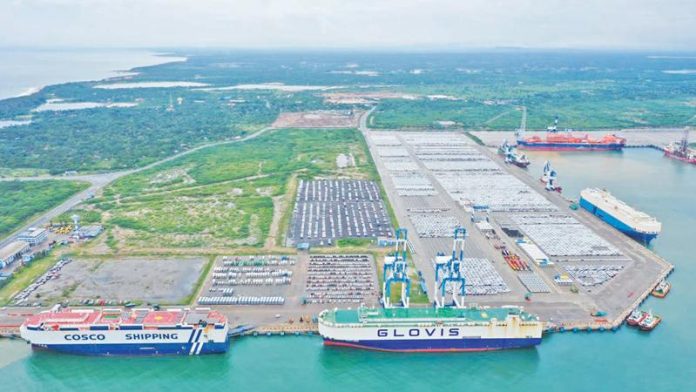 Energy requirements of countries in the Asia Pacific region are on the rise. Hambantota Port has all that is required to be the maritime and energy hub of the Indian Ocean Region within the next couple of decades 
It's past two years since China Merchant's Port Holding Company (CMPHC) leased the Port of Hambantota for 99 years, wherein the Chinese entity holds 85 per cent of the company and SLPA retains the remaining share of 15 per cent. The port has made significant strides during the past couple of years in terms of port utilisation for imports, vehicle transhipments to other destinations, ship repair activities etc, though local exports are yet to take off. Within the first year of operations, the port doubled its Ro-Ro business with 136 per cent increase in the volume of Ro-Ro vessels handled.  The port has since diversified its services to include other port-related activities such as container handling, general cargo, passenger, bunkering, bulk terminal, gas and project cargo. CMPHC has been planning different phases of the port development quite rightly. With a few ships calling Hambantota now steadily, the Port intends to commence bunkering services early this year.
The port has a lot to its advantage owing to its strategic geographic location: Hambantota is better suited for safe anchorages throughout the year as the port is somewhat sheltered from both South West and North West monsoons. Being closer to Maritime Silk Route than Colombo, is certainly an advantage for the ships as they can save time, money and fuel. It is 16 nautical miles from the main sea lane connecting east and west, ideally positioned to become the gateway to the sub-continent. Another advantage is the extent of land available for development contracted by CMPHC—some 15,000 acres. Competitive labour costs, door to door delivery, attractive concessions and freeport facilities, ample space for storage, coupled with dry weather throughout the year, are among the benefits that give Hambantota competitive edge as a maritime and logistics hub. The Port has all that is required to be the maritime and energy hub of the Indian Ocean Region within the next couple of decades.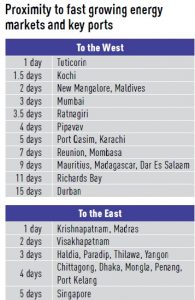 About 2/3rd of the world's oil shipments pass through the Indian Ocean Region. Over 100,000 ships transit through this region annually and 25 per cent of them carry energy. Everyday 36 million barrels of oil trade passes through the entryways in and out of the region. 70 per cent of the world's petroleum product traffic moves through this region. Over 62 per cent of world LPG consumption is taking place in Asia Pacific region. Nearly 40 per cent of the world's offshore petroleum products is produced in countries in the Indian Ocean region.
Supply gap in the Asia Pacific region
There are a number of challenges currently in the LPG supply chain within the Asia Pacific region. Most emerging markets such as Bangladesh and Myanmar do not possess adequate port facilities to cost-effectively support their energy requirements. For example, the river ports in countries like Myanmar cannot accommodate very large gas carriers (VLGCs) and depend on smaller vessels to bring in their LPG requirements. This inevitably results in higher import costs due to the greater number of shipments required to cater to the country's annual LPG demand. Not only is this exercise costly but it also carries significant risks. Delayed shipments could lead to domestic supply issues, which could further exacerbate into a negative economic impact.
Additionally, ship-to-ship transfers, as commonly used by these countries where LPG is transferred from VLGCs to smaller vessels to enable them to carry LPG cargo into their smaller ports, pose significant risks as they are carried out in the middle of the ocean. A viable solution for these challenges, therefore, is a land-based LPG storage facility that could also act as a transhipment terminal to supply the region's LPG requirement. While such land-based terminals currently exist in countries like India, they primarily cater to these countries' growing domestic demand. Therefore, a notable gap exists in the current regional LPG supply chain for a land-based terminal with the excess capacity to cater to the regional LPG demand.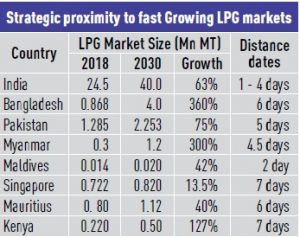 The Hambantota International Port Group (HIPG) has embarked on an ambitious journey to become the energy and fuel hub in the Indian Ocean region by entering into an agreement with one of the world's largest bunker providers, Sinopec Fuel Oils Company, to supply bunkering facilities to ships calling at the port, as well as vessels moving on the main sea lanes adjacent to the port. The port is being positioned as a source of IMO-compliant fuel for the region. Located between Singapore and Fujairah – the world's number one and two bunker suppliers to the world respectively – Sri Lanka is well placed to take full advantage of the potential bunkering business has to offer.
Growing LPG demand in Asia Pacific region
The World LPG Association (WLPGA) has forecast an additional 40 million metric tonnes of LPG to be consumed in the Asia-Pacific region by 2030, while some countries in the African region are expected to double their consumption by this time compared to 2017. Growing GDP, greater investments in infrastructure and regulatory developments are expected to drive the LPG demand growth in these regions. the Asia-Pacific region is leading global LPG consumption, accounting for over 40% of the overall market in 2017, with LPG demand growth in the region being driven by high consumption in China and India as well as high demand growth in emerging LPG markets like Bangladesh. The Asia-Pacific region was also the second-largest producer of LPG in 2017.
Detailing on the growth plans, Ray Ren, CEO of HIPG says, HIPG will expand the port's tank capacity to ensure it is ready for the imminent changes in marine fuel markets with unrestricted supply round the year. A major plan on the energy side is to establish refineries to develop capability for local marine fuel production. Apart from minimising its own investment considerably, this strategy will allow the port to offer high grade fuel at considerably lower rates. Another focus area for HIPG is LNG bunkering facilities; the company is in the process of negotiating with possible partners to provide this service.
HIPG is also preparing to develop facilities for LPG handling, for which it intends partnering with local companies. Whilst domestic LPG users will vastly benefit out of it, it would enable the port to become a distributor of LPG to the region. HIPG's agreement to provide port facilities to Laugfs, a major player in Sri Lanka's energy industry, is a step in this direction. The port has dedicated two jetties for oil, gas and petroleum business to facilitate energy companies like Laugfs which plans on bringing LPG in larger vessels from international markets.
Some greenfield investment has also been planned wherein HIPG has taken on the task of building infrastructure for an industrial zone within the port to develop related industries. Amongst the facilities HIP would offer are bonded warehousing for related businesses, ship repairs/urgent ship services inside the port by providing sheltered piers etc.  In addition to transshipment facilities, HIP will also provide services such as ship to ship transfer and layups. About 3.5 square kilometres have been allotted to the port for developing port related industries and HIPG is looking at core industries such as the manufacture of building materials, consumables, automobiles, home appliances and fertilizer.
The port's Bulk Terminal Operating System is another first for Sri Lanka and should vastly improve levels of service delivery and efficiency. Hambantota Port's capacity to handle considerable throughput volumes is a plus for industries setting up operations within the port premises, especially since it is slated to become the centre for the distribution of oil, gas and other commodities to South Asian/Middle Eastern, South East Asian and European markets. All these services are being introduced in planned phases and the port has already commissioned Atkins Limited UK, a firm specialised in designing globally renowned ports, to fast track the port's master plan.