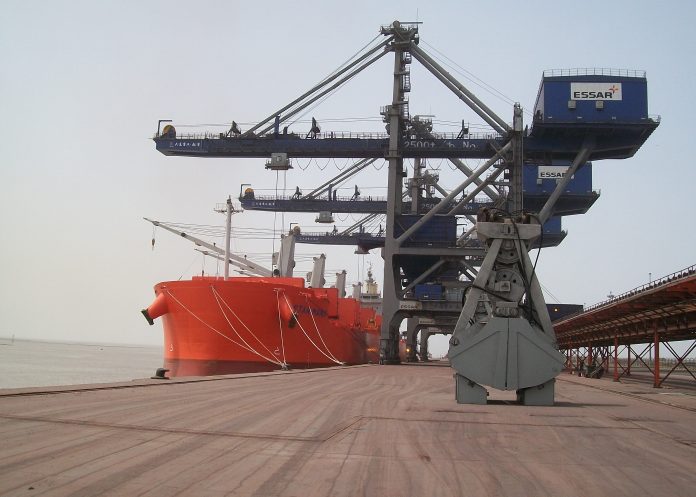 Essar Ports has said it will invest $63 million (about Rs 4.5 billion) during 2018-19 in expanding the cargo-handling capacity of its Hazira port in Gujarat to 50 million tonnes (mt), raising the company's capacity to 110 mt, a senior company executive said.
The current capacity of Hazira, an all-weather deepwater port, is 30 mt. It serves the landlocked northern and northwestern regions of the country. The current operational capacity of the company's port terminals in India is 90 mt per annum.
"This investment during 2018-19 would be through internal accruals," said Rajiv Agarwal, Managing Director and Chief Executive, Essar Ports.
Among the services offered by Hazira port is bulk cargo handling. This includes finished steel and raw material handling for Essar Steel's Hazira plant. As of March 2016, Essar Steel owed around Rs 450 billion to its lenders, with State Bank of India being the lead bank. Numetal and Arcelor Mittal are in the race to acquire the bankrupt company. But analysts expect Hazira port to continue handling Essar Steel cargo even if the steel plant goes to another buyer.
Commenting on the overall port development in the country, Agarwal said corporatisation of ports would bring in more transparency and professionalism in the industry. The ease of doing business at ports needs to be improved, he said.
The company also expects to build a coal terminal in Mozambique, where it has constructed a rail network of 550 km for coal exports.
Essar Ports operates four assets at Hazira and Salaya on the west coast, and Vishakhapatnam and Paradip on the east. The company is aiming to close FY18 with a net profit of Rs 3.20 billion on an income of Rs 13.50 billion.