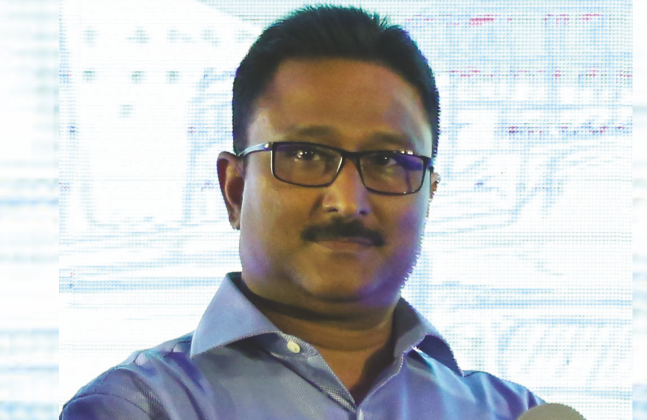 CONCOR has huge plans for infrastructure expansion in the north east, reveals Rathendra Raman, CGM, CONCOR – Eastern Region. These include ramping up warehousing capacity to 50 million sqft, setting up MMLPs, connectivity to the Eastern Freight Corridor and much more
Q Hon'ble Prime Minister, Narendra Modi, has categorically said that the north east would be at the centre of the Act East Policy. One of the features would be connectivity. What are CONCOR's plans in terms of enhancing connectivity?
 We are already present in the North East through our Amingaon terminal at Guwahati and our warehouses at Amingon and Agartala. CONCOR can also operate from a number of terminals which are opened as CRT terminals over North East Frontier Railway. There are about 7 terminals currently operating as CRT terminals: New Guwahati (NGC), New Tinsukia (NTSK), Dibrugarh, (DBRG), Hasimara (HSA), BOKAJAN (BXJ), JIRANIA (JRNA) and Bathnaha (BTF).
Q Investment in the east, particularly in West Bengal is on the rise. West Bengal is expected to receive over `43 billion in investment over three years in warehousing and logistics logistics, according to real estate services firm JLL India. What plans does CONCOR have in this region?
We are further expanding our warehouse capacity at Amingaon and we are exploring a proposal for opening of a new terminal at Agartala if found feasible. The warehouse capacity of CONCOR is 2 million sqft and in future CONCOR is planning to increase this capacity upto 50 million sqft. Kolkata and its surrounding area is on the radar of CONCOR in a big way for the development of warehouse. We are ready to invest in Agartala for the development of CONCOR if land is provided to CONCOR by the state Government. CONCOR is also exploring feasibility of setting up Multimodal Logistics Parks near Kolkata and add some warehousing capacity.
Q Is CONCOR planning rail connectivity to neighboring countries like Bangladesh, Nepal and Myanmar or any ASEAN countries?
 CONCOR does not provide Rail connectivity on its own. It runs the container trains on the existing railway lines moved by Railways. We are already moving container rakes to Nepal through HTPL terminal located at Birgunj. We have requested Nepal Government to open a new terminal to reduce the congestion at Birgunj. CONCOR has already got the permission for running of first rake on trial basis to Bangladesh up to Bangabandhu west. We serve Bhutan through a CRT at Hasimara from where road bridging is done to connect to the importers of Bhutan.
 Q Indo-Bangladesh Coastal trade is looking up. Trade possibilities are expanding due to coastal shipping. Is CONCOR exploring making an entry into this hitherto unexplored area of coastal shipping?
At present there is no plan immediately. But we are looking at the prospects and will take necessary action at appropriate time if required. It may be further noted that we are already moving Coastal Shipping at west coast from Morbi to Vallarpadam.
 Q Inland Waterways is being promoted in a big way. Has CONCOR any plans to link up with the mighty rivers of the North East and the East such as the Bhrahmaputra and the Ganges which are prime spots for the Inland waterways plan?
 There is a plan for development of an Inland Waterways terminal at Jogigopa, Assam but at present CONCOR is not associated with it but we may look at the possibility of associating with this project if we are asked. Inland Waterways will also help in increasing efficiency of cargo movement in Eastern Region and also reduce the logistics cost as this mode is cheaper compared to rail and road.
 Q Would CONCOR be servicing the Eastern Freight Corridor? If so, what would be the modus operandi? Would this be domestic or international cargo?
 In Eastern Freight Corridor we are already present at Ludhiana and Dadri. We are going to open a new terminal near Kanpur i.e. New Bhavpur, which will be part of DFC. From these terminals both Domestic and Exim cargo can be handled. We are evaluating the possibility of setting up a terminal near Kolkata with a view to connecting to the Eastern Corridor.