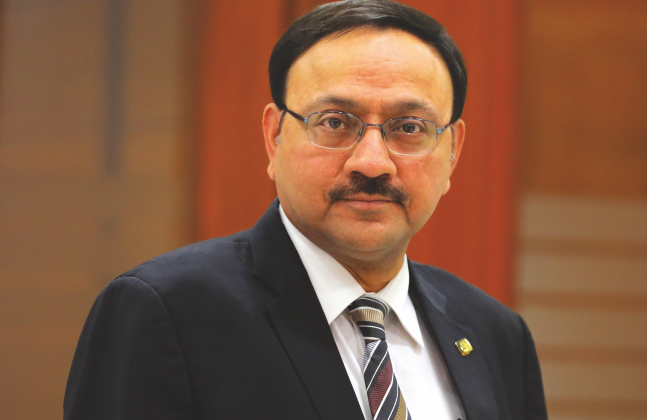 one of the first to offer CFS service in India, Balmer Lawrie has expanded its services across the length and breadth of the country to meet the logistics and storage needs of the customers. Prabal Basu, Chairman & Managing Director, Balmer Lawrie & Co Ltd, elaborates on their services and expansion plans
Q Tell us about your CFS operations in Kolkata, Mumbai and Chennai. Which are the major commodities being moved? What is the hinterland being served by these CFSs? How do you ensure last mile connectivity?
In the CFS vertical, the business comes primarily from the private sector for Balmer Lawrie. Mumbai and Kolkata CFSs are mostly dependent on shipping lines and NVOCCs for business. However business in Chennai, for CFS, is influenced by CHAs, forwarders and importers. The major products being moved at these 3 locations are steel and metal products, plastics, chemicals etc. Gypsum, scrap, bitumen and sulphur products are mainly imported from Middle East countries. Automobile parts, fresh fruits and machinery are mainly imported from European and Far East countries.
Our Mumbai CFS, which is in Dronagiri, is linked to JNPT Port which caters to the requirements of the industrial hub of Maharashtra, North India and part of Gujarat.
Q How has been the impact of DPD on the CFS business? How are the CFS adapting to it?
Till 2016, the DPD clearances was only 6 per cent in Mumbai. However, the same was around 27-30 per cent in Kolkata and Chennai locations (by ACP clients). The Government had implemented DPD at Nhava Sheva in right earnest since it is the busiest port and handles close to 60 per cent of the total containerised cargo. The volumes available to CFS plummeted post DPD implementation at Nhava Sheva. Many CFSs' volumes dropped by more than 40 per cent. Encouraged by the initial success of the policy, the Government is now pushing ports to go for an even higher share of DPD. Granting of fresh licence to operate CFS is on hold in Mumbai, Chennai, Mundhra and Visakhapatnam. As on 01.01.2019, 2110 importers have been registered for DPD at Nhava Sheva. It is also learnt that the actual DPD deliveries at Nhava Sheva is only 8 per cent presently with about 25 per cent volumes belonging to DPD clients being directed to nominated CFSs of the shipping line/importer. CFSs started getting into value added services like repair of containers, survey of containers, transportation, handling of empties, etc.
Q You have been handling more of dangerous goods cargo in the recent years. Tells us about the infrastructure you have developed for handling dangerous goods?
We have a segregated area for handling hazardous cargo in all our CFSs, which is at a minimum distance of 200 meters from the functional / administrational area of the CFS. We have trained staff who follow proper Standard Operating Procedures (SOPs) as per the Material Safety Data Sheet (MSDS) provided. Regular training along with mock drills are conducted and recorded for further improving the SOPs. We are certified for ISO standards like ISO 9001:2015 (Quality Management), 14001:2015 (Environmental Management), 18001:2007 (Occupational Health and Safety) and ISO 28000 (Security Management). All our CFSs are also certified with Customs-Trade Partnership against Terrorism (CTPAT). We are also an Authorised Economic Operator (AEO) as certified by Indian Customs Authorities.
Q What are the plans for multimodal logistics hub being developed in Vizag? How is the connectivity planned for it and to which hinterlands will it connect?
As there is a delay in getting license to operate a CFS in the Multi Modal Logistics Hub complex in Visakhapatnam, we are concentrating on domestic traffic to generate revenues. Vizag is one location where customs authorities have decided to encourage DPD. We have a 15 chamber cold storage out of which 11 are for the frozen section and 4 for chilled. We are starting our operations from Vizag with activities like warehousing, handling of domestic containers, empties, MNR activities and cold logistics solutions.
We have a rail head with connection to Visakhapatnam Port. We can move containers to and fro port seamlessly which is unique and no other CFS has this facility. As VPT is well serviced by rail, our MMLH which has a connectivity with VPT can address the long felt need of the importers and exporters in the hinterland for stuffing, destuffing etc. We would like to use this as our USP to garner volumes from hinterland. NHAI in Association with VPT has developed a two lane highway (the "Port Connectivity Road") connecting the Port with NH-5. This port connectivity road is the access road to our MMLH site.
Q Tell us about the temperature controlled warehousing offered in Hyderabad and NCR Delhi region? Which is the hinterland served by these warehouses? What are the specialized services offered by them?
Our temperature controlled warehouses in Hyderabad and NCR (Rai) are built as state of the art facilities which consist of multiple temperature zones. These warehouses have High Strength Racking operated by fully automatic reach trucks for quick placement and retrieval. These warehouses are meant for storage of all types of perishable products. The temperature zones varies from plus 10 deg centigrade to minus 25 deg centigrade. These warehouses are being used by the food processing industries in and around Hyderabad and Sonepat.
Cold Chain at Hyderabad is sought after by those in processed foods industry, pharma, seeds, dairy products etc. The products are sourced from Karnataka, Telangana and Andhra Pradesh. The dairy products are sourced from Chennai, Tirupati, Nagpur etc. The Hyderabad facility is also used for storage of pomegranate and red chillies.
The cold chain at Rai is used for storage of fruits and vegetables which are locally produced such as the green peas. The NCR facility is also used for storage of apples from northern states of Himachal Pradesh and Jammu & Kashmir, diary and processed food products from which are produced locally in the NCR region such as ice cream toppings etc.
The important services being offered at these facilities are: storage in different temperature zones, inventory management with the advanced warehouse management system, Customer order processing, indenting, order booking and category management, bulk breaking, sorting, grading and packing facilities, plug in facilities and remote temperature monitoring
Q What are your plans for expanding temperature controlled warehousing in Tier II and Tier III cities?
Our third facility in Patalganga near Taloja in Maharashtra is ready for operation. We are also putting up a facility in Bhubaneswar on a 1.5 acre land allotted by Odisha Government. As we said earlier, in Visakhapatnam we already have a 15 chamber facility. We may decide to further venture into this business vertical after these 5 facilities attain a decent capacity utilization level.
Q What challenges do you face at the ports and during in-land movement while bringing project cargo?
Balmer Lawrie faces many challenges at the ports and during inland movements while handling project cargo. Some of the major challenges faced can be stated as follows:
Draught of Indian Ports is a major issue for handling SODCs and other equipment. Some ports are not equipped for a quick turnaround and handling of the project vessel.
Non-availability of shore cranes on the jetties, insufficient storage space etc., cause delay in the stevedoring activity of cargo and consequently lowers the efficiency and productivity of vessels.
Some ports are not designed to cater to large or ultra large vessels, which have to be anchored at a distance and cargo is loaded or discharged through smaller vessels.
Manpower and labour issues are seen in some of the older ports.
The process for obtaining permission for in land movement of project cargo like MoRTH permission, RTA permission, PWD permissions and Railway shut downs are very time consuming and thus, delays the movements even though they are now applied online.
Many old bridges, culverts with no proper maintenance, makes the ODC/OWC transportation difficult. Eventually, an alternate bypass has to be constructed or the bridge reinforced, leading to increase in logistics cost.
How is the cargo chartering market in India? How has your air cargo chartering business grown over the years?
Highly sensitive cargo, telecommunication instruments, high value fashion designers branded cargo move by air charters. Critical heavy weight equipment which needs a time bound movement due to a plant shut down, machineries weighing 40 to 100 tons for a single piece are moved by air charter based on the urgency. Lots of aircraft / vessel engines are also airlifted by charter flights.
While the Customs Department has gone digital, as a Customs House agent do you still see any gaps that need to be addressed?
Despite on time submission, there is no proof with customs broker to establish that docket was submitted within 48 hrs, unless ICEGATE gives negative acknowledgements, since ICEGATE doesn't provide "incoming login" details to trade. The clock for 48 hrs ticks from the time of arrival of aircraft which for international flights is typically around midnight. It is expected that customs broker will have to support the trade 24×7. Examination/assessment of goods after office hours or on a holiday is still a major challenge.
Even today the trade experiences difficulties and time loss in uploading documents in the system which delays filing in ICEGATE. If the system is slow, there is a cascading effect in the form of delay in filing documents in time, leading to incurrence of demurrage which the clients refuse to pay.