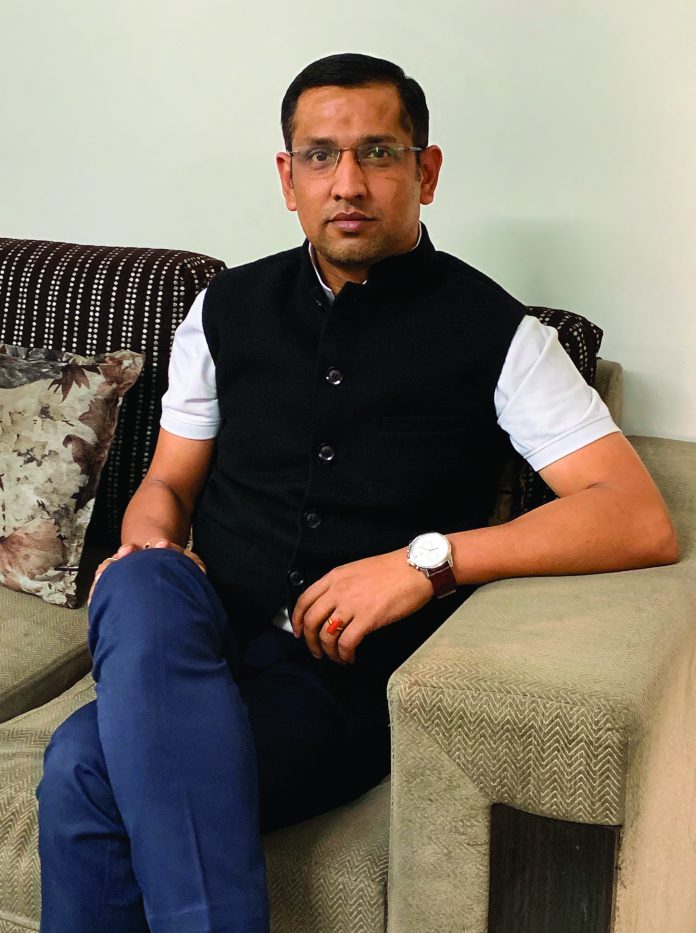 Having captured the cargo movement into North Eastern states, the Phonex Group is now focusing on other major cargo clusters. "We are seriously looking for expansion outside Kolkata region – particularly in Delhi, Vizag and Mumbai," reveals Vidyanand Singh, Executive Director, Phonex Group, as he details on the services provided and future expansion plans
How has been the business at Phonex Group last year? What are your expectations this year?
We have performed in a way which I would like to term as "mediocre" considering Indian economy that is already in a downward trajectory and our trade is just a part of it.  Apart from that in the eastern region, overcapacity is a matter of concern compared to the movement of containerised cargo especially through Kolkata Port (riverine port). This has undoubtedly increased competitiveness in the industry.
This year may not prove to be better than last year due to other stresses e.g. import restrictions, corona virus issue in China & its effect going forward and a falling curve in Indian economic cycle.
Tell us about your CFS operations? Which hinterland does it cover and which commodities are largely moved through the CFS? What are the EXIM cargo volumes moved by the CFS last year?
The CFS operations chiefly encompasses import cargo starting from transportation from Kolkata and Haldia Dock to CFS Gate-in with all necessary custom formalities and thereafter stacking at open yard or in warehouse after destuffing. The whole operation is backed by Phonex ERP. Every segment of operation is recorded in ERP till the time of gate-out of import containers or cargo. We have a team of qualified and well trained officers to supervise piece-wise operation of Import and Export cargo touching through our CFS. For the ease of doing work, we have also created separate office for CHA, Shipping Line, MLO and other stakeholders including Customs Officials. To ensure queries to get answered on time, we have a 24X7 helpline for the stakeholders and an online access to record of containers through website and android app.
The commodities are largely moved through our CFS to the rest of West Bengal, Orissa & North East states.
For export- Leather, Ferro, Agri-Commodities and miscellaneous goods are main cargo touching our CFS. For Import, spares, project cargo, cashew, dates, apples are main cargo.
We have recorded a volume of 80,083 teus between April'2018 and March'2019.
Do you have plans to expand CFS operations in other locations?
Yes, we have plans to expand in other locations, in particular, Delhi, Vizag & Mumbai in India.
Tell us about your warehousing operations? What commodities are largely moved by the warehouse? How is your infrastructure for storing temperature sensitive cargo?
Presently, we have four warehouses operational in CFS and one situated outside CFS. We have our own handling equipment e.g. forklift, hydra, other cranes for mechanical handling of cargo. We have our own staff to handle cargo manually. Cargo which is getting in and out of warehouse is properly recorded in register by well trained staff. Supervision of cargo is done round the clock by a group of security personnel and also through CCTV surveillance.
Different pulses and electronic items are mainly moved by the warehouses.
As for temperature sensitive cargo, we have 60 reefer points for plug-in of reefer containers. We have also deployed a team of staff for supervision work of temperature control 24/7. We have sufficient capacity power backup facility at our premises for temperature sensitive cargo. Our technical team also maintain a register to note down their observations and actions taken.
How has been your experience in moving cargo to Bangladesh and Nepal? What are the commodities and volumes being moved by you to these markets? Do you face any infrastructural and regulatory issues?
As on date, handicrafts, garments, steel wire and calcium carbonate are the main items being moved to Nepal through our CFS. All such cargos are transported by outside transporters. We don't offer transport services for Nepal bound cargo as on date. However, we have future plan to include it in our service.
While the Customs Department has digitalised a lot of processes. As a Customs clearance service provider what issues or challenges do you face? 
Undoubtedly, Custom Department acts as final authority for clearance of export and import cargo. Hence, movement of cargo depends a lot on the speed at which clearances are made by Custom Department. Recently, it is observed that import cargo/items which are seized or confiscated by Custom Officials are pending for final clearance by Custom Department for a long time may be due to case pending before Customs or its tribunal. There are cases of many un-cleared or unclaimed cargo lying for a long time in CFS in absence of Custom's approvals or necessary clearances. We as a custodian have no role to play in expediting such clearances of cargo. Because, you see that we are a private player and we know how important storage spaces are in a CFS in terms of their utilisation and revenue generation. The more cargo rotate in such storage spaces, the more our company will be benefited. All the above mentioned issues need to be addressed by Custom Authority in a prompt manner.
The LCL cargo market seems to be growing with the ecommerce boom. Tell us about your LCL cargo operations? What are the commodities being moved and to which markets? 
Leather products are regular items which are going through our CFS to US, Germany, UK, Italy and France. Backed by ecommerce boom, we have found Flipkart items touching our CFS on regular basis – although the volume is not something important to mention about.
Multimodal logistics is yet to become cost effective in India. What issues do you face in providing multimodal logistics services?
It's quite desirable for any importer or exporter to prioritise a company being operational in multimodal logistics. Like one stop shop, a multimodal logistics company interconnects different links or modes of transport (air, sea and land) into one single process thereby ensuring the cargo to be delivered at door. In a single chain, the cargo is moving under a single hand which results in 'no botheration' of documents required to allow the cargo move seamlessly through the chain to reach the door of importer or exporter.
Yes, I agree that this entire process has not yet become cost-effective in India and requires innovative strategies to make it cost-effective for any Indian importer or exporter. In the present scenario, the cost has remained at the higher side because of dependency on many distinct stakeholders' role and their involvement in various segments of such door to door process. I hope that the volume in this particular segment will grow in the days to come causing the prices to become more competitive and the process will thus become more cost-effective and be acceptable by both the Indian importers and exporters.
Tell us about your growth and expansion plans?
If we look at the trade, it is part of the global economy as well. No one can deny the roles of India in global economy. Let's not forget our PM's plan to make Indian Economy '5 trillion' – though quite ambitious plan given the gigantic size. If it is something to work out with, we shall be able to overcome a few hiccups in economic cycle going forward. So future is always there for our economy and this trade as well. Since capacity addition has happened in eastern region, we need more time to accommodate ourselves with it and to redefine ourselves in the trade.
We are seriously looking for expansion outside Kolkata Region – particularly in Delhi, Vizag and Mumbai.