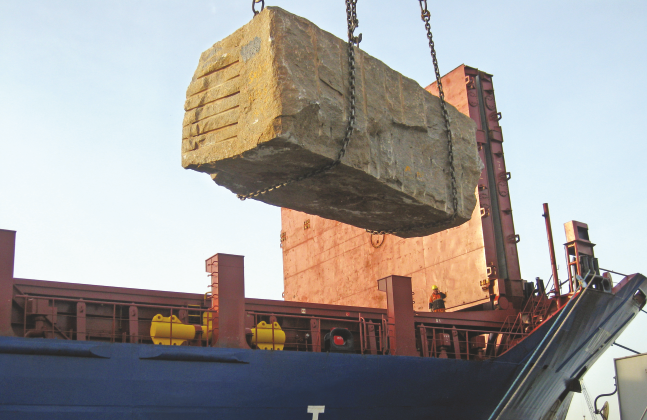 "We have exploited only 15 per cent of the granite reserves in India, so there is huge potential to increase production and explore newer markets," reveals Sukumaran of Sati Exports India Pvt Ltd
Not many may know that the Vietnam Veterans Memorial in Washington DC is built with granite exported from India. "There is a huge demand for Indian granites across the globe with US being among the major export destinations. At present Indian exports cover all the major continents. The granite industry in India is valued at Rs.25,000 crores, and 85-90 per cent of the granite produced in India is exported. Approximately exports accounted for $1.6 billion during the last year," shares Sukumaran of Sati Exports, a leading granite export house in India. About 98 per cent of the granite produced at Sati is exported, while a negligible 2 per cent is distributed in the domestic market. In the domestic market demand is seen growing mostly in Western India and Southern India because of the huge construction industry.
The current market condition is good even though the industry continues to jostle with challenges like fluctuating currency market and the recent one being President Trump's announcement to abolish zero tariffs enjoyed by Indian granite exports under the Generalised System of Preferences (GSP) program. The company operates through three processing units – two of them are located in Hosur, Tamil Nadu and one in Ongole of Andhra Pradesh.
The company is constantly on the lookout for exploring new markets and this helps to set-off the fluctuations in the traditional markets. Some of the new markets the company has ventured into recently include Africa, Libya, Lebanon, Syria, Iraq and besides Poland, Italy in Europe. Our trade to USA is also on the growth path, says Sukumaran. Majority of exports are moved via Chennai, Krishnapatnam and Mundra seaports.
Pointing at the challenges faced while moving exports, Sukumaran says, it's basically human factor resulting from lack of coordination. "All freight forwarders should complete their work in a time bound manner because delay in shipments and submission of documents adds to our costs." Availability of empty containers is a major concern and repositioning of empties adds to the export cost. Another concern that could be attributed to the nature of the business is damage to containers. "Damage to containers has been one major issue which all shipping lines tried to exploit last year. We suffered some losses in the damage issue to containers especially in Middle East market."
Detailing on how government can support the industry growth, Sukumaran says, licencing of quarries is one issue GOI can consider seriously. We have exploited only 15 per cent of the total reserves of Granite, so there is ample scope for mining. Duty drawback should be speedily given. After implementation of GST things have improved as EGMs are closed faster. GOI should enforce all Additional Collector of Customs for closure of EGM by the respective department/port customs immediately after shipment or one month after shipment. Prior to 2018, EGM closure used to be a major hurdle since exporters were made responsible for closures. There were instances when exports had taken place, realisation have come but yet EGM are not closed with remarks – Stuffing inspection pending. On priority, GOI should address closure of all SBs up to 30 June 2018 by June 2019. Any EGM pending for more than 15 days has to be in DC 's notice and remedy done.