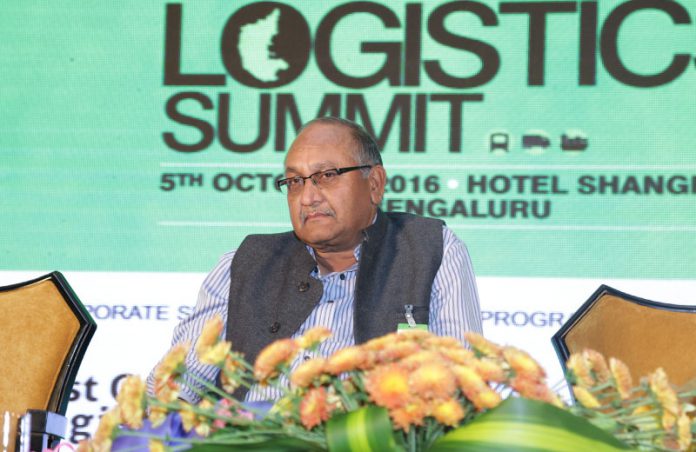 Q How has been the year so far for Bengaluru Customs Zone (BCZ)?
Last year (from April to August), we had handled 31,330 containers in imports and 32,992 containers in exports. We have already crossed our target upto August this year. The zone has handled 33,996 containers in imports and 34,097 containers in exports. We have seen a 8.5 per cent growth in imports and 3.4 per cent growth in exports. Till July end this year, import was a little negative but it has picked up after August. The major reason for higher imports is that the industrial activities have picked up so also the demand. We have been in the forefront of solving the issues of exporters and importers. As we could see, our dwell time (time taken for clearance) is the lowest in the country. At ICD Whitefield the dwell time is 6.3 per cent (percentage of time taken by Bengaluru Customs), which is the lowest in the country, while at ICD Delhi the dwell time is 8.3 per cent. Similarly, in the air cargo we are number two. Our time is 8.1 per cent and Delhi is at 7.6 per cent.
Q What are the major issues faced by the Bengaluru Customs Zone?
We don't have any issues as such, but the challenges we face are due to external factors. We now emphasise on providing clearance within a day. Once a container comes, our focus is to clear it within 24 hours. We are fully automated; all the
documentation, data filling and digital signature is mandatory. More than 70 per cent of it is going under RMS (risk management system), which means 70 per cent of cargo is getting cleared without even checking. The industry in Bengaluru is importing through Chennai Port because it is convenient for the 60 and 80 feet containers. However, the sad part is once the containers land in Chennai or any other port, it takes around six days and four hours for containers to reach Bengaluru. So, the maximum time is lost there. And our time, the actual time for assessment – time taken from payment, duty to registration of documents – takes only five hours. There again, once the documents are assessed we give it to third parties to pay duties. So, the maximum delay is 23 hours. In air cargo as well the dwell time is three days. Delays occurring by the importers themselves. The freight forwarders have the responsibility to reduce the dwell time, which has been also flagged by the Commerce Ministry. In air cargo, our actual time for assessment is only seven hours.
Q What infrastructure issues the state of Karnataka faces?
The state does not have adequate maritime infrastructure. The logistics sector needs to be modernised. The only port in the state, i. e. New Mangalore Port, faces several connectivity issues. Due to the ghat sections in Mangalore, it does not have proper road connectivity. The need of the hour is to create road by tunnelling through the ghat sections, on similar lines which has been done in the Mumbai-Pune ghat section. The ghat section could be straightened out to reduce time for bringing cargo by road. Unfortunately, the business in New Mangalore Port has not picked up. But there is a lot of potential for the port to grow.
Q How has been the growth in recent years?
Revenue-wise, we are growing at about 21 per cent. The entire zone including Bengaluru Airport and Bengaluru Customs is growing. We have set a target of Rs.12,175 crore in revenue this year. We had crossed our revenue target last year. The target was Rs.10,000 crore, while we had realised Rs.10,900 crore last year. We have been growing. We have already seen growth of 7.6 per cent this year; the all India average growth of customs revenue pegs at 5.7 per cent.
Q What initiatives has been taken by the Customs to boost trade?
A new facility has been added at the Bengaluru Airport by Air India SATS Airport Services (AISATS), the national carrier's airport services company. It is called the 'AISATS Coolport', Bengaluru's first dedicated perishable cargo handling centre with the vision of enhancing the Karnataka as the pharmaceutical, biotechnology and perishable hub of India. Once completed, this exclusive 40,000-tonne Coolport will cater to range of commodities such as pharmaceutical products, fruits, vegetables and flowers. The facility will be equipped with a drug controller lab testing facility, separate ripening zone, landside truck-docks, warehousing and re-distribution centres, cold room facilities with different temperature zones and a testing facility as per the plant quarantine requirements for EU and US-bound shipments. Also, we take up several initiatives for trade facilitation. In fact, last year FKCCI gave us an award "Export Excellence Award," We have got the award for best export facilitation organisation in Karnataka Chapter.
Q What measures have been taken to address the issues?
Recently Customs has started a single-window interface bringing agencies involved in exports, imports among others on its platform. An all India facilitation measure has been launched by the customs, Central Board of Excise and Customs (CBEC), where certain facilities are provided to authorise economic operators and for logistics companies. For logistics companies, we have started AEO-LO (Logistics). It provides benefits like waiver of bank guarantee etc. In case of international transship cargo where the cargo does not require segregation, it can go without Customs escort. Similarly,
for warehouse operators provisions are there for faster approval of new warehouses within seven days, waiver of verification, waiver of solvency requirement, waiver of security etc. If they are AEO complied, then it is direct port delivery. It will reduce congestion at ports.
Q Are there any issues with detention?
Last year we faced two issues on food safety standard as there were no authorised labs. Now, there is an institutional mechanism and all issues have been sorted out. We have a Customs Clearance Facilitation Committee (CCFC) consisting of all stakeholders including logistics providers in the port area. We meet once in a month. If there is an issue, we try to solve it through the committee.