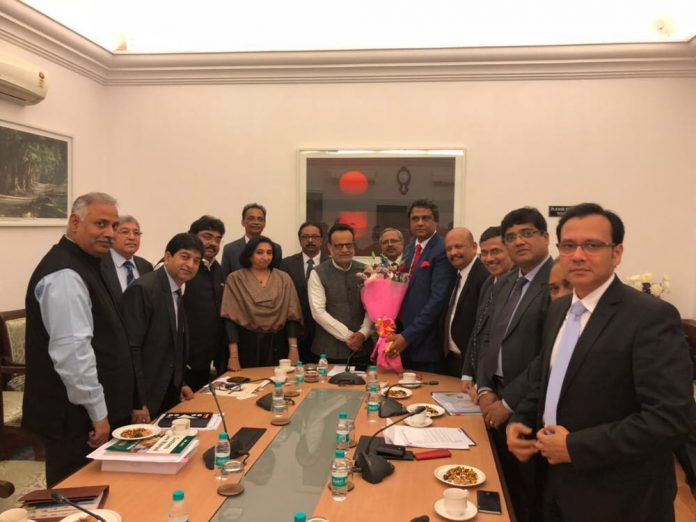 Delegation led by Mr. Ashish Pednekar (Chairman – FFFAI), Mr. A.V. Vijaykumar (Chairman – Elect, FFFAI), Mr. P.S. Atree, Mr. Rajesh Verma, Mr. Sudip Dey, Mr. Kartik Pancholi, Mr. Sashidhar Hebbar, Mr. S.Ramakrishna (Vice Chairmen- FFFAI) Mr. Amit Kamat (Honorary Secretary – FFFAI & Congress Co-ordinator FIATA World Congress 2018), Mr. Vinod Sharma (Honorary Treasurer – FFFAI), Mr. Alan Jose (Executive Committee Member – FFFAI & Honorary Treasurer FIATA World Congress 2018) Mr. Debashis Dutta (Former chairman –FFFAI & Chairman FIATA World Congress 2018) met with Mr.Hasmukh Adhia – Revenue Secretary.
The delegation discussed on issues pertaining to Zero tolerance of corruption, complete digitalization of Custom Broker processes, Reduction of dwell time and cost, FFFAI being a self regulating authority of custom brokers in India, Goods and Service Tax Act and implementation of circulars and instructions issued in this regards, and FIATA World Congress 2018 to be held in Aerocity New Delhi from 26-29 September 2018.
Mr. Hashmukh Adhia, Revenue Secretary, appreciated the points raised during the meeting and expressed whole hearted support of his department to the Federation towards Zero Tolerance of Corruption. He advised the delegation to support achieving the goal of the Government and to intimate to his office, regarding cases where undue delays and harassment are caused by Govt. Officers in clearances, with an intent to corruption, so as to bring in complete transparency in the process of clearances.  He also sought support of the Federation to improve the ranking as far as Ease of Doing Business in Logistics is concerned.
Federation assured the Revenue Secretary, that, not only will it intimate to the department of instances of corruption, but also, it will sensitize its members to avoid such unethical practices and will support all the endeavors of the Government in improvising the ranking of the Country as far as Ease of Doing Business is concerned.
Federation also requested Mr. Hasmukh Adhia – Revenue Secretary for the support of the Ministry of Finance for the FIATA World Congress 2018,  the biggest global event in logistics, which is happening for the first time in India. The Revenue Secretary assured complete non-financial support to the FIATA World Congress, 2018.
The meeting with the Revenue Secretary was also attended by Ms Vanaja Sarna – Chair Person – CBEC, Mr. P.K. Das, Member (Customs) and Mr. A. Satya Srinivas – Joint Secretary ( Customs). In the meeting, issues faced by Custom Brokers with relation to Customs and Service Tax were discussed in detail.  The Revenue Secretary appreciated the concerns raised during the meeting and assured resolution of the issues.
Members of the Federation also had a meeting with Dr. John Joseph and apprised him of the pending litigations with respect to service tax. He extended a patient hearing to the delegation and assured them of resolution of their concerns.