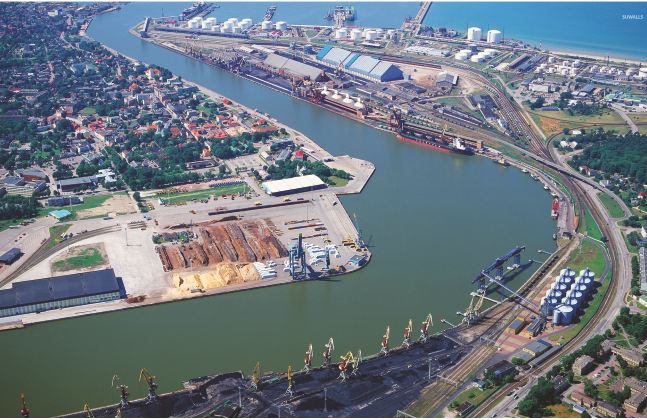 By being the first EU border for Russia and Far East countries and last EU border for almost all EU countries, Latvia can serve any kind of transportation flows
Ideally located on the crossroads of huge markets of the European Union (EU) and Russia/CIS (and further Far East and Asia), Latvia's privilege is its unique strategic location. Latvia is closest border with Russia and CIS countries for almost all EU countries (except Finland and Estonia). Latvia has always been a transit land of the crossroads of major trade flows and today transit and logistics sector is one of the most dynamic and fast growing sectors of the Latvian economy. By being the first EU border for Russia and Far East countries and last EU border for almost all EU countries, Latvia can serve any kind of transportation flows, including all necessary customs, veterinary and other inspections for safe entering and leaving EU market.
Transit corridor of Latvia consists of 10 ports (three major ports and seven minor ports) which are connected with TEN-T roads and railway system, two oil and one oil product trunk pipeline to Ventspils, as well as three airports from which "Riga International Airport" has become a hub in the Baltic region.
Air connectivity
There are three operating airports in Latvia: Riga International Airport, Liepaja International Airport and Ventspils Airport. A fourth airport at Daugavpils (southern part of Latvia) is currently at an early development stage. Nearly 99 per cent of all air passenger and freight transport in Latvia goes through Riga International Airport. Riga International Airport is the leading air transport and transit centre of the three Baltic States, currently serving 16 airlines including Latvia's flag carrier airBaltic, low-fare carrier Ryanair and European leaders like Lufthansa, Czech Airlines and Finnair. Latvian airline airBaltic was ranked as the most punctual airline in the world in 2017 with on-timeperformance (OTP) of 90.01 per cent. The air cargo and/or express package services of international providers like SAS Cargo, Lufthansa, Fed Ex, DHL, UPS and TNT ensure one-day delivery within Europe and two days for the rest of the world.
Maritime infrastructure
As vitally important export and transit-transhipment points for Latvia itself and for several neighbouring countries, the three largest Latvian ice-free seaports provide reliable access, 365 days a year. If we consider statistical information, largest cargo flow among Baltic States is going through the ports of Latvia. Latvia's 3 ice-free international ports (all certified according ISPS Code) combined cargo throughput is 60.20 million tonnes per year (2017): Riga Free Port, Ventspils Free Port and Liepaja Free Port with the regular cargo routes, including EU routes: Bremerhaven – Hamburg – Riga – Klaipeda; Hamburg – Bremerhaven – Riga; Riga – Kiel – Bremerhaven – Kaliningrad; Antwerpen – Riga – Kotka – Helsinki – Tallinn (including Vanasadam (Old City), Muuga, Paljassaare) – Antwerpen; Rotterdam – Antwerpen – Riga – Tallinn – St.Petersburg; Ventspils – Lübeck- Travemünde; Ventspils – Nynäshamn and other. All three ports are perfectly linked with rail and road transport.
Connections to all other transport infrastructure elements, along with attractive tax-free zone incentives, have resulted in the ports becoming regional centres of industrial activity. Nevertheless, there are still a number of port locations available for businesses, within customsfree zones and with direct sea access. Latvian ports are highly export-oriented, with the proportion of loaded-on cargo being about 95 per cent of all cargo throughput, mostly shipping cargo for transit and export from Latvia. The leading port in terms of unloaded cargo volume is Riga. RO-PAX transport connections with Germany and Sweden are important logistics services available at all three free ports. All the ports are equipped with the required infrastructure – tanks for bulk liquids, terminals, warehouses and cranes, communications infrastructure .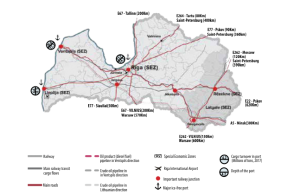 Rail connectivity
Latvia possesses a relatively dense railroad network, which is well connected with the Russian railway and Latvia is a perfect springboard for the export of goods from the EU to Russia and CIS. The uniqueness of Baltic States is also outlined by fact that our railway system is in compliance with the single wide railway gauge system of 1520 mm. This allows loading container on the train and transporting this container by land from China or other Far East ports to the ports of Latvia, which is already in the EU, without any wasted time on border crossings and without need to change wheels and documentation.
There are additional opportunities for trade connection with Japan and Southeast Asia. Currently, Latvian railways mostly serve as a transit trunk-line with as much as 82 per cent of total freight volume is being transit from Russia and Belarus to Latvian ports and approximately 35 per cent of freight rolling-stock being tanker-wagons. Movement in the opposite direction – to Moscow and other parts of Russia/CIS is dominated by container cargo.
Regular container train brings containers five times per week between Baltic ports and Central Asia (Kazakhstan, Uzbekistan, Kirgizstan, and Turkmenistan). This container train delivers cargos till Almati, Kazakhstan. Cargos are delivered according to door to door principle and the train performs this route in 8-10 days depending on delivery destination.
Container train "Zubr" provides cargo traffic between the Baltic and the Black Sea regions and cargo delivery from Latvian and Estonian ports to Belarus and Ukraine ports and vice versa. In order to facilitate trade flows in the north-south direction, under planning and implementation is pan-Baltic railway route, Rail Baltica, connecting Tallinn – Riga – Kaunas – Warsaw – Berlin.
Road connectivity
All main cities and industrial zones are well connected with E category road system. The Latvian road system provides direct access to destinations in the east (Russia/CIS) and south west (central/ western Europe), and is, through other countries, and/or RO-PAX-capable ports, well connected to northern Europe (Finland and Sweden). With financial support from the EU, Latvia has upgraded sections of the Via Baltica – the first pan- European transport corridor, connecting Finland and the Baltic States to Poland and Western Europe. The Trans-Baltic (Via Baltica, also known as motorway E67) highway runs the length of the country, providing a north/south transport corridor, dissected by the highway to Moscow. To divert increasing transport flows from the centre of the capital city, Riga City Council has constructed the Southern Bridge over the river Daugava and plans to construct a Riga Northern Transport Corridor – a high-speed road crossing Riga from east to west and bypassing the city's historic centre.