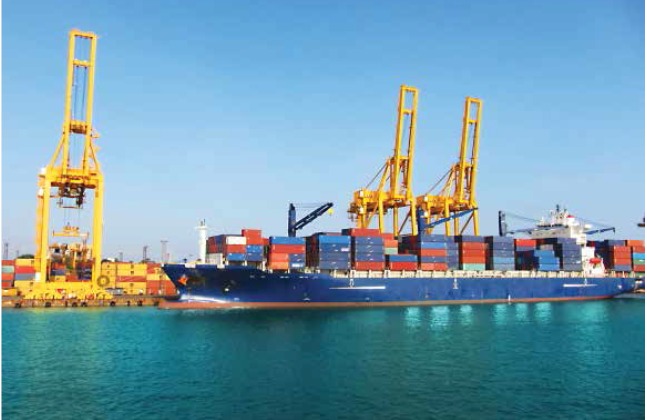 India and Sri Lanka are focusing on improving free movement of trade between the nations. By investing in Sri Lanka's maritime infrastructure and regional connectivity, India can have a stake in the development of South Asian maritime trade
Early this year in January, the island nation Sri Lanka made headlines for positive political development. It was the beginning of the third year of the President Maithripala Sirisena's five-year term. In the two years of his Presidency, much was achieved to strengthen democracy and empower the judicial system in the country. Now perhaps for the first time in Sri Lanka's contemporary history, the future holds more promise than doubt. The President and his men also ensured Lanka did well in the three areas the country is often referred to – tea, cricket and maritime trade.
While the first two are certainly a delight to partake and watch, maritime trade has been the one bone of contention leading to some ministerial exits because of ambiguity in dealing with the Dragon. China has been a complex challenge for the island nation that is deep in debt and yet needs to make truce between development and securing the maritime interests of the Indian Ocean Region, or IOR. One of the counts that made Sirisena's ascension to the President's seat easy was his promise to control the Chinese aggression in many sectors. However, the 2016 deal according 80 per cent stake to China Merchants Port Holdings (CMPort) in the Hambantota Port was criticised and forced Sri Lanka to reconsider its position.
In August, Sri Lanka tried to correct all the wrongs in this deal by revising it and restricting the Chinese holding to 70 percent. The pact limits CHPort's role in running commercial operations by splitting the administrative functions between two companies. Colombo has also ensured that the port will not be used for military purposes. As per existing port management norms, the company that controls operations takes decisions on how ships must enter and leave harbour. At Hambantota, HIPS' right to control warship movements may result in a clash of authority with CMPort, the majority stakeholder.
It is estimated that, by 2030, Asia will surpass North America and Europe combined in global power based on gross domestic product (GDP), population size, military spending and technological investments. The busy East- West shipping route passes just six to ten nautical miles south of the island with more than60,000 ships plying this route annually carrying two-thirds of global petroleum, half the supply of container cargo and more. Thus, Sri Lanka's situation in the nautical corridor between the East and West is not only of importance from a geostrategic perspective but also from a maritime, economics and security perspective.
Enter India
India and Sri Lanka hope to finalise Indo-Sri Lanka Economic and Technology Cooperative Agreement (ETCA) by end of 2017. The ETCA will enhance the scope of India and Sri Lanka's FTA to extend freer movement of goods and services, with the added emphasis of cooperation on development of technology and investment.
Secondly, India should also actively contribute to Sri Lanka's infrastructure development. Adding to the IOR's pearl in bettering its maritime infrastructure would be seen as essential to achieving its national development goals. More specifically, Modi's administration should encourage public-private partnerships and government-togovernment investments in India's neighborhood, beyond concerns about China. According to the World Bank and Asian Development Bank, South Asia is one of the least integrated regions in the world. By investing in Sri Lanka's maritime infrastructure and regional connectivity, India is enhancing its own security.
In March this year, Sri Lanka's Former Minister for Shipping, Arjuna Ranatunga said, "Colombo, Trincomalee and Kankesanthurai – these are the three ports where India could collaborate for development." According to the Minister, the country is looking for an Asian sub-continent investor. Indian private players should collaborate with the Sri Lankan Port Development Authority to develop ports in Sri Lanka. CONCOR has formed a consortium with APM Terminals B.V., John Keells Holdings and Maersk Line to bid for the development of East Container Terminal in Colombo. The total project value is likely to be about $550-600 million. This must be pursued for India's intent to play a major role in the IOR to be taken seriously.