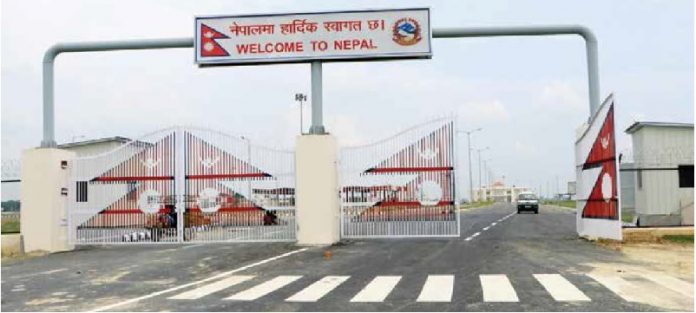 ICP Biratnagar will significantly cut down the time and cost for importing from India and third world countries
This new year has brought in a very important reason for the Nepal trade to cheer as the second most important integrated check post (ICP) at Biratnagar has become fully operational in February. Following official handover of the ICP to Nepal by the Indian government, Prime Minister KP Sharma Oli and his Indian counterpart Shri Narendra Modi inaugurated the ICP by pressing a switch from their respective offices in Kathmandu and New Delhi. The check post has been constructed at an estimated cost of Rs. 2.1 billion. The construction work was initiated in 2016 after the Nepal government handed over the required land to the Indian authority.
Spread over 129 bighas of land, the ICP is equipped with cargo building, cold storage, terminal building, CCTV, restaurant, Customs, immigration, quarantine, banks, currency exchange, warehouse, litigation shed and parking that are required for the clearance of goods and movement of people from a single location, thereby reducing trading cost for traders.
Adequate facilities for quarantine, amenities for drivers, passengers, and security personnel have also been created, along with a wastewater treatment plant and large scale landscaping and tree plantation to conserve and enhance the environment.
The export and import of goods to India and third countries has started from the ICP after security forces and a designated bank started functioning at the check post. Prior to the operation of the ICP, the local importers in Biratnagar had been facing hours long hassles to import goods from India and abroad. The ICP was initially functioning partially but started full-fledged operations from February 1, 2020, informed Shiva Bhandari, chief of Biratnagar Customs.
However, the ICP has certain glitches such as parking issues for vehicles which will be sorted out in due course. Vice President of Biratnagar Customs Agents Association Nawal Prasad Upadhyay said that they have started processing documents for importing goods from third countries at the ICP. Containers from third countries and petroleum tankers from India have already started coming through the ICP. The cargo vehicles will take just half an hour to enter Nepal after getting clearance from India once a bridge at Mirgunj, which is seven kilometers away from the border, gets upgraded.  Currently, it takes two to three hours for the vehicles to arrive to Nepal. The Biratnagar ICP will be operated by Himalayan Terminal Ltd for the first six months. Thereafter, the government plans to announce a global tender for the ICP's operation.
The Indian government has extended grant assistance for construction of four ICPs, including in Birgunj and Biratnagar. The additional ICPs have been proposed at other major checkpoints on the Nepal-India border crossings, namely Bhairahawa and Nepalgunj. It has been reported that Biratnagar is the third largest revenue collecting check post in Nepal.