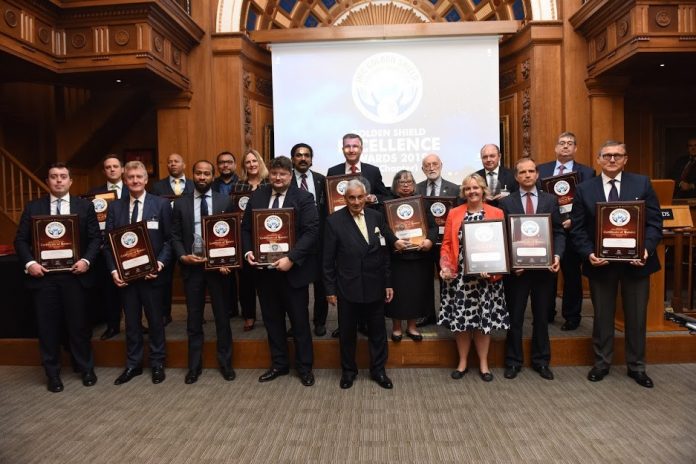 After the first successful edition in 2017, Biz Events Management organized the second edition of IMC Golden Shield Excellence Awards 2019 at Old Library Lloyd's, United Kingdom on 13th September 2019.  The award ceremony recognized the remarkable and noteworthy contributions of the veterans to the insurance industry. The recipients of these awards were top notch organisations who have demonstrated highest level of professionalism, contributed towards the development of the insurance field. The entire proceedings of the event was telecasted live.
IMC Golden Shield Excellence Awards Professional Excellence Awards – Individuals was bestowed upon Mr. Valerio De Rossi, Marine Manager – Corporate at Borr Drilling and Ms. Lourdes Lilley, Honorary Secretary, Royal Institute of Naval Architects (RINA)
IMC Golden Shield Excellence Award for Leading Syndicate- Energy award was presented to TALBOT (AIG COMPANY); Leading Broker- Energy award was bestowed upon Gallagher, Leading Broker- Marine award was presented to Willis Towers Watson, Excellence in Claims Management Award was bestowed upon WK Webster, Leading Loss Adjusting Firm award was presented to Charles Taylor, British Marine was bestowed with Leading Fixed Premium Club Award, and Hélène Stanway was presented with Digital Innovator of the Year.
Vessel Assurance Program Award was bestowed upon RightShip, Classification Society Award was presented to American Bureau of Shipping (ABS); Maritime Trade Association Award was being bestowed upon UK Chamber of Shipping; Best Maritime Law firm was bestowed upon Watson Farley & Williams (WFW); Royal Institution Of Naval Architects (RINA) was presented with the Maritime Professional Society Award, Maritime Academics & Training Award was presented to Chartered Insurance Institute (CII) and Professional Trade Association- Offshore, Oil & Gas was bestowed upon IRATA International.