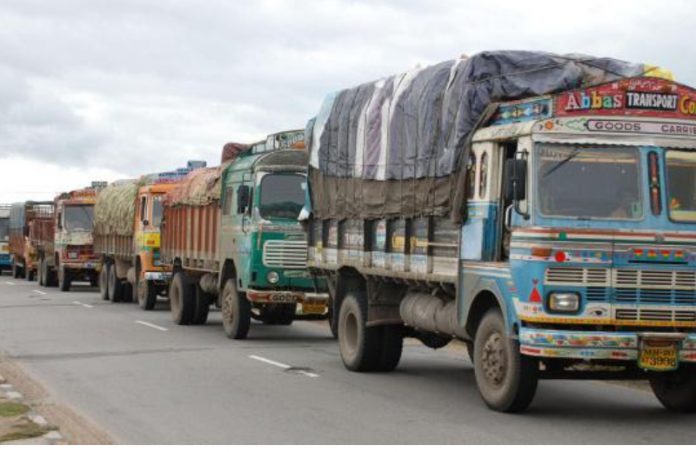 'Traders said that while they do appreciate that Cyclone Amphan requires the state's undivided attention but, in the same breath, they point out their case is in the balance, well over two weeks after the Centre lit the green signal.'
The issue of resumption of trade between India and Bangladesh, which affects about a lakh livelihoods both directly and indirectly on Bangladesh side of the border, is a glaring example of how West Bengal's Chief Minister Mamata Banerjee engages in flip-flops and casually treats suggestions for action by Union Home Secretary Ajay Bhalla.
The Union Home Secretary automatically becomes chairman of the National Executive Committee formed under the Disaster Management Act, 2005, (DMA) as soon as the Centre invokes DMA countrywide, as it has during the COVID-19 pandemic. After a couple of letters from the Union home ministry, the West Bengal government suggested a resumption of trade to the Centre on May 9 on freight trains via the existing Gede-Darshana route. Gede is in West Bengal's Nadia district while Darshana is the first station on Bangladesh's side of the border in the Chuadanga district. On May 12, Mamata Banerjee said that she will allow bilateral trade through the land ports at state secretariat Nabanna.
On May 17, Bhalla detailed 'dos and don'ts' to the state governments. Point 10 (iii) mentioned: "Special directions to ensure movement of persons and goods in certain cases: No state / UT shall stop the movement of any type of goods / cargo for cross land-border trade under treaties with neighbouring countries". In the same letter, under Point 12 titled "Penal provisions", he wrote: "Any person violating these measures will be liable to be proceeded against as per the provisions of Section 51 to 60 of DMA, besides legal action under Sec 188 of the IPC and other legal provisions as applicable. Extracts of these penal provisions are at Annexure III," Bhalla's letter concluded.
Inquiries from exporters and importers in the two countries made by NewsClick clearly suggest that the impasse over trade through land ports continues and with the state government now busy contending with the Super Cyclone Amphan, traders have their fingers crossed over when the impasse will end. Traders said that while they do appreciate that Amphan requires the state's undivided attention but, in the same breath, they point out their case is in the balance, well over two weeks after the Centre lit the green signal.
Fulbari is a road border crossing on the India-Bangladesh border. Dwelling on its political and strategic importance, Bikram and Pankaj Ghosh said the land port is also crucial for Nepal and Bhutan who use the route for trade with Bangladesh. Nepal and Bhutan send a large tonnage of boulders, stones and stone chips to Bangladesh from this Indian land port. "So, we have to be always alert and we accord equal importance to export-import of cargo of our country and also that of Nepal and Bhutan," they said.
There is near unanimity that the West Bengal Chief Minister could have been "accommodative", and insisted on stricter precautions while allowing for the road movement of cargo for export that had been held. A fairly large quantity of perishable items had to be moved back for local disposal to minimise losses. Huge funds deployed to procure the ordered goods remains blocked. A large percentage of the nearly one lakh people who derive their livelihood by doing a variety of jobs get paid on commission basis. So, it turned out to be "no work and no pay" in reality. Those engaged on a monthly payment system received some interim payment.
The economy of the command areas of the land ports, which have developed the character of small towns, hinges on the flow of cargo. Therefore, it may be an underestimation to suggest that about one lakh people have been hit, the actual number may be more. Traders believe that the CM should have taken these ground realities into consideration.
Dilip Das, secretary of the Bongaon Motor Owners Association, and also the Vice-President of the Federation of West Bengal Truck Operators Associations, had a contrarian view. Das felt that it was not correct to say that the CM had adopted a hard-line stance. According to him, she feared that movement of people might increase the spread of the novel coronavirus. "The fact, however, remains that this forced idling of our heavy duty truck fleet has cost us greatly and it will be long before we regain our investment capacity to augment our fleet," he said.
Perhaps the strongest view was expressed by an important office-bearer of a trade body, who did not wish to be named. He told NewsClick : "Our Chief Minister seems to think that West Bengal is a separate country and the use of the land route is an issue between her and Bangladesh. Will she realise she is wrong?" Kartik Chakraborty, the secretary of the Petrapole Clearing Agents Staffs' Welfare Association, echoed similar sentiments. "Everything has only one control point. I need not be more specific," he observed.
Motiar Rahman, the Director of India-Bangladesh Chamber of Commerce & Industry (IBCCI), told NewsClick from Bangladesh that the "trade in our country is hurt by the stance of the West Bengal government. It made some late amends by suggesting that the existing rail route may be used to begin cargo movement. The Government of India has facilitated this. We have started using railways on a modest scale. On an overall consideration, however, land ports remain highly relevant for us," said Rahman observed.
With sentiment turning against China due to COVID-19, he foresaw bright prospects for an increase in the volume and value of India-Bangladesh trade in the coming years.
General Secretary of C&F Agents Association, Emdadul Haque Lata, told NewsClick from Dhaka that as of now, over 250 trucks carrying several items such as jute twine, jute bags small-size cut piece cloth, Bangladesh's famous Jamdani sarees and fruit juice, among other items, meant for export to India, are held up at Benapole. He also dwelt on the relevance of the land ports and limitations of the rail route for a host of cargo. Trade through the land route has to resume, he contended.
Meanwhile, the Indian High Commission in Dhaka has stepped up efforts to popularise use of four railway linkages for cargo movement. These are: Petrapole-Benapole, Gede-Darshana, Rohanpur-Singhabad and Radhikapur-Birol. In a Webinar on May 4, in which the top brass of the Bangladesh foreign affairs ministry, commerce ministry, Ministry of Railways and National Board of Revenue (NBR) took part, India's High Commissioner Ms. Riva Ganguly Das urged authorities in Dhaka to use their offices to promote bilateral trade through the four identified rail linkages for "efficient, safe and cost-effective movement".
During the interaction, India indicated that in addition to the current stipulation for a full rake – 42 wagons and 2,400 tonnes capacity – it would also be open to provision for a smaller rake option – 20 wagons and 1,100 tonnes capacity – for movement from India to Bangladesh. If necessary, Bangladesh NBR could be urged to include new items in the existing list of items for import from India. Sending a note on the deliberations at the webinar to Bangladesh's industry and trade outfits, India's Assistant High Commissioner in Rajshahi, Sanjeev Kumar Bhati, sought their cooperation for a growing cargo movement through rail.