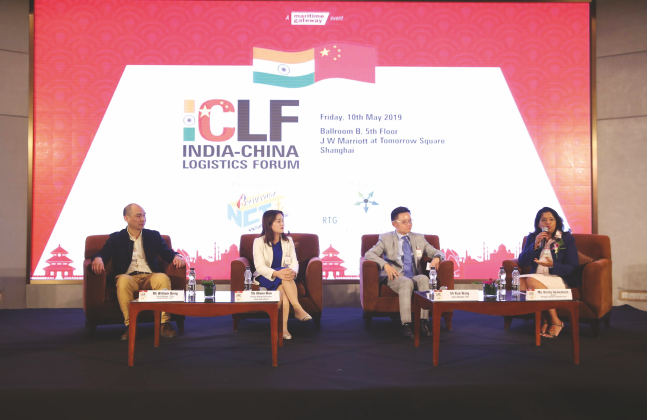 The panel discussion focused on how the maritime fraternity can collectively benefit by reducing logistics cost and increasing transit efficiency
Vinita Venkatesh, Director, Navayuga Container Terminal: What are your plans in terms of shipping services for the India- China trade?
Rick Wang, Sales Manager, Zim: India trade is always our company's main focus and in moving trade between China, Shanghai and India we are among the 5 biggest carriers in the market. Solar imports from China to India started in 2014 and is moving to Nhava Sheva, Kattupalli and Krishnapatnam Ports. Though there are some fluctuations caused by tariff issue, but China is still the biggest solar supplier to India.
Vinita Venkatesh: what is your perspective of the growth in solar trade? How important is China- India business to you?
William Deng, Country Manager- China, SARJAK Container lines: SARJAK Container line is not very common in UVI industry. Many competitors are from China, but our customers are mostly Indians. NCT also hopes to ship more Indian cargo from its port to China. Many people think the import and export is not very transparent and process can be quite lengthy. You just mentioned earlier the necessity of removing tariff or nontariff barriers in China. It will be easier for us to understand our business in India if we use the same mind set.
Affected by the China-US trade war, many business routes are moved towards Southeast Asia and India, especially heavy industries. We have seen a clear trend of heavy industries moving to India. Steel companies are quite capable here. India has very low cost of labour. Business focus on profits, but if your business is related to India, usually profits are not high. Many Indian companies ask for a real low price, like $5 or $10. But the volumes are large, so it is worth a try. In China we charge $50-100 for a container, but in India you may find $20-30 are enough.
Vinita Venkatesh: Could you elaborate on new investment in India by Chinese companies?
Aliena Wan, Partner Managing Director, Jilian Consultants: I have many Chinese customers like TCL, Sunny Optics, OPPO and Vivo whose suppliers have factories in India. Here road transport is a bit weak, but ocean shipping is fine. Old ports have their problems, for example, their Customs clearance speed is slow. My customer also informed me that there is a grey zone or non-transparency. The Customs are ready to help even with minor problems. NCT has a much higher operational efficiency than major ports. It's more open and transparent and doesn't have any grey zone.
We help Chinese companies set up business in India. The state with most potential is Andhra Pradesh and it has TCL, Sunny Optics, OPPO, XIAOMI, Foxconn operating factories as land price is cheaper. India has favourable investment policies. Big investments can bargain for refundable GST. That means your product is taxed 18 per cent and you can get 9 per cent back.
Vinita Venkatesh: Navayuga Container Terminal is today India's deepest container terminal with 16 meters draft, Super post – panamax QC's with twin lift operations are installed, a yard of 1.2 million teu capacity, our current volume is only half million teu. We are the first port in India to install a drive through container scanner. To ICD Bangalore we are connected with three trains every week.
Advantages for China trade at NCT: Direct connection from China into Krishnapatnam, two services every week – the Maersk and Safmarine CHX service which calls from Shanghai into Krishnapatnam directly and also tranships cargo into Kolkata and Haldia. HMM's ACS service also has space for ZIM and Gold Star Line.
Opportunities: earlier, all imports from Andhra Pradesh used to go via Chennai, so an empty container had to move from Chennai to up north to the stuffing location and then the laden container moved back again to Chennai, which is a total of 830km. At NCT the cargo has to travel only 534km, which shows the time and cost advantage. Most of the pharmaceutical cargo into Hyderabad is going through Nhava Sheva which is a wrong direction for cargo movement from China to the west coast of India. If this cargo goes over Krishnapatnam, you can see the savings in cost and time.
Anil Yendluri, Director and CEO, Krishnapatnam Port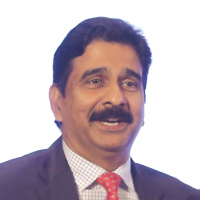 gave an insight into his port. It is the second biggest port in India after Mundra and Adani and also the fastest growing private terminal in India. Krishnapatnam is also the biggest private sector port on the east coast of India. This year – the 10th year of operations of Krishnapatnam Port, it has over taken Chennai Port (a 200 years old port). Chennai Port this year handled 52 million tonnes of cargo and Krishnapatnam Port handled 54 million tonnes. The biggest container port in India – JNPT started operations 10 years back and it handles 5 million teus and total Indian ports handle 10 million teus, but Krishnapatnam started container handling only 4 years back and it is already handling half million teus.
Traditionally all the trade has been happening from eastern countries into India from the west coast, but that's not the efficient way. Trade from China, Japan, Vietnam and Korea into India has to go from east coast. Currently NCT handles 500,000 teus and if trade grows to even 6 million teus in future, none other than Krishnapatnam port can handle this growth.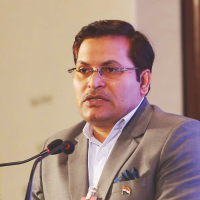 "Logistics and supply chain management plays a pivotal role in nation's development, it acts as an enabler by making a country stronger," said Anil Kumar Rai, Hon'ble Consul General of India Shanghai. The last four decades have witnessed major improvements in the logistics and global supply chains, as a result, it has provided linkages for the developing countries to international markets. China is a great example of this transformation.
According to the latest UNCTAD Report on Trends in Global Trade in Services, transport and logistics sector has grown by 8.5 per cent, in comparison to the overall growth of 7 per cent for trade in services sector. In order to mainstream trade as growth enabler the developing countries are required not only to implement economic policies for increasing competitiveness of their enterprises, but also improve the logistics sectors reliability and efficiency.