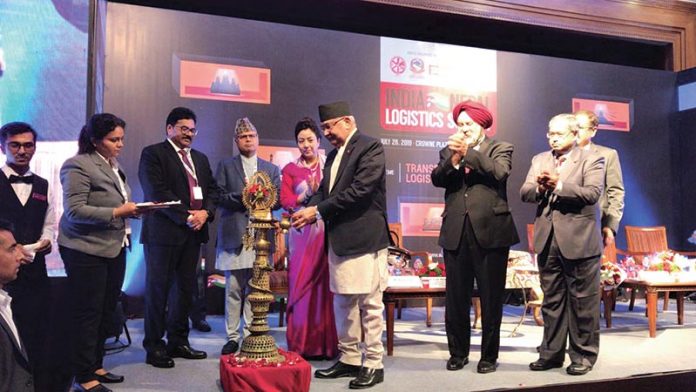 Inaugurating the India-Nepal Logistics Summit 2019 in Kathmandu on 28 July 2019, PM Oli said that at a time when Nepal has been assuring a conducive environment for trade and investment in recent years, enhanced investment and trade relationship with India is crucial not just because India is Nepal's biggest trade and investment partner, but also an important route for Nepal for third-country trade.
"Logistics play a crucial role in enhancing the trade and investment relationship between Nepal and India.
Thus, the government is currently focusing on developing necessary roadways, waterways and railways connecting the two nations," the prime minister said.
Similarly, Oli also mentioned that transforming logistics landscape between the two countries is also necessary for strengthening the economy of both the countries and ties between the people of both nations.
Prime Minister Oli also appealed to Indian investors to invest in Nepal and support the country's journey of achieving prosperity.
On the occasion, Indian Ambassador to Nepal Manjeev Singh Puri, said that both the governments should focus on operating existing Integrated Customs Point (ICP) and other ICPs under construction in a bid to add new dimensions to the trade relationship between the two countries.
"The Indian government is ready to support Nepal through different means in its journey towards prosperity," he said.
Meanwhile, Bhawani Rana, president of the Federation of Nepalese Chambers of Commerce and Industry (FNCCI), stated that she was hopeful that business and trade between Nepal and India would further enhance along with the expansion of road, railway and waterway networks between the two countries as planned by the governments of both the nations.
Kedar Bahadur Adhikari, secretary at Ministry of Industry, Commerce and Supplies, said that both the countries have been working to further ease the cargo movement process between the two nations.
The first of its type event, which was organised with the theme of transforming logistics landscape, brought together government representatives and the trade community of both nations to discuss on some of the pressing issues related to cross-border trade and logistics of both nations like the need for reducing transit time between Nepali and Indian ports, developing better warehouse facilities in Nepal, issues related to tariffs charged by logistics service providers and need for automation of customs and border clearance, among others.