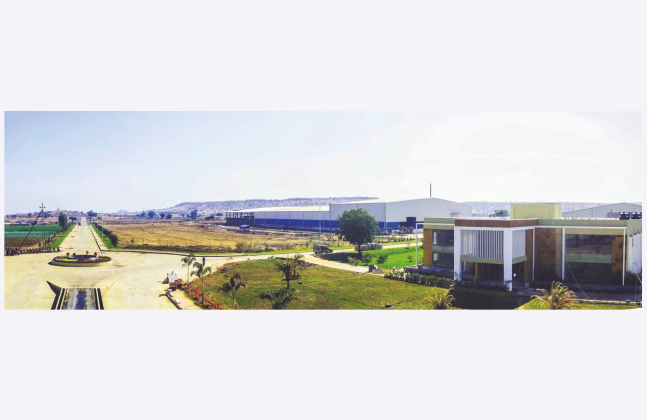 "Our vision is to create the best in class infrastructure facilities for swift setting up and smooth operations of the food processing industries and thereby creating a value chain from farm to the market," shares U Naveen Varma, Director, Indus Mega Food Park Pvt Ltd
Indus Mega Food Park Private Limited, which is operating a mega food park located at Khargone in Madhya Pradesh is scouting for more export markets in the European region for its variety of fresh fruits and vegetables exports from the facility. A part of `500 Cr Ananda Group and Vasistha Holdings Limited, the Indus Mega Food Park has already started exporting fresh fruits and vegetables to gulf countries and is keen on expanding its international business further. It has created a world class plug and play food processing facility near Indore to provide a platform covering forward and backward linkages of entire food processing value chain such as quality assurance, food safety and several post-harvest managements systems. It is also offering modern food processing technologies to the manufacturers and marketers to support them in the domestic and international markets.
Major Fruits and Vegetables
Located in the agri – rich region of Madhya Pradesh, the food park is currently processing several key fruits and vegetables for domestic consumption and exports. Corn, diced carrot, diced potato, diced onion, cauliflower, green peas, broccoli, okra (lady's finger), mixed vegetables, french beans, chillies etc. are some of the key products that are being processed and packed at the facility for domestic and international markets.
The food park is approved by the ministry of food processing industries, government of India and it is developed on 85 acres plot at Khargone near Indore, the commercial city of Madhya Pradesh. "Our vision is to create the best in class infrastructure facilities for swift setting up and smooth operations of the food processing industries and thereby creating a value chain from farm to the market", U Naveen Varma, Director, Indus Mega Food Park Private Limited told Maritime Gateway.
The food park has tailor made infrastructure with one central processing centre (CPC) and three primary processing units inside the park. The CPC has 5,000 MT dry storage capacity and Individual units can avail upto 200 MT cold storage space upto a combined capacity of 5,000 MT. It has space for storing upto 5,000 MT of Potato at a time. The food park is well accessed to the national highway no. 3 (Mumbai – Agra) and having 5 MW dedicated power supply provision for uninterrupted power supply to the units. Weigh bridge, parking sheds, common laboratory, training centre, central canteen, conference hall, common security etc. are the common facilities available at the food park.
Market Potential
Indian food processing industry is one of the key sectors which contributes about 9% and 11% to GDP in Manufacturing and Agriculture respectively. The sector's gross value added was recorded at $17.5 billion in 2016-17. The number of registered food processing units were 39,748 during 2016- 17 and the number is growing upwards year after year. Major export markets for our food processing products are Middle East and South East Asian countries. During the last financial year (2018-19), India exported 4,500 crore worth of fresh fruits and vegetables while the country's total food processing exports were at `1.30 lakh crore and 230 million tonnes in quantity.
Integrated Services
As part of its backward integration services, Indus Mega Food Park provides trial cropping and reports to the units based on their specific requirements. Assistance in commercialization and farm extension services are also being provided. Identifying suitable farmers and farms for contract farming, soil and water testing through the common testing laboratory, farmer training and skill development programmes based on specific crop requirements are the other key services offered by the food park. It also provides the forward linkage services such as providing logistics services through cold chain, assistance in participation of local and global trade shows. It also helps in getting the necessary government approvals like revenue, excise, pollution control board and industries department apart from others during the construction and post commercialization of food processing units. The water is sufficient as the river Narmada is located at 2 km from the park.
The food park is also having special offers for start-up companies. They can avail ready to use 5 tn per hour IQF line for frozen fruits and vegetables and ready to use 2,000 jars per hour line for canning of fresh fruits and vegetables. They can rent or lease out latest and ready to use processing facilities.
"The owners of food processing units can benefit in multiple ways by utilizing Indus Mega Food Park infrastructure and its services. They will be able to reduce processing and transportation losses significantly by utilizing packaging, labelling and storage of frozen products effectively. We assure them the consistent raw material supply and facility for storing finished packaged food products", Varma said.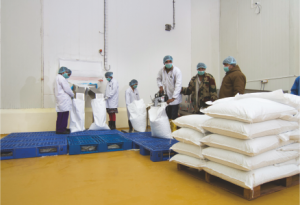 Contract Farming
The Indus Mega Food Park has also undertaken contract farming in a big way. It has already started a pilot project in the surrounding area by initiating contract farming on over 350 acres. It encourages farmers to opt for crop diversification and adopt to new crops which can ensure them high yield and incomes. It helps the farmers in reducing cultivation costs and improving productivity by rendering technical expertise by qualified, trained and experienced professionals. Assistance in timely procurement of farm inputs to reduce the crop damages and production losses are the added advantages for the farmers who are associating with the park.
Mumbai Port is nearest
The food park is located in central India and close proximity to the largest port on the west coast – Mumbai port. It is well connected to the major metro cities of Mumbai (450 Kms), Delhi (900 Kms) and Ahmedabad (384 kms). The ICD of Container Corporation of India (CONCOR) located at Pithampur is very close at 80 km from the park which allows the food processing units to leverage the connectivity to improve their domestic and international market access.
Tax Exemptions
The food park is approved by the Ministry of Food Processing Industries and the entrepreneurs setting up units here will be eligible for tax exemptions. The processing units will be exempted from Mandi tax and also from the registration stamp duty. Additionally, the units will get a subsidy on electricity consumed. They will be charged `1 per unit upto first 25% of the total electricity is consumed. The units are also eligible for getting 35% capital subsidy from the Ministry of Food Processing Industries, government of India.