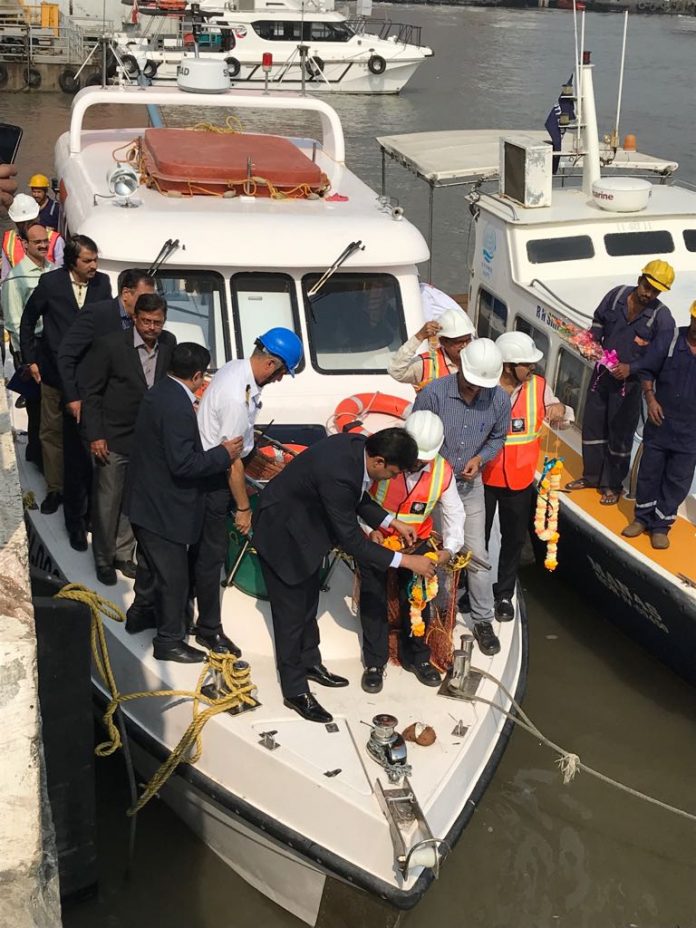 • Launch to be used for environment and transport purposes
JNPT, India's premier container port has hired a new multi-purpose utility launch (MPUL) from M/s SHM Shipcare, Mumbai recently.  The utility launch is manufactured in India. The launch will be deployed to combat minor oil spill within the port area, collecting floating debris on a daily basis, a step towards green and cleaner port. The launch is having a cruising speed at par with the other hired launches so that the same can be used for other purpose eg inspection of channel buoys and their lighting, security patrolling, pilotage, etc.
Shri Neeraj Bansal, Chairman-in-charge, JNPT inaugurated the launch in the presence of senior officials of JNPT. " With the increase in traffic as well as vision of port to have clean ocean, the need for such multi-purpose launch was over- due and we are happy that this new launch will further help JNPT to undertake different activities under green port", Mr Bansal said.
Commenting on salient feature of Multi-purpose utility launch (MPUL) Capt. Amit Kapoor, Deputy Conservator said, "MPUL has 12.430 mtr overall length with the speed of 20 knots, carrying capacity would have 12 passengers plus 4 crew, FRP construction, two main engines with the power of 448KW."
It also has oil pollution control equipment and debris collection system. The new utility launch  will have portable skimmer of capacity 5-10 m3/hr, system for spraying oil dispersant into the sea and storage capacity of 50 L of OSD. Debris collection system will help to recover floating garbage in the sea and bollard arrangement on deck to tie up next to the harbour for inception and maintenance of buoys and its lights.