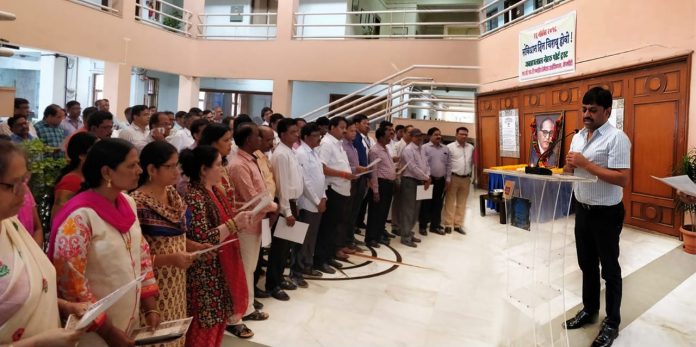 Employees take solemn oath
Civilised countries all over the world have developed comprehensive constitutions so that the governance standards are always set higher and citizens feel safe under the time-tested constitution. India too adopted a well-developed constitution so that the country is governed according to the rights as underlined in the constitution.
To mark this day, JNPT India's premier container port celebrated Samvidhan Divas to commemorate the adoption of Constitution of India. Shri Neeraj Bansal, Chairman-in-Charge, JNPT administered the oath to the officers & staff of JNPT  at Admin building, Nhava Sheva today in the presence of Shri Anil Ramteke, Chief Vigilance Officer and other HoDs.
Addressing the gathering, Shri Neeraj Bansal, Chairman-in-Charge said, "Dr Babasaheb Ambedkar, the father of Indian constitution made great efforts to put together the constitution of the country so that every Indian citizen can live in freedom. The rights to life and the freedom of speech empower citizens to lead a life according to their choice. JNPT is proud of its contribution to the nation and upholding the constitutional values. I would like to urge each and every member of JNPT to uphold the values as enshrined in the constitution and work for the betterment of all sections of society ".
Constitution Day is celebrated to value and preserve the rich heritage and the composite culture of India. The occasion is also meant to foster and develop the scientific temper, humanism and the spirit of inquiry and reform.  The day is used to inculcate the spirit of harmony and brotherhood amongst all countrymen and shun all practices derogatory to the dignity of women.